Blooom Review
Blooom Review: Personalized Financial Advice for Your Retirement Plans
Blooom offers advisory services for your 401(k) or IRA, but are the fees worth paying?
Retirement
Balanced Investing
Tax Advantaged
Blooom aims to offer personalized financial management for retirement accounts, without the high fees most professional money managers charge.  
Blooom performs a free review of your 401(k) and IRA after you provide your account information. The app then offers complimentary advice on how your account could perform better to help you optimize your retirement investing. If you like their suggestions, you can implement them yourself or choose to pay for their professional account management service and personalized financial advice. 
Blooom can be expensive, especially if you have a small 401(k) or IRA account balance. But if you aren't confident enough to manage your investments on your own and you want to avoid high 401(k) fees and the even higher fees that most financial advisors charge, Blooom may be the best option for you. This Blooom review can help you decide if it's a service you should take advantage of.
Borrow our cheat sheet
Bonus offer
Get a FREE analysis on the health of your IRA and 401k.
Pros and cons
Pros
Blooom is a fiduciary, so must put your interests first.
You don't have to move your accounts to Blooom to get help with your portfolio.
Blooom uses a tried-and-true method of managing your investments.
Cons
Blooom manages retirement accounts only, not HSAs, 529 plans, or other types of investment accounts.
Direct management of your IRA is available only if Fidelity is your brokerage firm.
Fees can be very high for personalized advice or hands-on management.
What is Blooom?
Blooom is a fiduciary that offers financial advisory services. It helps you make decisions about how your 401(k), IRA, or other retirement plan should be invested. 
Depending on the level of service you're interested in, you may also be able to connect with a registered financial advisor to get help with all sorts of money issues such as how to save for college or when to refinance your home loan.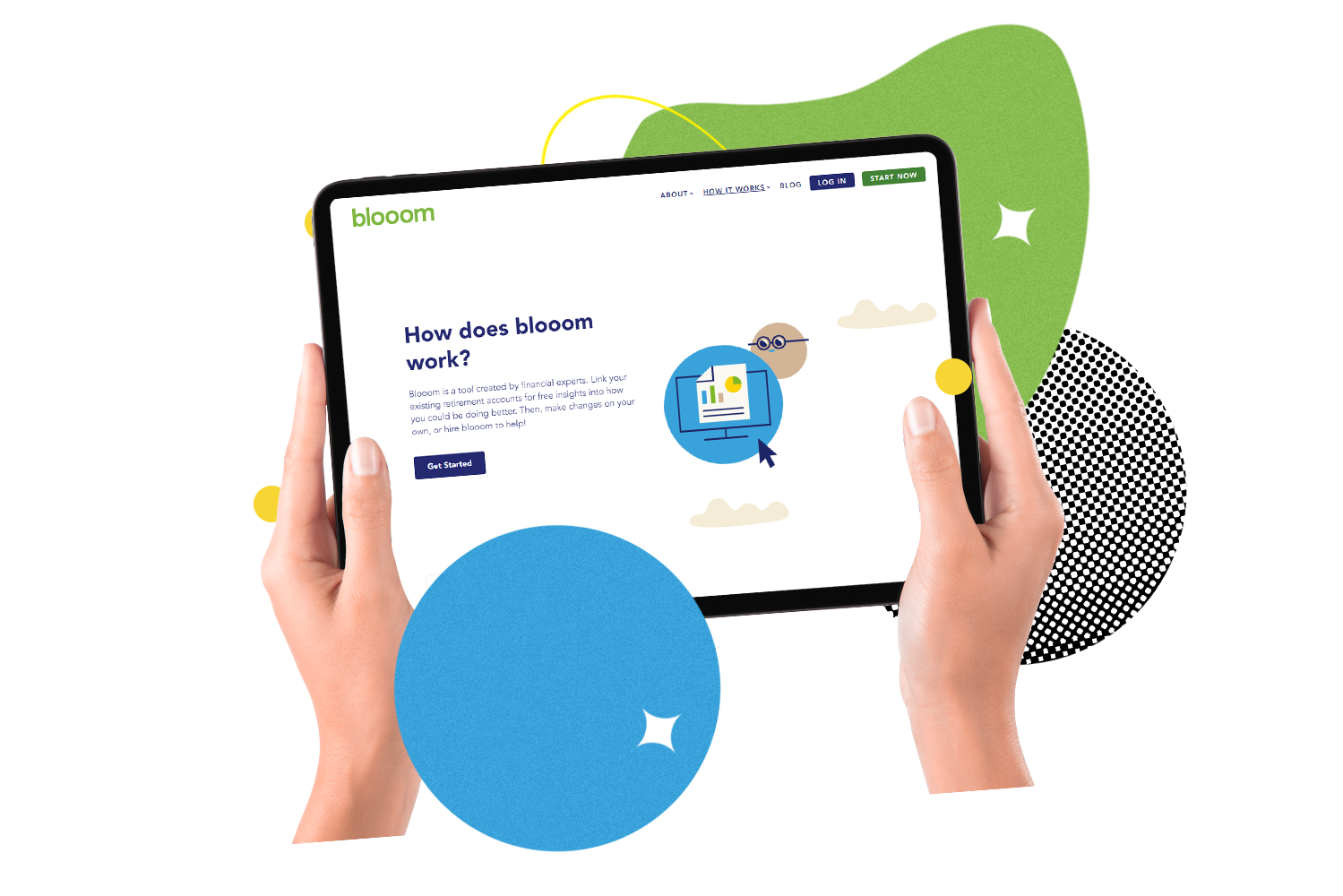 How does Blooom work?
To get started with Blooom, you'll need to link your 401(k), IRA, or other retirement accounts you want help with. Blooom will ask you a few questions about your retirement goals and conduct a free initial analysis using an algorithm to detect whether your investments are in line with your objectives.
After your initial analysis, you can opt for one of three Blooom plans:
Personalized portfolio: This plan costs $120 per year and provides you with recommendations on investments for an unlimited number of retirement accounts. You're responsible for making trades and implementing Blooom's suggestions. 
Advisor access: This $245 plan provides a personalized portfolio, and Blooom will also assist you in making trades on your behalf. You'll also get access to a financial advisor who can answer questions. 
Financial consulting: This $395 plan provides a personalized investment portfolio. Blooom executes trades and manages your account on your behalf, and Blooom provides a 30-minute annual video or phone consultation with a financial advisor.
Who can invest with Blooom
You can work with Blooom if you have a 401k, 401a, 403b, 457, TSP, traditional IRA, Roth IRA, SEP IRA, nondeductible IRA, spousal IRA, SIMPLE IRA or self-directed IRA. You will need to link your account to Blooom by providing your login information. 
The institution that holds your retirement account must be one of the hundreds that Blooom works with. If your retirement account isn't held at a participating financial institution, Blooom can help you try to find a workaround or can put you on a waiting list in case they begin working with the institution in the future.
Where Blooom gets it right
Blooom is a fiduciary 
Fiduciaries have a legal obligation to put customer interests first. When you allow Blooom to pick investments on your behalf, or to advise you on which investments to select, you don't have to worry about the company's motivations. It won't prompt you to pick costlier investments, or those with a worse track record, just so it can make more money for itself. 
You don't have to move your accounts to Blooom
Many robo-advising services will manage your money only if you deposit it with them directly. This means you can't take advantage of their services for retirement accounts that are held with your employer.
With Blooom, you don't directly invest with the company. Instead, you link your accounts. Blooom can either tell you what trades they recommend and leave it in your hands to execute them or can manually make the recommended trades for you if your account is held with one of the financial institutions the company works with. 
Blooom uses a tried-and-true investing technique 
Blooom isn't a get-rich-quick scheme and it doesn't try to get you to invest money in speculative investments in hopes of making a quick profit but that puts you at risk of big losses. 
Instead, Blooom works to help you build a diversified portfolio, to optimize it, and to make the right long-term investments while achieving the ideal asset allocation. By not trying to time the market, Blooom maximizes the chances that you'll be successful at investing over the long-term.
Where Blooom could do better
Blooom could manage a wider array of account types
Blooom only helps you optimize retirement accounts, and it only provides assistance if your account is held with a participating financial institution. If you have other investment accounts, such as a taxable brokerage account, a 529 plan, or an HSA, Blooom won't do anything with those accounts at all.
Offering a wider array of accounts could make Blooom's services available to more people. It could also help you to get a fuller picture of how all of your investments across your different accounts can work together to help you achieve financial goals. 
Blooom could work with more financial institutions for IRA management
If you do not have your IRA with Fidelity, Blooom cannot directly manage your account for you. This imposes a major limitation on who can actually use the company's services since there are many other IRA providers out there. 
Blooom could have a better fee structure 
Even Blooom's entry-level package can be expensive, especially for people with low retirement account balances or who are just getting started. If you have just a thousand dollars invested in your account, you could be looking at paying over 10% of your account's balance in fees. 
Blooom could make their services more accessible by offering lower fee options for people with small portfolios. Still, the service is less expensive in most cases than getting the same advice from a traditional financial advisor.
Can you really make money on Blooom?
Blooom can't provide data on the returns that clients earn because it is too dependent on the types of investments available in each customer's 401(k)s. 
Whether you can successfully make money by using the service will depend on the mix of investments in your 401(k) or IRA that Blooom chooses for you. You do have to earn generous returns to make up for Blooom's hefty annual fees though.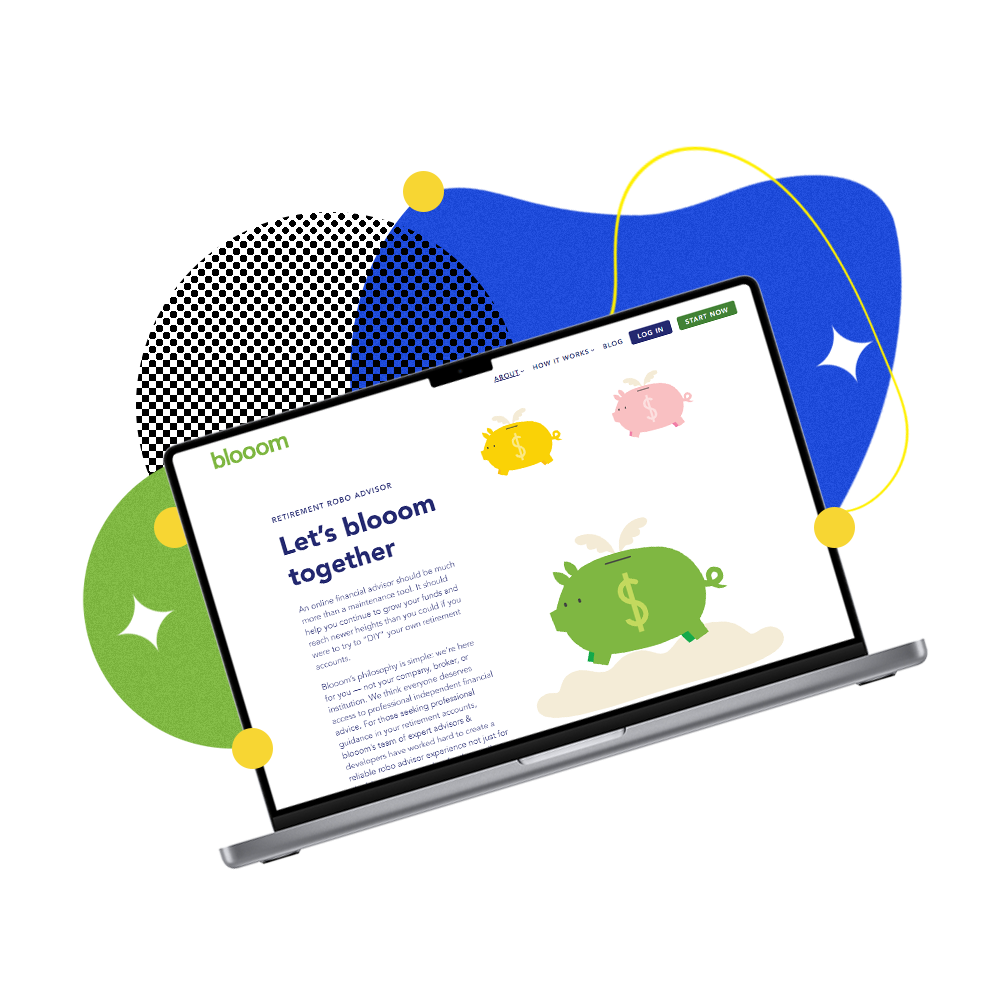 How do I make money with Blooom? 
Blooom helps you optimize which investments you select within your 401(k) or IRA. If you implement Blooom's investment recommendations or opt to allow the advisory service to make trades for you, then your retirement money will be invested in funds Blooom chooses for you. 
Ideally, having a diversified mix of different investments appropriate for your age and risk tolerance will help you to grow your retirement nest egg over time. 
How do I cash out with Blooom? 
You do not invest your money directly with Blooom. Instead, you simply link your retirement accounts to it and Blooom makes trades on your behalf in those accounts or tells you which trades to make. 
If you want to take money out of the retirement accounts that Blooom is advising you on, you'll need to do so by making a request directly with your 401(k) or IRA administrator. Be aware that early withdrawal penalties could apply if you take money out of a tax-advantaged retirement account before age 59 ½. 
Blooom vs traditional investing 
Blooom helps you to pick investments that have low fees and that are likely to perform well over time. The company helps you invest your money in an appropriate mix of different funds that are available in your 401(k) or IRA.
Index fund investing, and investing for the long term, have long been effective ways to build wealth while limiting risk. While you won't usually beat the market with this approach, as you might if you invested in individual stocks, your nest egg should ideally grow over time.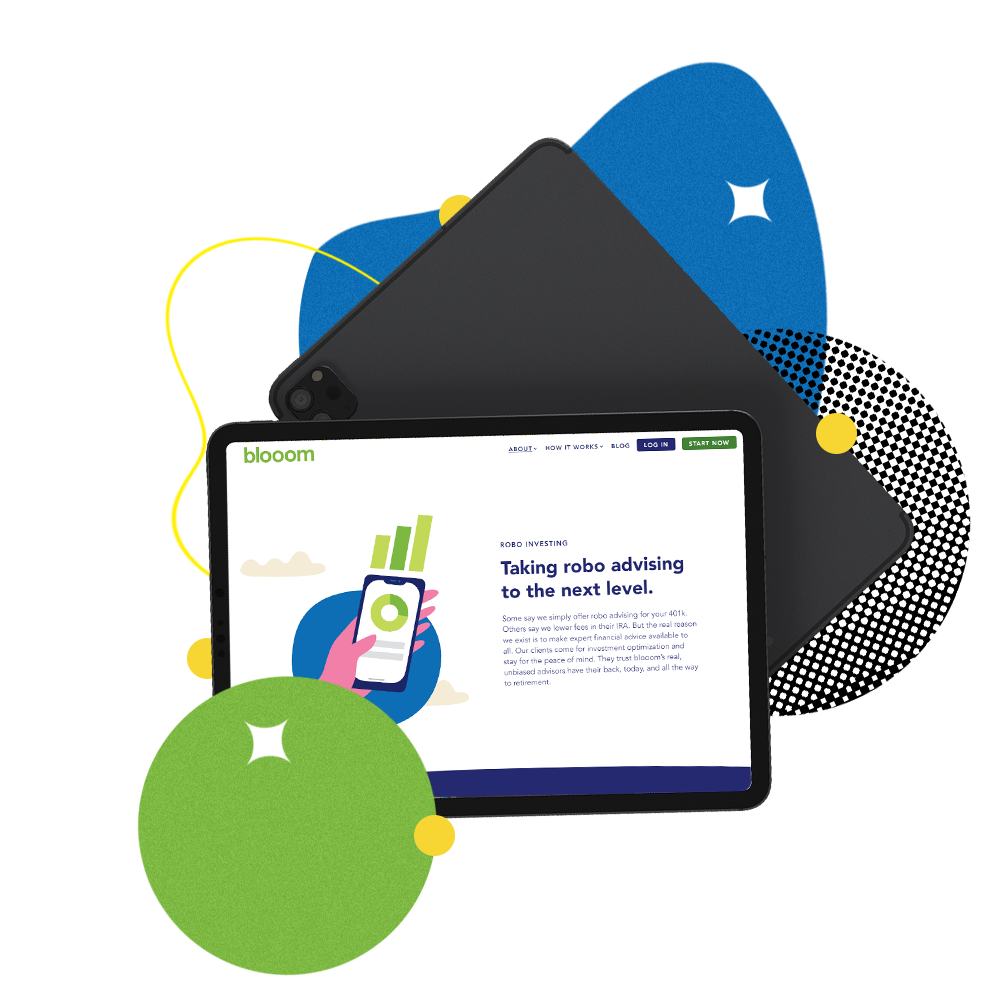 What other people are saying about Blooom
Blooom doesn't have many reviews, but some Reddit users are skeptical that the service can provide enough value to justify its fees. 
In response to a question about whether Blooom is worth it, one Reddit user expressed concerns over the cost of using Blooom's services given that 401(k)s are fairly easy to manage on your own.

Others, however, believe it has more promise, with a different Reddit user arguing that it can be worth it for people who want help managing their retirement accounts but don't want to pay the even higher fees a financial planner might charge.

Are there other apps like Blooom?
Blooom is unique in that it allows you to use a robo-advisory service for an employer-sponsored retirement plan. Most other robo-advisors, such as Wealthfront and Betterment, can be used only if you deposit your money with the advisory institution. 
However, Blooom's fees are relatively high for a robo-advisory service. And Blooom can only execute trades on your behalf in a Fidelity IRA or if you have a participating employer-sponsored 401(k) that the company works with. So not everyone can get hands-off help from Blooom.
Blooom

Fees

Minimum investment

Average returns

Risk Level

Available on

iOS

Android

Review

 
Our hot take on Blooom
If you don't want to take charge of selecting the right mix of retirement investments or you aren't sure how to rebalance your portfolio each year based on your changing risk tolerance, Blooom is a good service. It's also a good option if you want to talk with a financial advisor once a year.
However, the fees charged are high, and most retirement plans make it fairly easy to select an appropriate investment mix. So, Blooom may not be worth paying for unless you truly feel like you can't spend a little time each year managing your retirement investments.
I'm in! How do I sign up for Blooom?
1.

Sign up with MoneyMade

Start by signing up with MoneyMade so you can keep all of your accounts in one place and simplify your financial management. This is especially important if you have non-retirement accounts that you also want to be able to easily access along with Blooom from one convenient dashboard.
2.

Sign up for a Blooom account through MoneyMade

Follow the link on MoneyMade to create a free Blooom account.
3.

Provide your online account information for your 401(k), IRA, or other participating retirement account

You will need to give Blooom access to your retirement plan so the company can perform its free analysis. If you don't know what your account details are, talk with your 401(k) administrator at work.
4.

Review Blooom's personalized advice and decide which plan tier interests you

If you like the free advice Blooom provides, you can sign up for the personalized portfolio service if you're not comfortable executing their recommended trades on your own. Or you can opt for one of the higher-tiered services that manages your account for you and gives you access to other financial advice as well.
5.

Use MoneyMade to keep track of your Blooom account

MoneyMade allows you to track investments on more than 160 different investment platforms so you can easily see how your investments are performing and quickly assess your portfolio as a whole. Once you've invested in Blooom, you can monitor your account regularly with MoneyMade to see how the app is working for you to optimize your retirement investment accounts.
Explore Assets
Click an asset to learn more
Dogecoin
Music Royalties
Tether
Farmland
Wine
Art
Real Estate
Robo Advisor
Gold
Bitcoin
Stocks
Lending
Startups
Ethereum
DeFi
Solana
Oil & Commodities
Polkadot
Metaverse
NFTs
Whiskey
Bonds
Platinum
Sports Cards
Cardano
Ripple
Silver
Watches