Elevate Money Review
Elevate Money Review: Real estate investing made easy through fractional ownership
Elevate Money makes it possible for more people to invest in real estate thanks to fractional ownership.

Published Oct 18, 2022•Updated Jan 13, 2023
Real Estate
Long Term Growth
Passive Income
Investing in real estate is a great way to diversify your portfolio and earn passive income. But for a long time, it's been prohibitively expensive to gain exposure to real estate due to the asset class's high cost of entry. Elevate Money is changing that by allowing investors to buy shares in a REIT (real estate investment trust) for as little as $100.
Your investment in this REIT gives you fractional ownership of the unique properties Elevate manages—but is it right for you? This Elevate Money review will help you decide.
Borrow our cheat sheet
MoneyMade member rating
5.0
Bonus offer
Invest in recession-proof real estate now
Pros and cons:
Pros
Real estate with consistent cash flow
Automatic investing options
60% loan-to-value (LTV) leverage cap
Cons
Hard to cash out within first 3 years
Possible fees for selling shares
🤔 What is Elevate Money?
Elevate Money was created to democratize real estate investing and make it easier for the average person to gain a stake in commercial properties. As many as 85% of Americans want to invest in real estate, but many cannot because they don't have the money to buy properties and are not eligible to invest in private real estate partnerships. 
With Elevate, investors do not need to meet the requirements to be accredited and need just $100 to start investing rather than tens of thousands. Investors can gain fractional ownership of many properties that are more likely to make money from both regular dividend payouts as well as the value appreciation of properties over time. And they can do this in just five minutes by signing up for an account, deciding how much to invest, and choosing how often to contribute.
Elevate Money differs from other platforms because the company allows investors to gain exposure to a portfolio of income-producing commercial properties. Elevate Money is an owner, not a lender, and therefore directly controls the management of the properties.
Their experienced team searches for properties leased long-term to tenants with strong financial credit for five to 20 years. The in-house team also manages the properties to keep fees low, while the long lease terms ensure consistent, predictable monthly income for investors.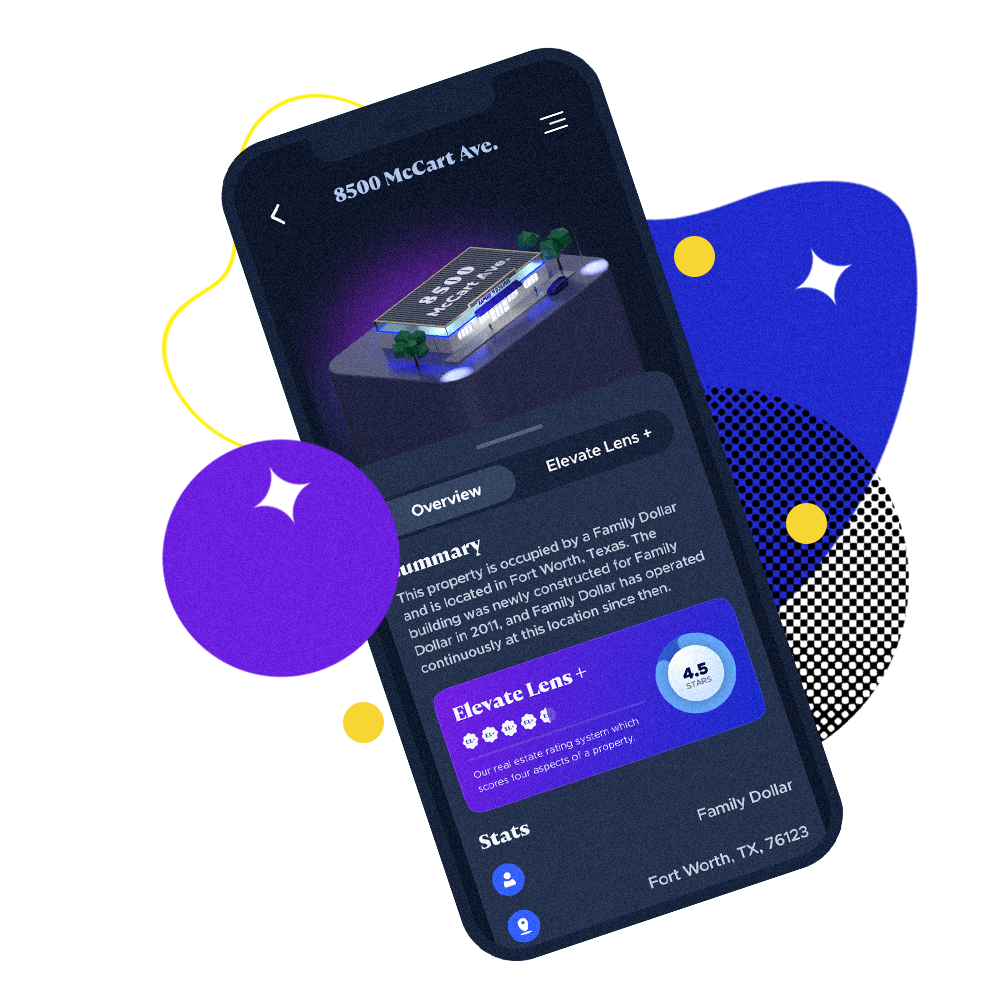 How does Elevate Money work?
Elevate is a real estate investment trust (REIT). When investors buy shares of the REIT, their money is pooled and used to purchase properties such as dollar stores, quick-serve restaurants, and convenience stores. These are single-tenant properties with long lease terms, which reduces the risk of vacancies that can affect cash flow.
The REIT managers at Elevate find commercial properties to purchase. This means each investor that owns shares of the REIT has a small ownership interest in all of the properties the REIT owns. Each month, tenants of the REIT's properties pay rent. This rent is used to pay out dividends to shareholders and provides a steady flow of income.
Elevate Money directly owns and manages all of the real estate in the portfolio. The founders and advisors have decades of combined experience in the real estate industry. This means they know how to find and evaluate properties that'll reliably produce rental income and likely appreciate in value.
And because Elevate handles all aspects of the transactions in-house, including buying and managing properties, investors can assess the total fees charged upfront.
What makes Elevate Money different?
REITs are a very common investment vehicle, but Elevate lets you invest in a private REIT issuing REIT I shares. There are also publicly-traded REITs called "listed REITs," which provide more liquidity because they can be purchased and sold on a stock exchange. Elevate is private, so it may not experience as much volatility as REITs that can be traded like stocks.
Another impact of Elevate not being publicly traded is that it can be more difficult—and costly—to sell back your shares if you change your mind after investing. There's no administrative fee for selling shares after the first three years of ownership, but selling earlier is not guaranteed since the board of directors can amend the share repurchase program at any time. If you want to cash out less than three years after buying, you can sell your shares for a small fee after 90 days. 
Who can invest with Elevate Money?
Almost anyone. The requirements include:
U.S. citizenship

Residence in the U.S.

$100 minimum investment

Investment doesn't exceed 10% of your net worth or annual income 
This makes Elevate much more relaxed than many other real estate investment platforms that require you to be accredited, meaning you must have an annual income of $200,000 or $300,000 combined with a spouse or a net worth of $1 million or more. 
🤩 Where Elevate Money gets it right
Reliable long-term cash flow
Elevate is the only platform that offers fractional ownership in a curated collection of income-producing single-tenant properties rented to financially vetted tenants with long lease terms of five to 20 years. This assurance combined with potentially having annual rent increases built into lease contracts means investors get predictable cash flow from Elevate.
Low minimum investment 
Elevate aims to democratize real estate through fractional investing, and it largely succeeded. The minimum investment is just $100 and with very few requirements to fulfill, so almost anyone can gain exposure to real estate by owning their REIT shares.
Regular dividend income 
One of the best things about real estate is that it's an income-producing asset. An SEC rule obligates REITs to distribute at least 90% of taxable income each year to shareholders in the form of dividends.  Elevate pays out annualized monthly dividends of 6.5% and indicated its intention to do so indefinitely—although there are no guarantees.
Automatic investing options 
Elevate makes it easy to increase your exposure and their automated investing feature lets you passively grow your real estate portfolio. You can deposit money to purchase any REIT on offer, reinvest dividends to purchase more REIT shares, or set up automatic transfers from your bank account.
🤨 Where Elevate Money could do better
Confusing fee structure 
Elevate's fee structure is confusing and can vary depending on the value of REIT shares sold.
Annualized management fee of 0.5% of the REIT's total asset value at the end of each month

Real estate expense fees

Third-party broker-dealer commissions (calculated monthly):

1% on the first $5 million of REIT shares sold

0.75% of the next $2.5 million of REIT shares sold  

0.5% of the following $2.5 million of REIT shares sold

0.25% of any additional monthly REIT shares sold
Figuring out the total amount of fees charged can be complicated and the fees add up.
Lack of liquidity 
Elevate Money intends to be a long-term investment. Your shares can't be sold on a stock exchange, so you may have less access to your funds.
While Elevate Money has a share repurchase program, you must submit a request to sell on your dashboard three or more business days prior to the end of the month. Your shares will be bought back within 10 business days after the end of the month you made the request.  
There is also no guarantee that the share repurchase program will continue. It can be amended, suspended, or terminated with 30 days' notice by the Board of Directors. 
You also can't sell back more than 2% of the weighted average number of shares outstanding over the last 12 months or more than a total of 5% over any three month period. 
Administrative fees for share redemptions
You can sell your shares back to Elevate Money at any time, but you'll have to pay a 1% administrative fee if you do so less than one year after investing. This means you could lose potential returns if you cash out of your investment with Elevate too soon. 
There is no charge for redeeming shares after the first year, and redemptions are processed within 10 business days after the end of the month. However, since the REIT board of directions can end the redemption program without investor approval, there's a chance you won't be able to exit from your Elevate investment whenever you want if the program changes.
🤑 Can you really make money on Elevate Money?
Elevate offers a current annualized dividend yield of 6.5% and targets an 8-10% overall yield between price appreciation and the dividend. The company has details on its website of dividend distributions dating as far back as October 10, 2021.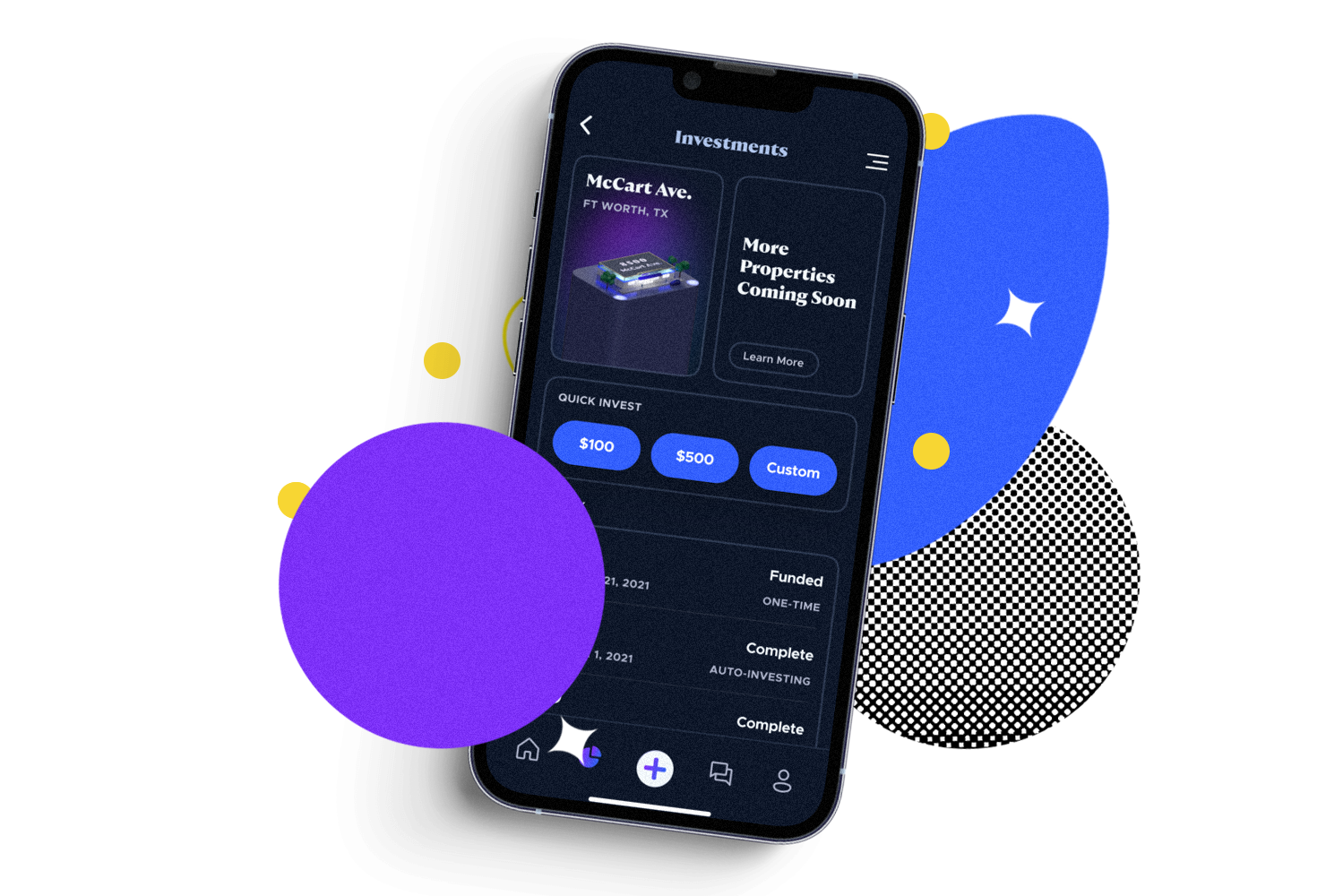 How do I make money with Elevate Money? 
They generate income from tenants who rent the commercial properties they own. This money is redistributed back to investors in the form of monthly dividends. You can also make money if the properties owned by the REIT go up in value. At the end of each year, the properties are reappraised and the price of REIT shares is adjusted to reflect any changes in valuation.
How do I cash out with Elevate Money?
You can cash out your shares through the stock repurchase program, but this is not guaranteed. And if you've owned your shares for less than three years, you'll have to pay an administrative fee of between 1% and 3% 
Elevate Money vs traditional investing
Elevate pays a higher monthly dividend than most investments. It also has a lower minimum investment requirement than many competing real estate platforms and does not require investor accreditation, unlike many private equity real estate firms. While real estate always involves substantial risks, you're less exposed to those risk factors with fractional ownership.
The ability to gain exposure to commercial real estate investments through fractional ownership can help to diversify your portfolio. And because REIT I shares are not publicly traded, there may be less volatility in response to stock market movement.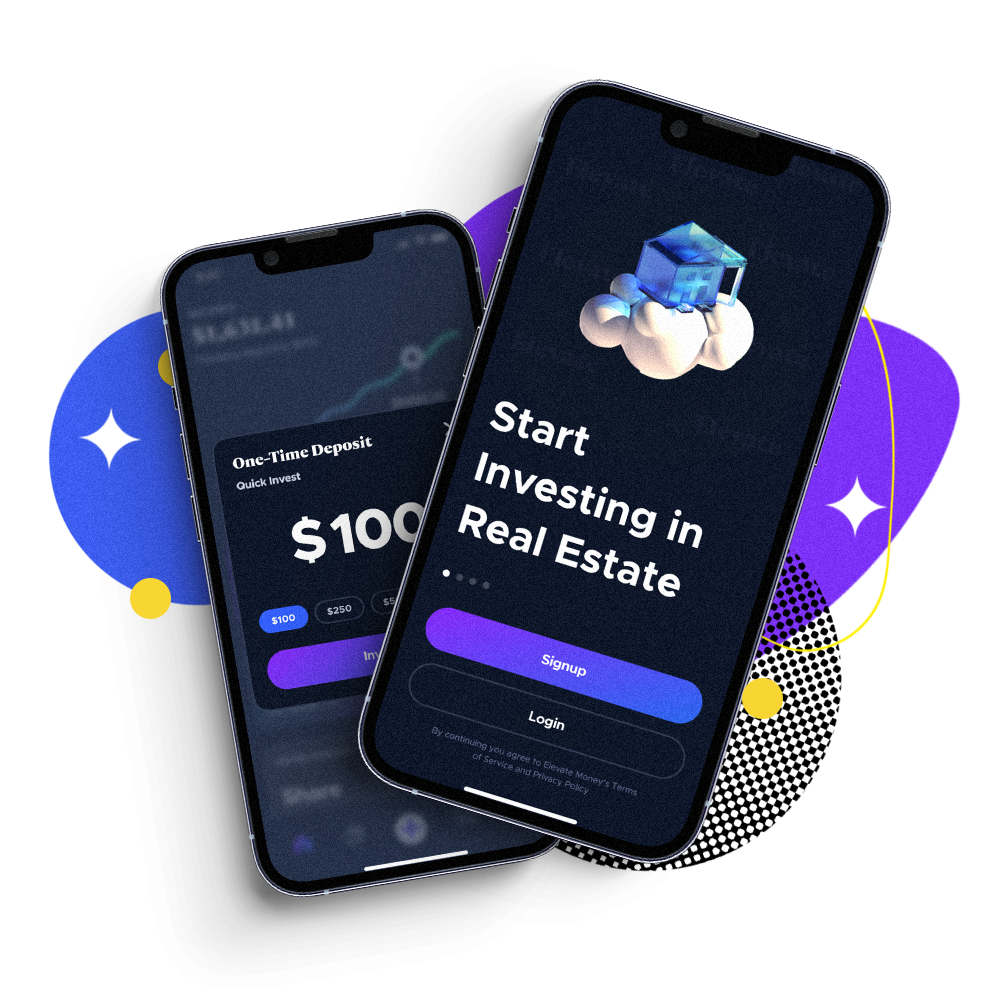 🙊 What other people are saying about Elevate Money
They have very limited reviews online. The company received a Better Business Bureau rating of B+, but has no user reviews on the BBB website. There are also no Reddit or Facebook reviews available.
☝️ Are there other apps like Elevate Money?
Like Elevate Money, Fundrise enables more people to access targeted investments in real estate assets. Fundrise has an even lower investment minimum than Elevate but has greater blind pool risk. Fundrise puts invested capital into a diversified real estate portfolio, just like Elevate does, and specifically promises a low-fee approach—though it pays dividends quarterly and not monthly like Elevate.
However, Fundrise is a marketplace that outsources certain aspects of real estate services while Elevate manages all services in-house, so you know the investment objectives of who you're working with.
Concreit also offers private REITs but has the lowest minimum investment possible of just $1. Like Elevate Money, Concreit's fee structure is also somewhat complicated due to a profit split. Concreit also charges higher withdrawal fees than Elevate, but the fees are imposed for a shorter period of time.
| | | | |
| --- | --- | --- | --- |
|   | Elevate Money | Fundrise  | Concreit  |
| Investment options | REITs | Real estate investment funds | Shares of private REITs |
| Fees | 0.5% REIT management fee, real estate expense fees, &  broker-dealer commission of 0.5% to 1% | 5.52%  | 1% + profit split |
| Minimum investment | $100 | $10.00 | $1 |
| Target returns | 8% - 10%  | 9% - 12% | 5% - 8%  |
| Risk level | Low | Low | Moderate |
| Available on | Desktop, iOS | iOS, Android  | iOS, Android, Desktop |
| Reviews | | Full Fundrise review | |
Elevate Money

Fees

Minimum investment

Average returns

Risk Level

Available on

iOS

Android

Review

 
🔥 Our hot take on Elevate Money
Elevate doesn't require a large financial commitment and is a good source of reliable dividend income. Long-term investors looking to earn passive income from a wealth-building asset should consider Elevate Money's fractional ownership of commercial properties. Just consider how fees are assessed if you want to withdraw your investment early.
👍 I'm in! How do I sign up for Elevate Money?
1.

Sign up for an account.

You can sign up for an account by visiting the Elevate Money website or iOS app and clicking "Get Started."
2.

Provide the requested information.

Elevate asks for some basic information to help you open an account including: - Your email address - Text-enabled phone number - A password - Your first and last name Elevate uses a two-step verification code, so you must receive a text on your phone to sign up.
3.

Fund your account and purchase REIT shares

After signing up, you can fund your Elevate account using an ACH transfer from a linked bank account. You will need to sign a Subscription Agreement, which will be reviewed by Dalmore Group LLC, Elevate Money's broker-dealer. Your admission to the REIT should be confirmed within five days of depositing funds and submitting your agreement.

Explore Assets
Click an asset to learn more
Dogecoin
Music Royalties
Tether
Farmland
Wine
Art
Real Estate
Robo Advisor
Gold
Bitcoin
Stocks
Lending
Startups
Ethereum
DeFi
Solana
Oil & Commodities
Polkadot
Metaverse
NFTs
Whiskey
Bonds
Platinum
Sports Cards
Cardano
Ripple
Silver
Watches