FarmTogether Review
FarmTogether Review: A-La-Carte Real Estate Investment Options for Accredited Investors
There's approximately 911 million acres of U.S. farmland—here's how to own a slice of the pie.

Published Jan 11, 2022•Updated Jun 21, 2022
Farmland
Passive Income
Accredited
Not everybody wants to own a fleet of industrial tractors, nor do investors always have the green thumbs required to grow the nation's food supply. 
But farmland investing—aka agricultural real estate investing—can still be a great value-add for your portfolio because it diversifies holdings and opens up exposure to investments outside of traditional stock market and real estate assets.
With an initial investment of $15,000, accredited investors can get started on the online FarmTogether platform and invest in farms similar to how they might invest in a timeshare, a REIT, or another type of property.
In our FarmTogether review below, we explain how FarmTogether works and how the platform could help you grow both long-term returns and additional income from lease payments and harvests.
Borrow our cheat sheet
MoneyMade member rating
4.7
Bonus offer
Invest in institutional-quality U.S. farmland
Pros and cons
Pros
Historically, farmland returns have been less volatile than most other asset classes
Investing in farmland can help you hedge against inflation
Agricultural commodities benefit from inflation since it boosts acreage values as well as crop income
FarmTogether's management team has an extensive track record in agricultural finance, particularly fruit and nut trees, citrus, and grapes
Lower than average fees and transparent fee structures
Clear selection guidelines and due diligence documents
Good customer service and one-on-one engagement with investors
Cons
FarmTogether was founded in 2017—making it relatively new with a short track record
Only available to accredited investors
What is FarmTogether?
FarmTogether is an online farmland investment platform headquartered in San Francisco and founded in 2017 by Artem Milinchuk. The platform enables accredited investors to invest in U.S. institutional quality farmland. Investors can select from different properties, locations and crop types curated by FarmTogether. 
There are three channels through which investors can buy land: 1) a crowdfunding option with a minimum buy-in of $15,000; 2) a bespoke channel, which enables individual investors willing to fork over $1,000,000 to own the entire farm outright; and 3) a 1031 Exchange which lets investors cash out their other real estate holdings and re-invest the proceeds in farmland (minimum investments and time restrictions apply). 
In addition to the platform's three main offerings, FarmTogether partners with various agricultural institutions such as TriNut—a specialist in nut trees, and financial institutions like RocketDollar, which offers self-directed IRAs including Roth IRA.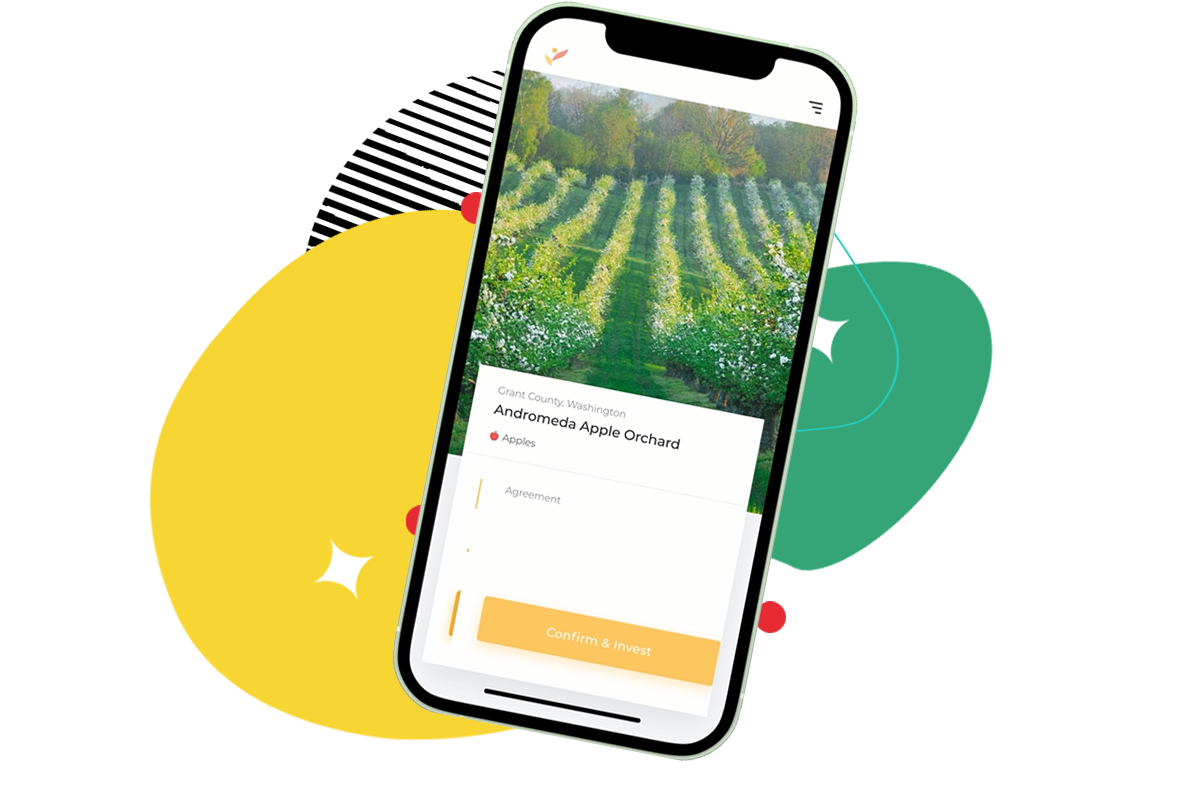 How does FarmTogether work?
With an ETF or mutual fund, you can't own farmland outright—only shares of agricultural companies. However, FarmTogether lets investors access profits from the millions of acres of farmland that get rented out every year. 
Until FarmTogether, there was no way to become a landowner overnight. FarmTogether has taken it upon itself to provide an intermediary service for anyone looking to essentially write a check towards collective farmland ownership. No messy co-op agreements to draft, no need to call up a realtor.
There are five main steps that FarmTogether handles to provide investors with the best selections of farmland, starting with due diligence and choosing the right plots of land to buy. Here's the whole process from start to finish:
1. Step One: FarmTogether selects prospective assets
FarmTogether's investment committee selects the top new investments or properties from hundreds of farmland investment opportunities using publicly available data and privately-sourced information. The team filters for factors like water rights and land improvements such as tiling and/or draining. If there is a speciality label (e.g. certified organic), the team also considers the market demand and potential ROI of such accreditation. 
This process happens both manually and through FarmTogether's proprietary tech solutions that help them filter and hone in on properties efficiently. Not every property makes the cut either. Take a look at some of these Instagram-worthy specialty farms below.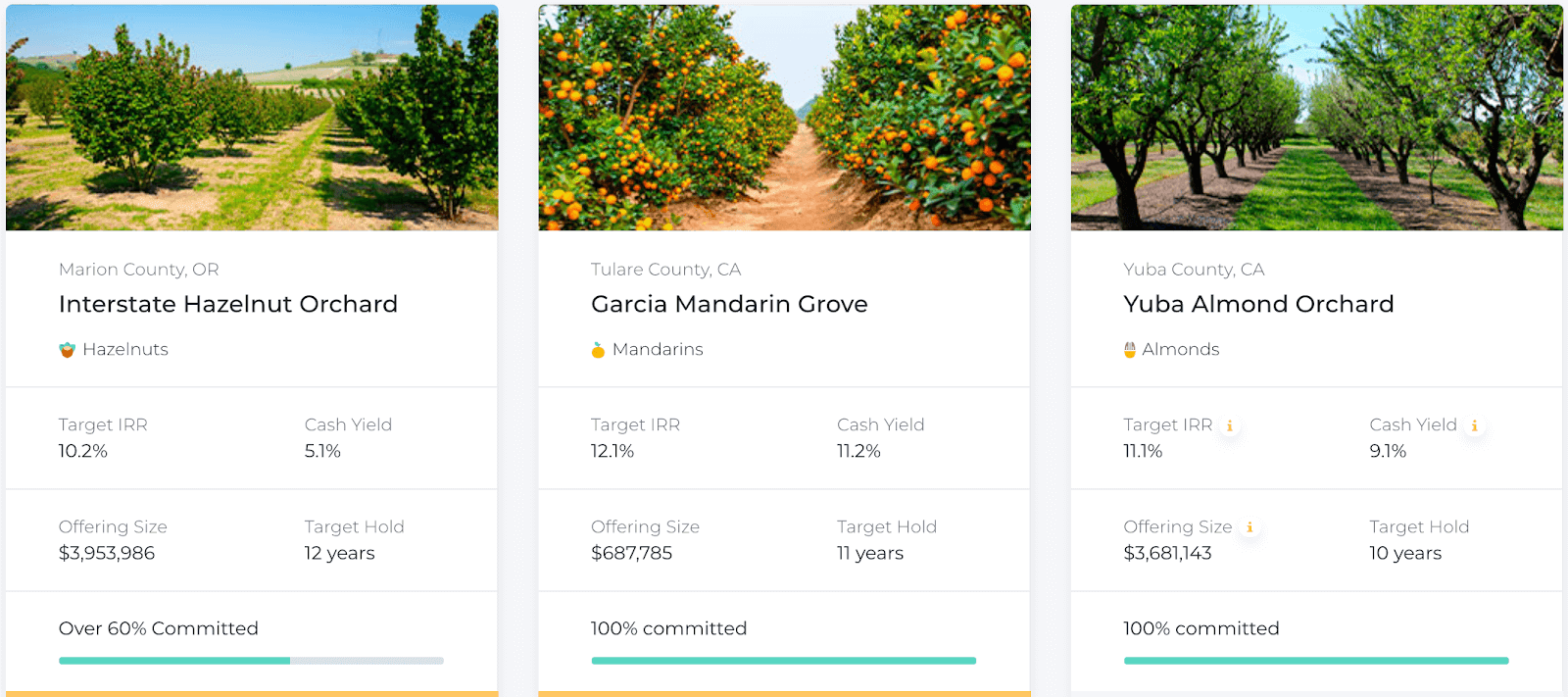 2. Step Two: The team conducts an internal due diligence review
Next, the FarmTogether team reviews the property using a 120-point checklist to hand pick the appropriate ones. They look at soil quality, water rights, capital improvements, titles and deeds, local legislation, farmworker wages, and more. The biggest emphasis is on soil quality, best-in-class equipment, and strong market access.
3. Step Three: Investors co-own the properties
Investors purchase shares in an LLC and become a partial owner of the land. There are three channels through which FarmTogether investors can buy in:
Crowdfunded Farmland 

Minimum investment of $15,000

Hold periods from 5 to 12 years (with annual liquidity windows for earlier exits)

Sole Ownership

Bespoke single-farm offerings starting with a $3,000,000 minimum investment

1031 Exchange

Sell an existing business property and reinvest the profits through FarmTogether using a

1031 exchange

(per Section 1031 of the U.S. Internal Revenue Code—time limit restrictions apply)

Reinvest through crowdfunding option (minimum $500,000 investment) or bespoke option (minimum $1,000,000 investment)
4. Step Four: Regular dividend payouts
Investors make money from cash distributions made on a quarterly or annual basis. The distributions depend on the cash flows from harvest sales or a lease agreement for the given year.
5. Step Five: Farms are sold after five years
At the end of a property's target hold period (they start from 5 years and vary for each deal), investors receive their share of profits from the sale of their farm. The gains will be proportional to their investment.
Like other real estate investments, the value of a farming land can potentially increase over time. The appreciation is expected to come from purchasing below market value, making improvements, inflation, long-term trends of growing food demand and increasing farmland supply.
Who can invest with FarmTogether?
Only those who meet the SEC's definition of accredited investor can invest in FarmTogether. Here are the qualifications:
Earn an annual income of over $200,000 per year for the last two years ($300,000 per household) with the expectation of maintaining such level of income this current year.

Have a net worth of greater than $1 million (individually or jointly), excluding the value of a primary residence.

Invest as a bank, an insurance company, registered investment advisor, business development company, or small business investment company.

Invest as a business in which all the equity owners are accredited investors.

Invest as an employee benefit plan, a trust, charitable organization, partnership, or company with total assets over $5 million.
Therefore, FarmTogether is most beneficial for:
Long-term investors who want to diversify their investment portfolio

High Net Worth Individuals (HNWIs) who want to hedge their money against inflation and to grow their wealth using real estate investment

Investors looking for high-yield passive income from their investments (cash flows from harvests generate regular dividend payouts)

Risk-averse investors who are looking for supplemental income and a low-risk alternative investment portfolio
Much like all commercial real estate, FarmTogether is not a good option for short-term investors looking for highly liquid investment instruments.
Where FarmTogether gets it right
Done-for-you market research and vetting
Using proprietary tech and publicly available data, the FarmTogether team hand-selects properties with all the features they've deemed necessary to promise positive ROI. Using the FarmTogether Investor Dashboard, investors can browse by crop, initial investment size, and more, plus access simple and intuitive information on the farmland investment opportunities presented.
Curated investment options for varying investment levels
While the minimum buy-in is $15,000, FarmTogether lets investors browse through their properties and choose the ones best-suited for their portfolios. Options exist for both partial and outright ownership, as well as one that lets existing commercial property owners postpone capital gains taxes through a 1031 exchange.
Ongoing consumer education and investor customer service
FarmTogether routinely hosts online Q&A webinars, plus investors can access a host of articles, podcasts, webinars, white papers, and infographics on various aspects of farmland investing via the FarmTogether Learning Center.
In addition, the FarmTogether Investor Dashboard provides detailed information on cash rent, taxes, land value appreciation and input costs. Investors have a single place to browse the investments, review necessary documents and materials, sign legal documents, etc.—all securely online.
Where FarmTogether could do better
Illiquid investments may hold your money up for a while
Like other forms of real estate investments, farmland is illiquid or is exposed to liquidity risks and cannot be sold on short notice. However, it's in FarmTogether's plans to launch a secondary market soon. In the meantime, there are annual liquidity windows that allow for earlier exits.
Mother Nature can be unpredictable
Any prospective farmland investor has to be prepared for droughts, pests, disease and other natural disasters. While not typical, you should prepare for risks such as lowered returns, disappointing harvests and even bankruptcy if you want to try FarmTogether. (However, accredited investors should already understand that risk is inherent in all investments.)
Market fluctuations may be new to those unfamiliar with agriculture
If you're used to keeping your eye on the stock market, you'll also need to branch out and learn at least a little bit about market events specific to Big Ag. The prices of a commodity can fall, especially for expensive commodities like tree nuts and specialty organic produce, in critical times. Additionally, farmers may attempt to keep up with the market standards by introducing new equipment, pesticides, and/or land management practices. With time, these experimentations could result in better harvests (and better profits)—but they could also increase operating costs.
Can you really make money on FarmTogether?
Generally speaking, farmland has a strong track record of industry-wide positive returns and minimal losses. After all, Americans will always have to eat. 
Last year, the The NCREIF farmland index, which goes back to 1991, yielded 5.54% in 2021. According to FarmTogether, there hasn't been a negative year for farmland since the index's inception. That said, some critics argue that the historical data for farmland returns is both young and potentially skewed, since land is valued on an appraisal basis unlike other traditional commodities—something to think about as you mull over your decision. 
FarmTogether claims returns between 3% and 13% (net all fees), which for a low-risk illiquid investment isn't bad. It's up to you if it's worth going with the bespoke option and shelling out $3,000,000 for returns under 20% when potentially more lucrative (albeit higher-risk) options like DeFi staking and investments based on high-performing hedge fund strategies exist.  
If you'd rather take a smaller slice of the pie, FarmTogether's crowdfunding option is always there as a diversification play. At the very least, farmland is a good inflation hedge.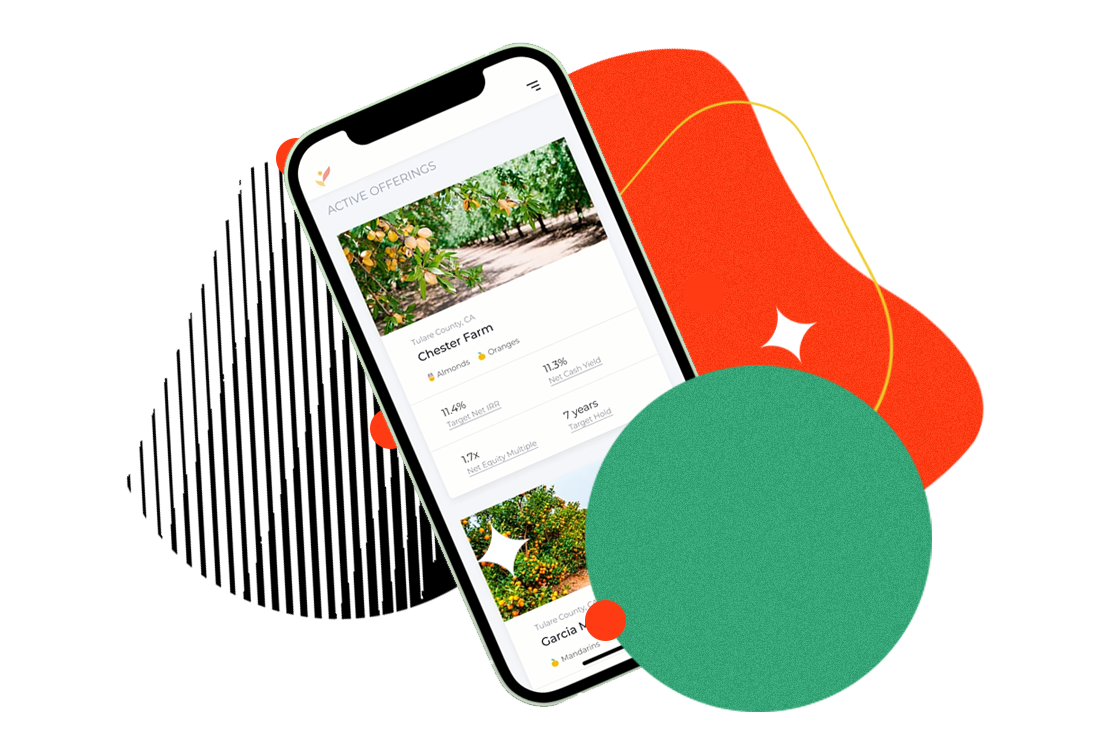 How do I make money with FarmTogether?
There are two ways to make money with FarmTogether: income and property appreciation.
Income comes from rent payments on leased land or a portion of revenue from farming operations. Meanwhile, appreciation happens over time and is realized when properties are sold.
How do I cash out with FarmTogether?
Investors get their farmland returns at the end of their hold period. However, lease payouts are made on a quarterly, semi-annual or annual basis and get automatically deposited into your bank account. The amounts of your distributions will depend on whatever the negotiated lease payments are every year. The platform lets you track these payments and keep track of your earnings online.
FarmTogether vs traditional investing
Here, FarmTogether gets a little braggadocious. The FarmTogether website touts farmland investing as a recession-proof alternative investment that performs even when the market is down. When we look at benchmarks like the 10-year U.S. Treasury Bond, S&P 500, gold, and Dow Jones REIT Index, we do see that farmland stands out. When adjusted for inflation, farmland's value has risen every year since 1993 according to the USDA, but there has been some stagnation since 2016.
That said, there's little likelihood that property values are going to tank overnight—at least they haven't historically for productive farmland. Investors also appreciate farmland for its low correlation to mainstream stock market factors that influence traditional investment vehicles. And finally, we know that farmland returns are known for being less volatile than other asset classes like gold and crypto.
Here's a look (from FarmTogether's website) of how adding farmland to a more traditional portfolio can increase yields:

Using a real example, one of FarmTogether's latest properties is the Sierra Foothills Pistachio Orchard. It has a target IRR of 9.7% and a cash yield of 8.7%. This is similar to the annualized 10-year returns of the S&P 500, which was 10.49% as of 2021.
What other people are saying about FarmTogether
FarmTogether is still relatively new, and few online reviews exist. The platform did earn a favorable review from Scam Risk and an "excellent" rating from YieldTalk. MoneyMade users rate FarmTogether 5 stars.
Are there other apps like FarmTogether?
FarmTogether is an investment platform for accredited investors who want to profit from farmland appreciation and receive regular income from leases. Not to be confused with farmland REITs, FarmTogether offers crowdfunding and bespoke single-property purchase options.
In comparison, Harvest Returns is also designed for accredited investors, but the profit structure is a little bit different. Rather than earning via appreciation and rental income, Harvest Returns investors receive distributions from debt or equity offerings where they participate in the growth of an agribusiness or farm. Investment durations are also different with Harvest Returns, which may give investors a chance to access ROI as early as four months. (Returns and distribution schedules vary by investment opportunity, as per usual.) The minimum investment for Harvest Returns is $5,000.
And comparable to both is Acretrader, which is structured almost identically to FarmTogether but with a $10,000 minimum investment. Potential yields range between 3% and 5%—slightly lower than FarmTogether's—and that's on top of land appreciation. The fees, however, are slightly lower at 0.75%.
FarmTogether

Fees

Minimum investment

Average returns

Risk Level

Available on

iOS

Android

Review

 
Our hot take on FarmTogether
FarmTogether is a good agricultural real estate investment option, especially if you're an accredited investor planning for the long-term and want to diversify your portfolio. You can invest in farmland (an uncorrelated asset) alongside investing in the stock market, bonds or other instruments. Not only can you beat inflation, but you also grow your wealth significantly over time.
However, before investing in FarmTogether, do keep in mind their short track record and the fact that the assets are illiquid.
I'm in! How do I sign up for FarmTogether?
1.

Log in to or create a MoneyMade account.

Visit our FarmTogether platform page and log in to your MoneyMade account.
2.

Open a FarmTogether account.

This can be done through your MoneyMade account or directly with FarmTogether. Click the "Sign Up" button on the FarmTogether homepage.
3.

Answer the provided information.

Know your desired timeline, liquidity level, and what types of farmland interests you.
4.

Sign up by following instructions.

The sign up process takes minutes. Look out for special offers once you create your account. Enter your financial information so you can transfer your initial investments and set up a bank account for receiving dividend payouts.
5.

Return to MoneyMade and link accounts to track everything in one place.

investments all in one place and get a personalized risk score that will help you move closer to your money goals.
Explore Assets
Click an asset to learn more
Dogecoin
Music Royalties
Tether
Farmland
Wine
Art
Real Estate
Robo Advisor
Gold
Bitcoin
Stocks
Lending
Startups
Ethereum
DeFi
Solana
Oil & Commodities
Polkadot
Metaverse
NFTs
Whiskey
Bonds
Platinum
Sports Cards
Cardano
Ripple
Silver
Watches