LexShares Review
LexShares Review: Crowdfund Lawsuits for Double Digit Returns
Litigation financing lets you level the legal playing field while making a profit.

Published Jan 7, 2022•Updated Jun 21, 2022
Balanced Investing
Accredited Investors
Lending
When it comes to investing, one of the most important principles to keep in mind is balance. Maintaining a variety of diversified investments can help insulate your portfolio from market downturns and reduce your overall risk. Enter LexShares, a litigation financing platform that offers accredited investors an investment opportunity that has practically no correlation to traditional markets.
With LexShares, investors are able to crowdfund commercial litigation suits; in one step diversifying their portfolios and helping legal cases proceed that otherwise wouldn't get off the ground due to lack of funding.
In this LexShares review, we'll go through the details of how it all works and what you need to get started, and help you decide if it's the right place for you to invest.
Borrow our cheat sheet
MoneyMade member rating
4.0
Pros and cons
Pros
Relatively low minimum for accredited investors
Great form of diversification, as litigation finance has very little correlation to stock market
Moderate investment timeframe
Potential for high returns
Cons
Potential offerings sell out quickly
Illiquid investment—there is no secondary market for this type of investment
Limited to accredited investors
Much higher minimum for fund investments
What is LexShares?
LexShares is a private litigation finance firm founded in 2014 by Jay Greenberg, a former technology investment banker, and Max Volsky, a former litigator. They have offices in Boston, Massachusetts, and New York City.
LexShares allows accredited investors to invest in commercial legal claims. The platform also emphasizes the potential for doing some good in addition to making a profit; by leveling the playing field in terms of financing lawsuits, investors are helping to make sure the outcome is based more on legal merits than which party can throw more money at the suit.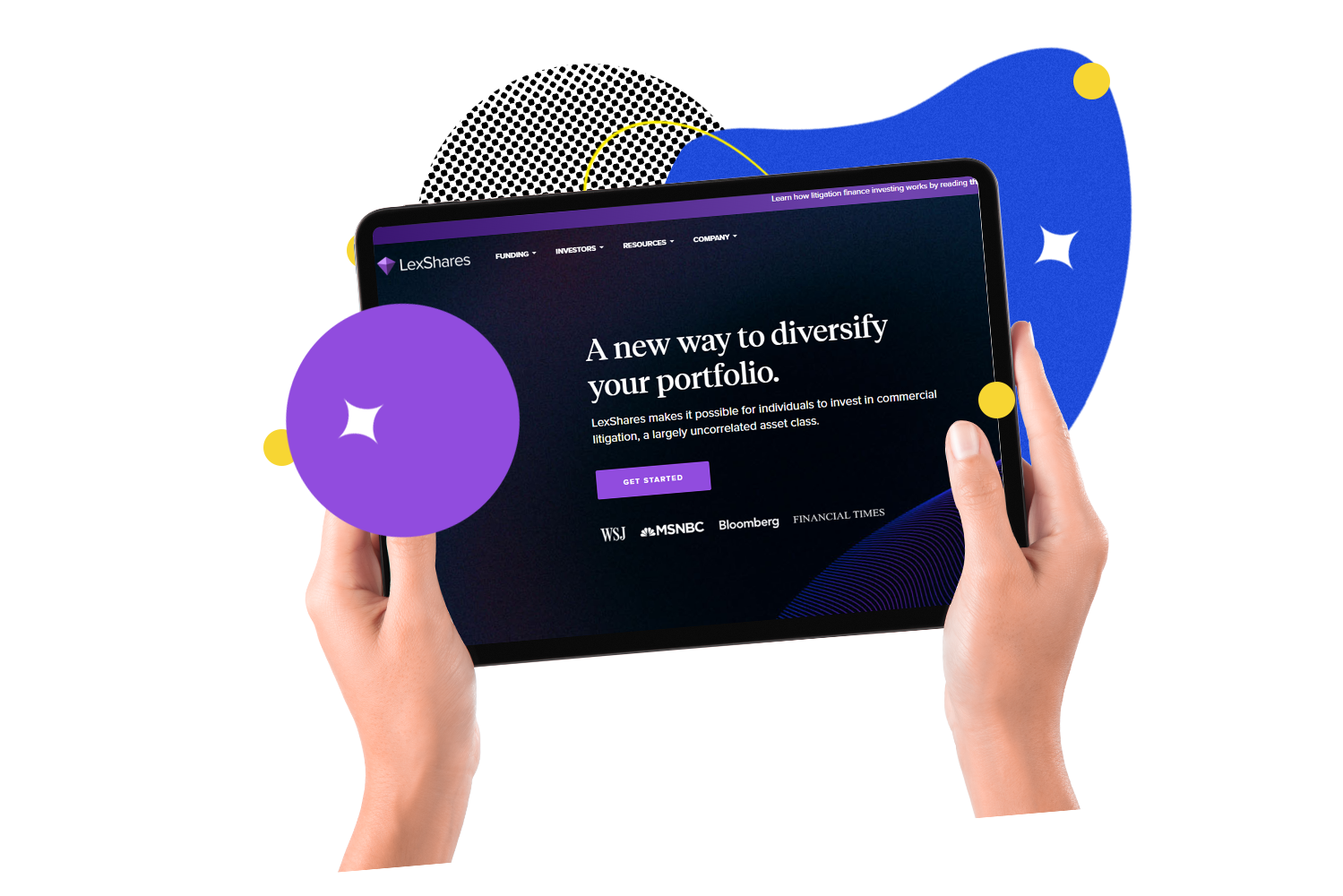 How does LexShares work?
Investors in LexShares are essentially helping to finance parties involved in commercial litigation in return for a share of any capital awarded as an outcome of a lawsuit. If a lawsuit is decided positively for the party funded through LexShares, investors will see a return on their investment.
Any plaintiff or attorney who thinks their case fits LexShares' criteria can apply to receive financing - typically for no more than 10% of the expected financial recovery. For example, if the plaintiff is claiming $10 million in damages, LexShares might invest $1 million.
The LexShares legal team thoroughly vets all the cases that are submitted to them. This helps the firm minimize the risk of a bad investment. Less than 5% of all cases reviewed by the experienced investments team at LexShares are approved for funding.
There are two different ways that you can invest with LexShares:
You can invest in individual lawsuits, pre-vetted by LexShares, as they become available on the platform (although they typically fund within minutes, so you have to be quick).

You can invest in their LexShares Marketplace Fund II, which serves like a hedge fund. Investor money is locked in for seven years, and a manager directs the investments of the fund.
Who can invest with LexShares?
Only accredited individuals* are eligible to invest with LexShares. The platform is, however, open to international investors, rather than being limited to US residents.
*The current SEC definition of an accredited investor includes those who have a net worth of $1 million or more, those who have a yearly income of $200,000 (or $300,000 when combined with a spouse), and those that hold certain professional licenses.
Where LexShares gets it right
Invest starting at $2,500
In order to invest in the pre-vetted individual lawsuits offered on the LexShares platform, investors only need to chip in $2,500; for a platform catering to accredited investors only, this is a pretty low starting price. Many other platforms for accredited investors require many times that amount to get started.
Basically no correlation to the stock market
Litigation financing is an excellent way to diversify your portfolio. With a very low correlation to the stock market, your investment with LexShares will be unaffected by market volatility
 
Average investment time period of 15 months
With an average reported time of 15 months from the investment of capital to the resolution of a case, LexShares provides investors with a relatively quick turnaround time on their money when they invest in individual lawsuits. Many asset classes, like real estate or startups, require much longer time periods (think 5-10 years) in order to see a return.
Potentially high returns
LexShares invests a maximum of 10% of the expected recovery, which means that with each resolved litigation case, LexShares typically stands to earn 2x - 5x of the initial investment. Their reported metrics indicate a 70% win rate for resolved investments, and a median IRR of 47%.
Where LexShares could do better
Individual lawsuit offerings go quickly
Since there's no steady supply of viable litigation, new cases are posted to the website irregularly and they sell out quickly, sometimes in minutes. This means that even if you're an accredited investor and you've got the $2,500 needed to invest, you could still run into difficulties actually being able to make an investment on LexShares.
No secondary market
While litigation financing has plenty of unique advantages, one big disadvantage is that there is no open market for resale of your investment. Once you've put your money in, you simply have to wait and see what happens. Only when the lawsuit you've invested in has been resolved will you get a return (if any). In the case of the Marketplace Fund offered by LexShares, you're looking at an even longer time frame before you can see a return on your investment.
Open to accredited investors only
LexShares is currently only open to accredited investors, which makes this platform inaccessible to a large number of potential investors.
High investment minimum for managed fund
While the minimum investment for individual lawsuits is just $2,500, the minimum for investing in the LexShares Marketplace Fund is 100x that at $250,000. Obviously this is a much steeper entry price, and may put an investment in the fund out of the reach of some investors, even if they're accredited.
Can you really make money on LexShares?
Definitely. According to LexShares' reported metrics, they have a 70% win rate for resolved investments, and a median IRR of 47%.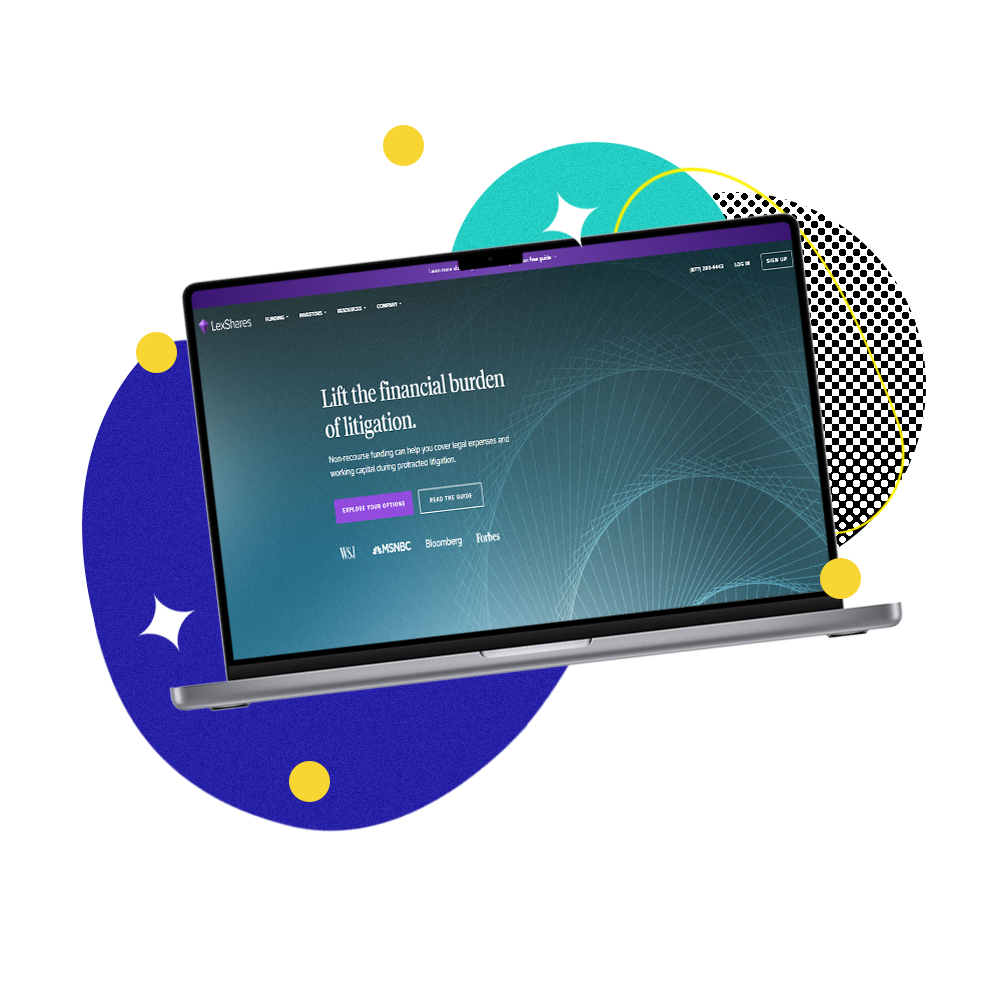 How do I make money with LexShares?
If you're investing in individual cases through Lexshares, you make money like this:
When a LexShares backed plaintiff receives monetary compensation as a result of winning or settling the case, LexShares gets a portion of the winnings. Money is then disbursed to each investor, and LexShares earns a part of this return as carried interest (share of profits).
Alternatively, when investing in the managed fund offered through LexShares, it goes like this:
The first 36 months of this litigation finance fund will be the investment period, where the collected capital is invested in approved lawsuits. The harvest period comes afterward, and the returns of every case resolved during this period are immediately redistributed among every litigation funder. This fund will not reuse/recycle capital from resolved cases.
How do I cash out with LexShares?
Cashing out of LexShares happens after a case is concluded. Whichever way you made your investment (whether ACH or wire transfer), any proceeds as a result of litigation, assuming the litigation is successful, will be transferred back to you in the same way. 
LexShares vs traditional investing
Because LexShares deals in litigation finance, investments made through the platform have a very low correlation with the stock market and are a potentially great way to diversify your portfolio. It's important to note, however, that there is zero secondary market for this type of investment, so you have essentially no liquidity on your investment—you simply have to wait until the conclusion of a case to see a return, and there is no standard time limit for litigation. On the other hand, their historical returns from successfully litigated cases are much higher than the standard 10% benchmark we use when discussing the stock market as a whole.
In short, LexShares could be a great, and highly lucrative, complement to a more traditional stocks/bonds mix, but is a very different sort of investment and should come with different expectations.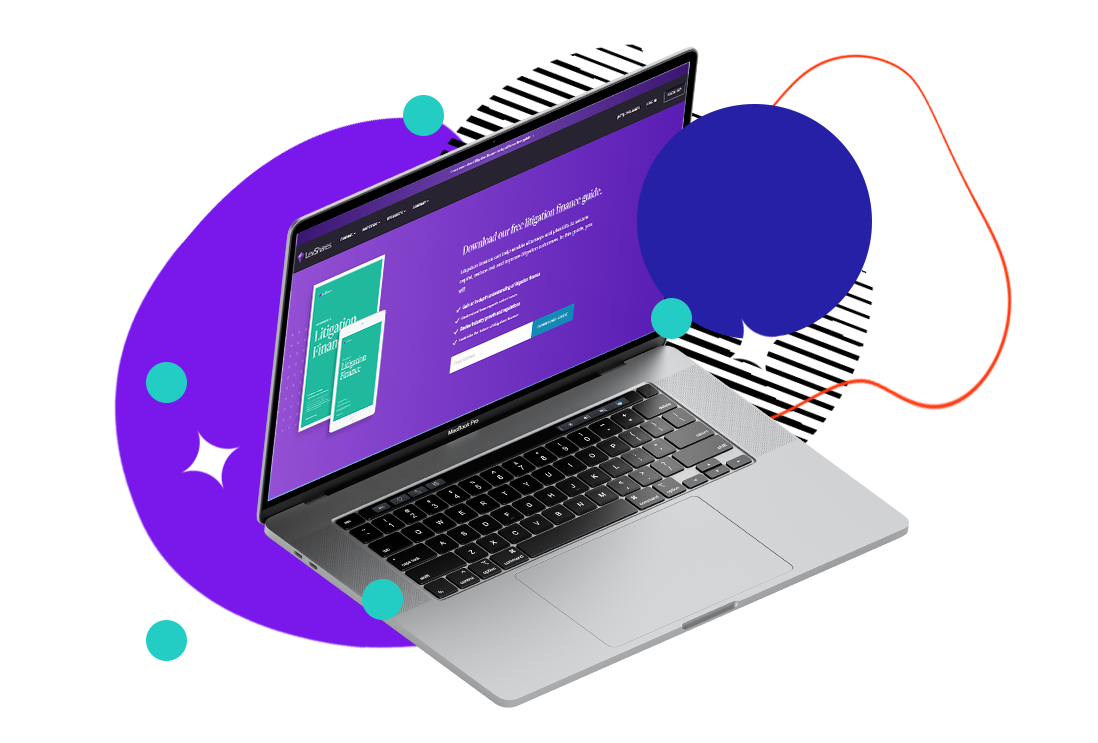 What other people are saying about LexShares
There isn't much in the way of customer feedback to be found, but professional publication-sponsored reviewers generally rate LexShares highly, pointing to the ease of use of the platform, excellent customer service, and impressive educational resources available for investors. The investor comments that do exist emphasized LexShares' great IRR, and the fact that litigation finance as an asset class is essentially uncorrelated to traditional investment avenues.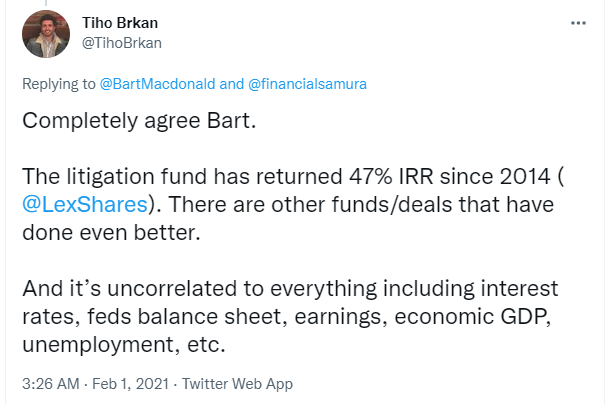 Are there other apps like LexShares?
Litigation finance is a relatively niche investment space, so there aren't a ton of platforms offering this type of investments.
YieldStreet is a crowdfunding platform that offers a variety of asset-backed debt investments in all sorts of asset classes, including litigation finance. Unlike LexShares, Yieldstreet is available to non-accredited investors, although it is limited to US investors only.
Fund That Flip is a platform that allows you to invest in pre-vetted residential real estate redevelopment projects. While this obviously isn't exactly equivalent to litigation finance, investments made through this platform are similar in that they're relatively shorter term loans, and there isn't any secondary market for your investments. Fund That Flip is also, like LexShares, only open to accredited investors.

See the table below for a quick comparison of these platforms, and check out our Discover page to browse through more than 180 other platforms you may want to consider.
LexShares

Fees

Minimum investment

Average returns

Risk Level

Available on

iOS

Android

Review

 
Our hot take on LexShares
LexShares is a great platform for accredited investors looking to diversify their portfolio and target outsized returns. Since litigation finance is largely unaffected by market trends, and resolved cases have the potential for large returns in a relatively short amount of time, the upsides can outweigh the risks for many investors. However, remember that if the plaintiff loses, you risk losing out on your entire investment, and that investing in LexShares means locking in your money for a fixed period. Those that are very risk-averse or unwilling to invest in an asset without a secondary market will want to look elsewhere.
I'm in! How do I sign up for LexShares?
1.

Log in to or create a MoneyMade account

Visit our LexShares platform page and log in to your MoneyMade account.
2.

Go to LexShares and create an account

Visit the platform and sign up using the online investor sign up form. You will have to fill in your contact information.
3.

Find a lawsuit to invest in

When new litigation investment opportunities are available, LexShares will notify you via email, and you can start the investment process.
4.

Confirm your accreditation

The first time you invest in an offering, you will be asked to confirm if you are an accredited investor. To prove that you are an accredited investor, you will have to present one of the following: accreditation verification letter, your W2 tax returns for the last two years, or copy of a recent brokerage or account statement showing the value of your account(s) to be over $1 million and a credit release form. Note: If you are a Non-US based investor, additional documentation may be required for verification.
5.

Fund your account

You can fund your account either through ACH or wire transfer.
Explore Assets
Click an asset to learn more
Dogecoin
Music Royalties
Tether
Farmland
Wine
Art
Real Estate
Robo Advisor
Gold
Bitcoin
Stocks
Lending
Startups
Ethereum
DeFi
Solana
Oil & Commodities
Polkadot
Metaverse
NFTs
Whiskey
Bonds
Platinum
Sports Cards
Cardano
Ripple
Silver
Watches