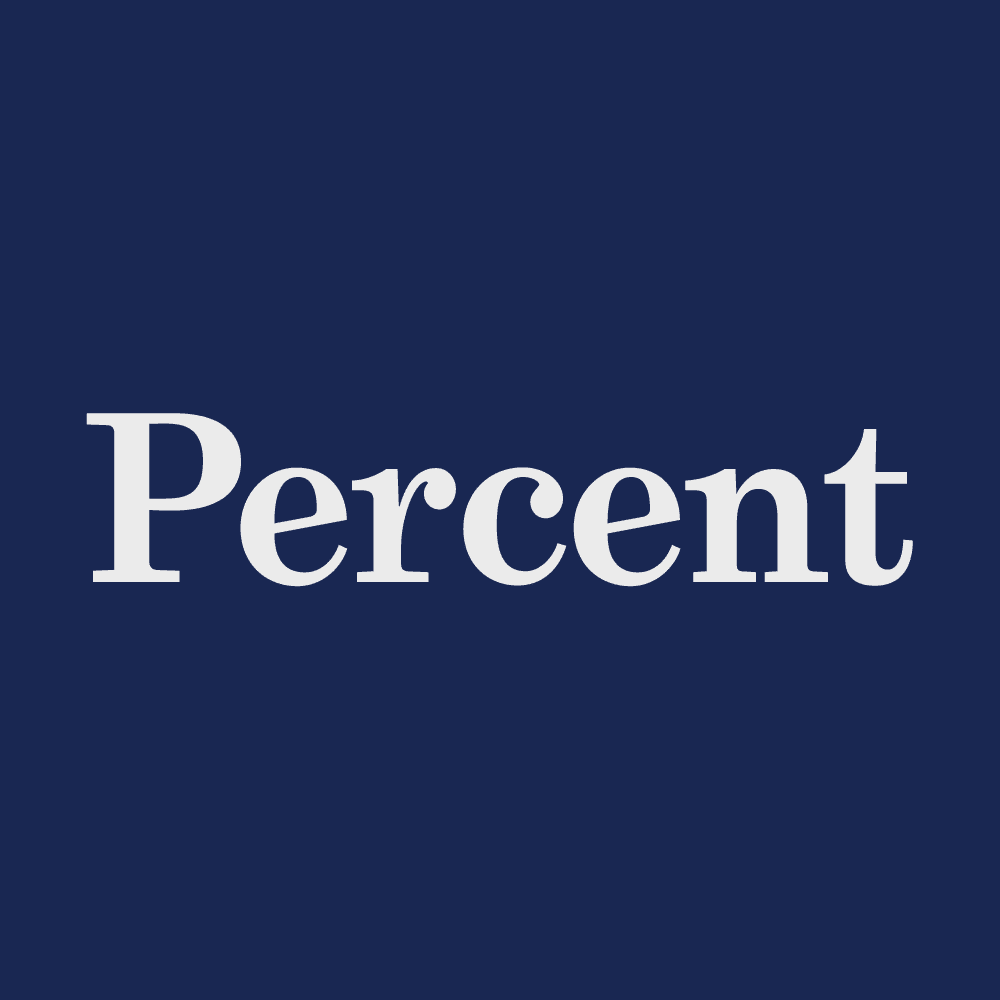 Percent
Earn up to 10% APY!
Looking for a Percent review to help you weigh the pros and cons of investing through the platform?

It's no secret that alternative investments are an easy way to diversify your portfolio and insulate yourself against market trends.

However, many alternative investments require large amounts of capital, making them inaccessible to many individual investors. Fortunately, platforms like Percent make alternative investments such as short-term private credit lending available to accredited investors.

Through Percent, investors get access to unique high-yield investment opportunities that span across several industries and can generate passive income.

But how does Percent work?

What are the costs, pros and cons, and the potential returns?

In this detailed Percent review, we will walk you through what it offers, how to get started, its annual returns, and much more.
Investment Types
Short-term debt investments
Minimum Investment
$500 for most deals
Annual Returns
Varies according to each offering
Liquidity
Reasonable, as Percent specializes in short-term investments
Open to investors outside the US?
Not on most occasions
Best for
Accredited investors with an eye on short-term investments

Investors looking for an inexpensive and easy way to diversify their portfolio

Investors looking for a high-yield investment that can generate passive income
What is Percent?
Founded in 2018 and headquartered in New York, Percent is a digital investment platform providing investors with short-term debt investment opportunities. Percent differentiates itself by offering opportunities that have traditionally been reserved for institutional investors.
These opportunities center around high-yielding debt supported by cash-generating assets. This helps Percent provide competitive earnings while granting access to a variety of sectors and industries.
Percent provides all of this at no cost to the investor. Instead, the platform's partner originators incur the costs, allowing investors to take advantage of multiple investments.
Investors start earning through interest accrued on their investments. Once the investment has reached maturity or a note is called, investors have the option of re-investing their earnings into new opportunities.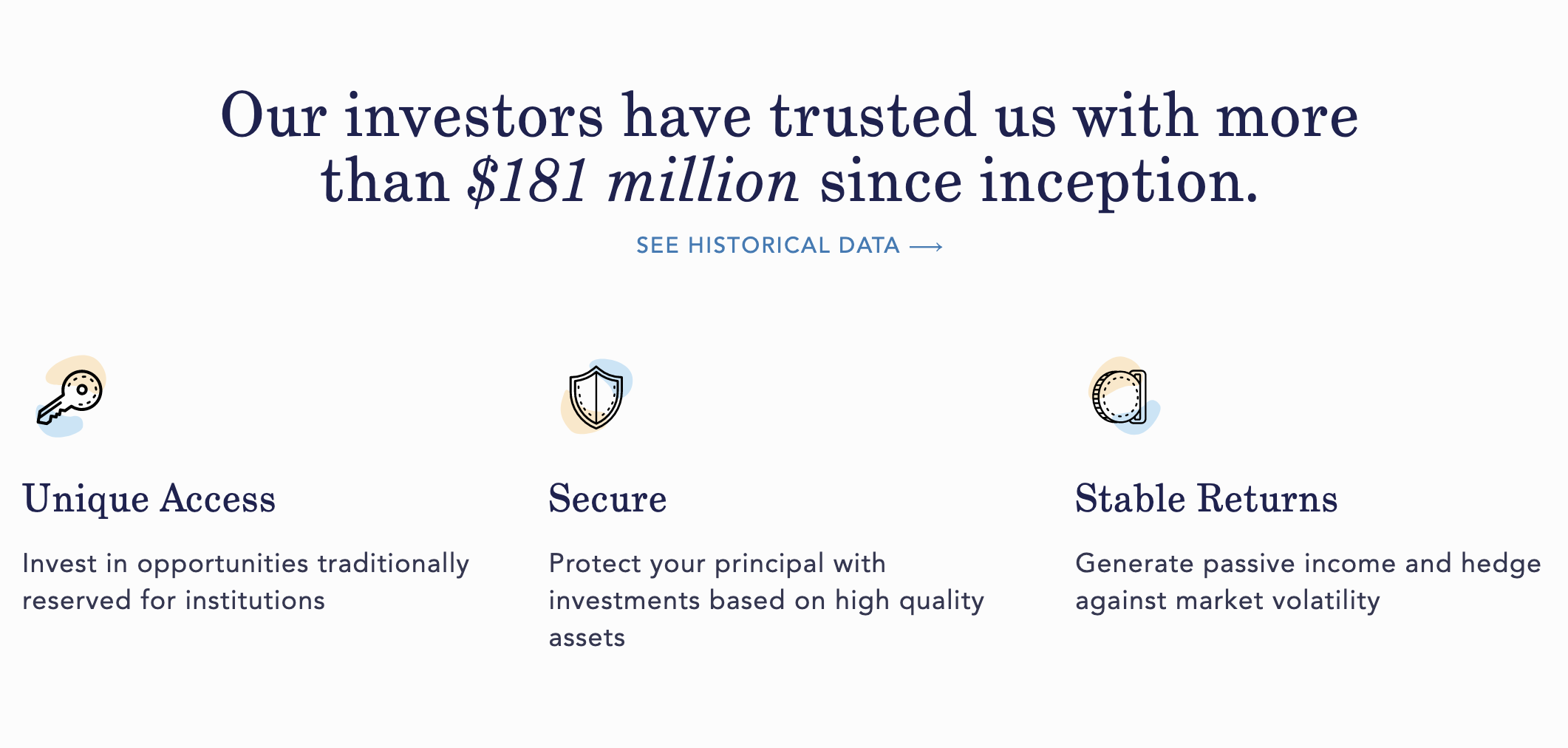 Who should use Percent?
Percent is an ideal investment platform for:
Accredited investors with an eye on short-term investments.
Investors looking for an inexpensive and easy way to diversify their portfolio.
Investors with an eye on high-yield investments that can generate passive income.
How does Percent work?
Here's how Percent operates:
1. Percent partners with reputable originators
By partnering with dozens of originators like Wall Street Funding, Aspiria, ThunderRoad Financial, Axle, and Salt, Percent ensures a steady stream of new investment opportunities.
Investors can then choose from the available options. You can invest how much you want (provided it's above the minimum) across several different options to capitalize on the returns.
2. Investments remain active until fully funded or closed
Each investment has a funding goal and has a certain amount of time to achieve that objective. Once fully funded, investments will start generating interest for investors.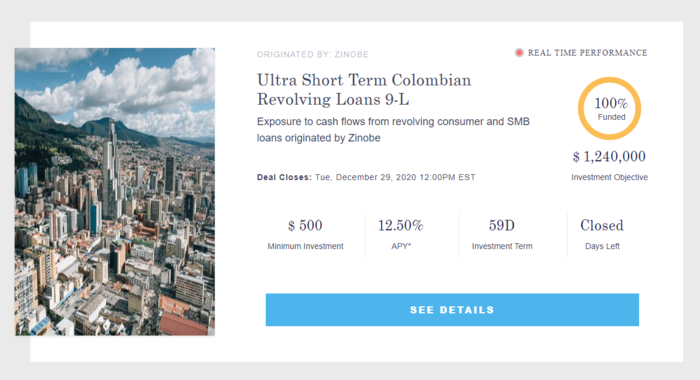 If a deal fails to reach its objective, it's closed.
3. Percent holds a Dutch auction to determine the APY
Investors are notified of an upcoming Dutch auction for all deals expected to close within the following two weeks. This provides attendees with an opportunity to determine the APY of the note.
4. Investors earn once the deal reaches maturity
Once the deal reaches maturity or a note is called, Percent deposits the principal and interest into your account. You may withdraw these funds into an external account, or you can opt to re-invest your earnings into a new deal.
Upon redemption, Percent will credit you with the principal and the interest, which you can then withdraw to your bank account.
Percent features
Here are Percent's key features:
1. Blockchain technology
Percent takes advantage of the power of blockchain technology to enhance its operational efficiencies. This feature allows the platform to provide investment opportunities that would otherwise be too expensive to administer.
2. Investor protection
All investor deposits are held at an FDIC-insured bank and funds deposited with Percent are insured up to $250,000.
Additionally, Percent has several SPVs (Special Purpose Vehicles) acting as bankruptcy-remote legal entities. This ensures the security of investor funds even if Percent were to face financial difficulties.
3. Reputable originators
While all investments carry a degree of risk, Percent goes to great lengths to minimize that risk. Percent ensures investors only see opportunities presented by trustworthy originators that have:
A reputable management team
A track record of successful investments
Proven experience in the underlying asset classes
Rigorous due diligence and underwriting standards
How to get started with Percent
Follow these steps to start investing:
Step 1: Begin by signing up on Percent's website. Once you've created your account, you'll be able to see all investment opportunities.
Step 2: Before being allowed to invest, Percent will need to verify your identity. To do this, you'll need to upload an image of your ID and a photo of yourself.
Step 3: The next step involves verifying your accredited investor status. This involves completing several KYC (know your customer) checks.
Step 4: Once your profile is complete, you'll need to fund your Percent account. You can do this through an ACH (Automated Clearing House) or by wire transfer. Alternatively, investors can fund their accounts through platforms like Alto IRA.
Step 5: The funds usually take about one to five days to clear. After that, you're free to begin selecting from the various investment opportunities.
Step 6: Once the deal reaches maturity, Percent will credit the principal amount and interest into your account.
Percent fees
Percent doesn't charge investors any fees at all.
Instead, the originators are charged about 1% annually.
Percent Potential Returns
Potential returns vary with each investment, but Percent clearly states the estimated return under each investment opportunity.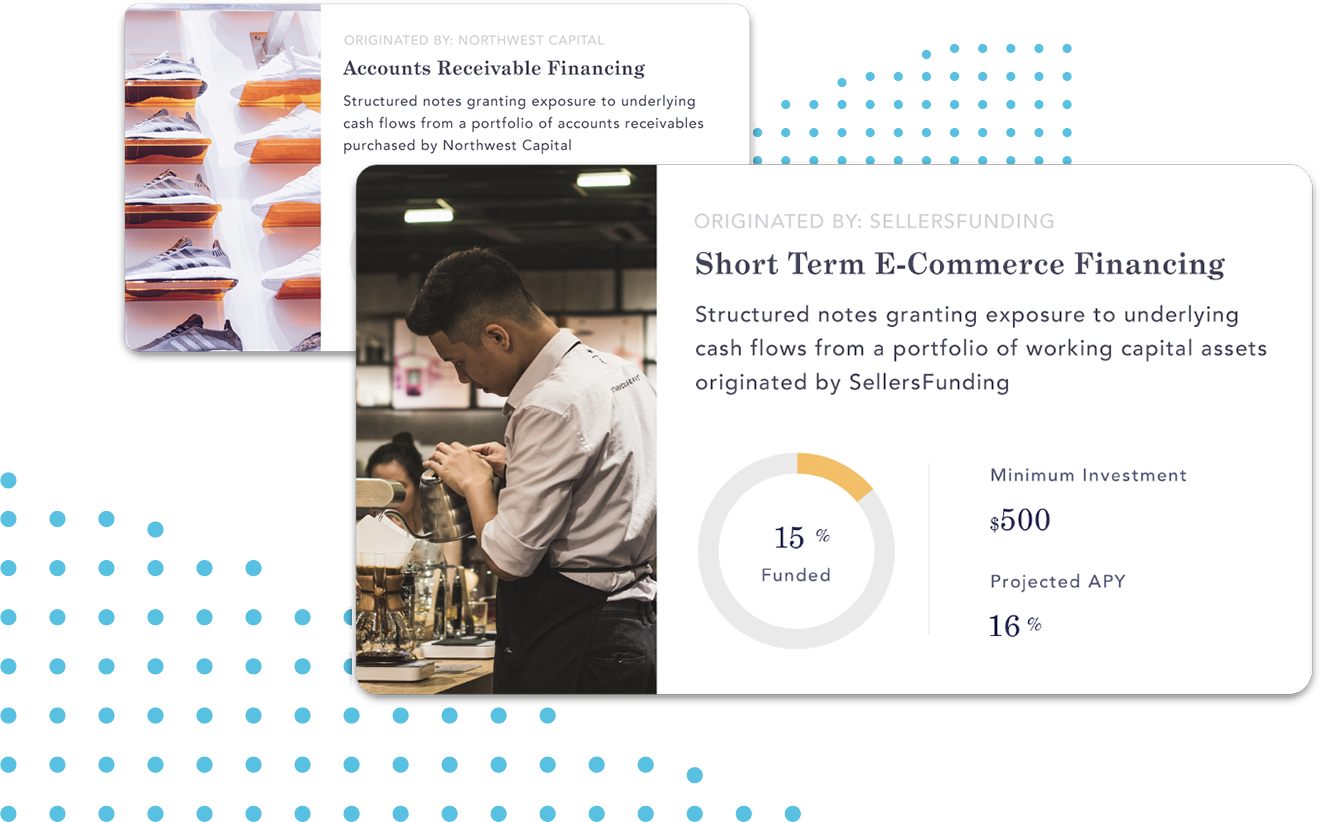 Percent Historical Performance
Currently, the total amount invested through Percent has crossed $266 million across 190 deals. Of those, 166 have been fully repaid, resulting in over $213 million in principal returned and $5.42 million in interest paid. The remaining deals are still in progress.
Typically, most investments have an APY of between 9 and 12%.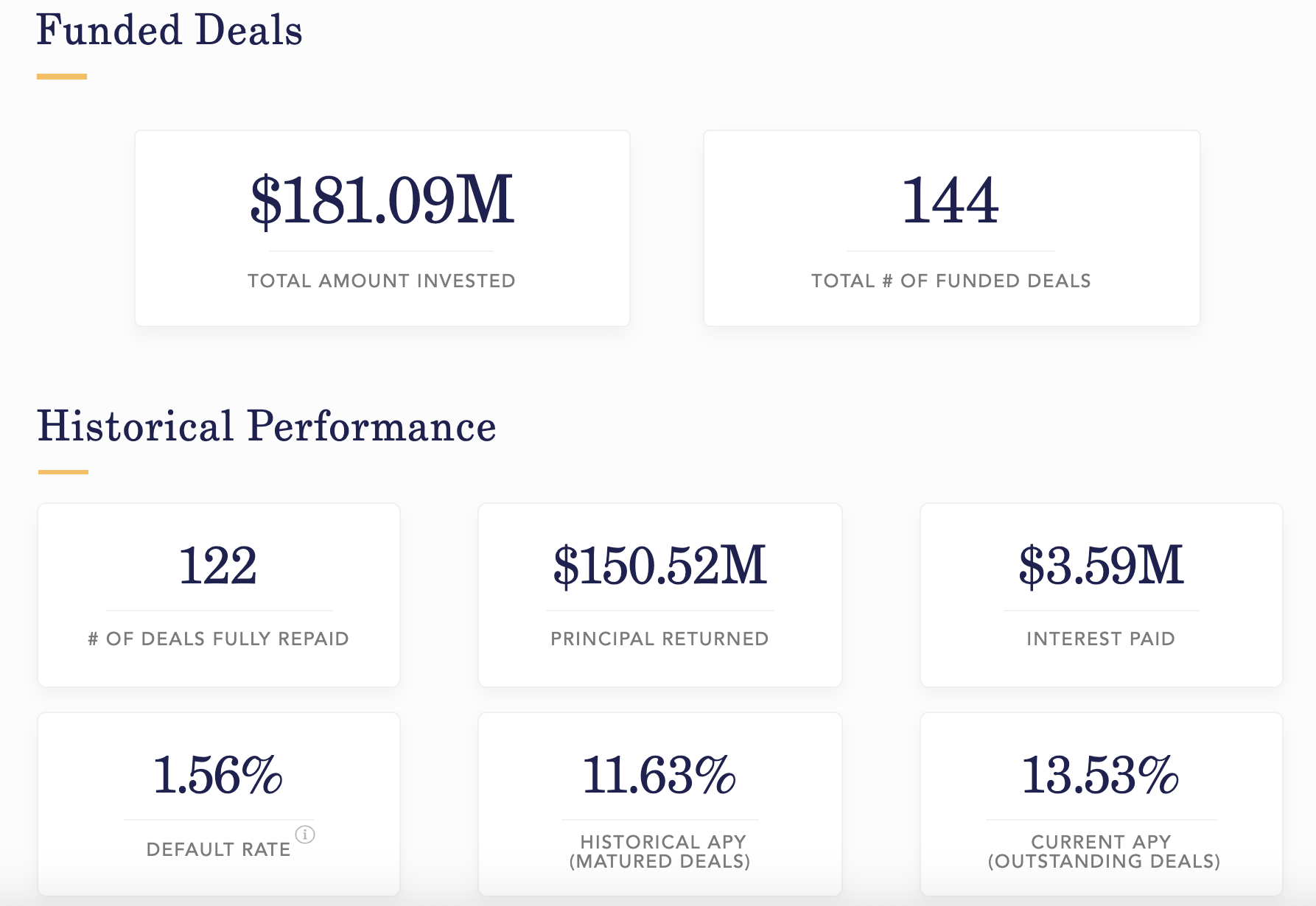 For the complete list of Percent's past deals and performance, head over to their website.
Pros and Cons of Percent
Here are some benefits and drawbacks of investing through Percent:
Pros
Strong and transparent historical performance despite having been formed only in 2018.
Investors are charged no fees.
Gives individual investors access to unique investment opportunities such as working capital assets and merchant cash advances that are typically only reserved for institutional investors.
As these are alternative investments, they usually have a low correlation with the stock market, insulating investors against market trends.
A focus on short-term investments means investors have access to good liquidity, as opposed to most other alternative investments.
Most of the investments offered on Percent have a minimum investment amount of just $500.
A syndication process allows investors to have a say in the APY of their investment through a Dutch auction.
Cons
Only available to accredited investors.
No long-term investment options.
No mobile app to track your investments on the go.
Risks of Investing Through Percent
While Percent goes to great lengths to minimize risks, certain factors are out of their control. Keep these points in mind:
1. Asset performance risk: This is when the assets contributing to the repayments perform poorly, resulting in lower returns than forecasted.
2. Counterparty risk: This refers to the risk that an entity involved in a financial contract doesn't honor its obligations, resulting in an investment falling through.
Conclusion
The short-term nature of Percent's offerings, when coupled with low investment minimums and a solid track record, makes it an attractive investment opportunity.
Some investors may find the lack of long-term opportunities a drawback. However, with such low minimum investment requirements, investors can benefit from investing in multiple opportunities simultaneously to generate high returns and passive income.
If you'd like to learn about more investment opportunities, take the MoneyMade Investor Quiz, Answer a few questions, and you'll be presented with opportunities that fit your needs best!
Do more with your money
Become a MoneyMade member (it's free!) for personalized alternative investment matches, expert insights and portfolio tracking.