Percent Review
Percent Review: No Fee Alternative Investments
Here's everything you need to know about investing with Percent, the no-fee alternative investment platform.

Published Dec 22, 2021•Updated Jun 21, 2022
Lending
Accredited
Short Term Investing
It's no secret that alternative investments are an easy way to diversify your portfolio and insulate yourself against market trends. 
However, many alternative investments require large amounts of capital, making them inaccessible to many individual investors. Fortunately, platforms like Percent (formerly known as Cadence) make alternative investments such as short-term private credit lending available to accredited investors. 
Through Percent, investors get access to unique high-yield investment opportunities that span across several industries and can generate passive income.
But how does Percent work? 
What are the costs, pros and cons, the potential returns, and how does it compare to other online investment platforms? 
In this detailed Percent review, we will walk you through what it offers, how to get started, its annual returns, and much more.
Borrow our cheat sheet
MoneyMade member rating
5.0
Bonus offer
Get up to $500 when you make your first investment today.
Pros and cons
Pros
Good liquidity with a focus on short-term investments
Minimum investment of only $500
Alternative investments typically have a low correlation with the stock market
Diversification across sectors and industries
A syndication process allows investors to have a say in the APY of their investment through a Dutch auction.
Cons
Only available to accredited investors
No mobile app to track your investments on the go
What is Percent?
Founded in 2018 and headquartered in New York, Percent (formerly Cadence) is a digital investment platform providing investors with short-term debt investment opportunities. Percent differentiates itself by offering opportunities that have traditionally been reserved for institutional investors.
These opportunities center around high-yielding debt supported by cash-generating assets. This helps Percent provide competitive earnings while granting access to a variety of sectors and industries.
Percent provides all of this at no cost to the investor. Instead, the platform's partner originators incur the costs, allowing investors to take advantage of multiple investments. 
Investors start earning through interest accrued on their investments. Once the investment has reached maturity or a note is called, investors have the option of re-investing their earnings into new opportunities.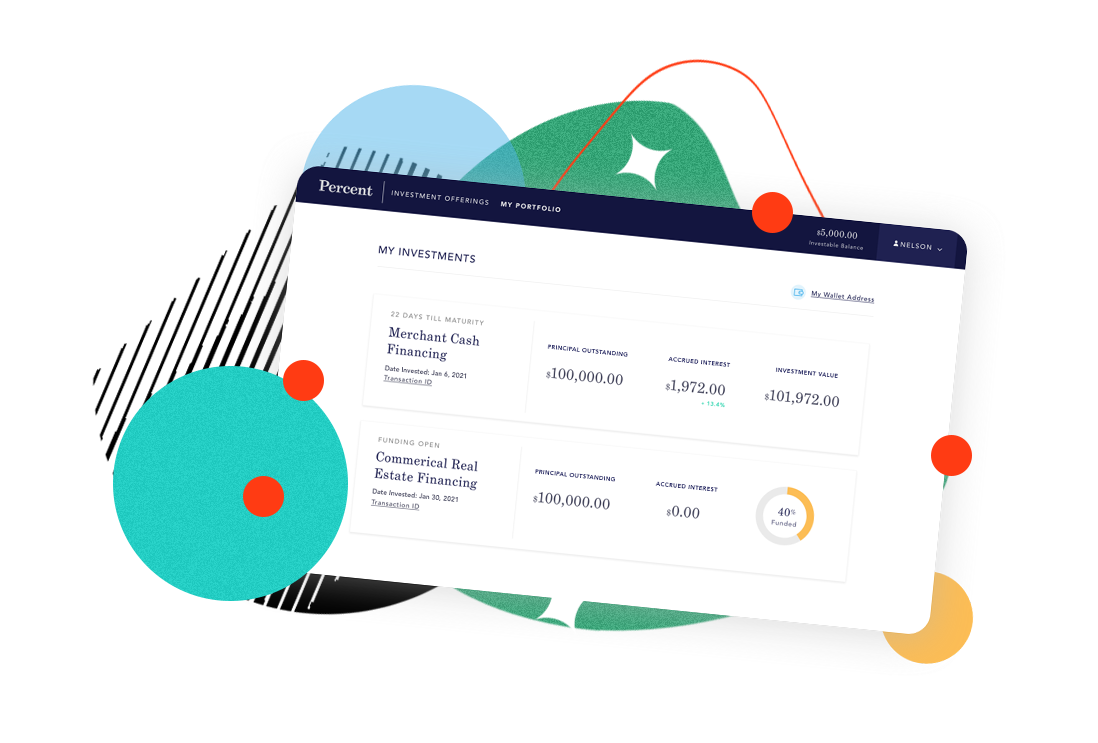 How does Percent work?
Percent partners with reputable originators like Wall Street Funding, Pollen VC, and Arctos Capital to deliver unique investment opportunities to accredited investors. 
Sign and up and search for an opportunity 
Investors sign up to the Percent platform and gain access to a library of different available investment opportunities. Investors can search through the different opportunities and decide if they want to invest. Each investment opportunity provides details on the originator, the minimum investment amount, APY, and investment term. 
Each investment opportunity also has an investment objective (how much money is required to fully fund the investment) and the opportunity remains open until it is fully funded or closed. 
Once the investment opportunity is fully funded, it will start generating interest for investors. If a deal fails to reach its investment objective, it is closed. 
In order to determine the APY of the note, Percent holds a Dutch auction. A Dutch auction is similar to a regular auction however, the seller intentionally sets a high opening price expecting that the price will lower until there are enough bids to cover the entire offer. Percent uses this strategy as a way to "identify the level of demand that exists at different price points." 
When the opportunity reaches maturity or a note is called, Percent deposits the principal and interest into your account. You then have the option to withdraw your money to an external account or to reinvest into a new Percent deal. 
Who can invest with Percent?
Currently, because Percent investment offerings are Reg D 506B exempt, Percent investors are required to be accredited, with U.S. bank accounts, to participate. However, the platform is hoping to open up to a wider investor base in the longer term. There are a number of ways you can establish an accredited investor status, two common ways include:
You must have earned income that exceeds $200,000 in the previous two years ($300,000 for joint income) or,

You must have a net worth of over $1 million (excluding the value of your primary residence). 
Percent is also a self-accredited platform which means you have to indicate that you are accredited before you can participate on the site.
Where Percent gets it right
No fees
Currently, there are no fees for investors to invest on the Percent platform. However, there are fees associated with the Percent Prime platform. You can learn more about the Percent Prime platform here but basically, you will need a higher minimum investment to participate and your investments will be tied up for longer durations. 
Short-term investments
Many alternative investment opportunities like REIT investing require that you're invested for the long-term. With Percent, you can be in and out of a deal in as little as one month. 
Low minimum investment 
The minimum investment for Percent's short term note program is only $500. This is a relatively low minimum investment in the alternative investment space.
Where Percent could do better
Accredited Investors Only 
Currently, Percent only accepts accredited investors. This means you have to have a high annual income ($200,000 over the last two years) or a high net worth ($1 million excluding your primary residence) in order to participate. However, the goal is to provide more opportunities that reach a wider base of investors. 
Relatively short history
Percent was incorporated in 2018 and didn't launch publicly until 2019. While the company is making a good name for itself, it lacks long-term history. This could be a deterrent for investors who want to see a longer history of results.  
No mobile app
If you enjoy checking your investment while on the go, then you may be disappointed with Percent's lack of a mobile app.
Can you really make money on Percent?
Yes, it is possible to make money on Percent. In fact, Percent suggests that you can make over 10% targeted annualized returns. According to the most recent Monthly Market Update, the average APY has stayed steady at 12% month over month (from Q1 2020 to July 2021). 
According to Percent's historical performance metrics, its historical APY on matured deals sits at 12.33% and its current APY for outstanding deals is 14.71%. Percent has funded over 272 deals and has seen over $452 million in total investments.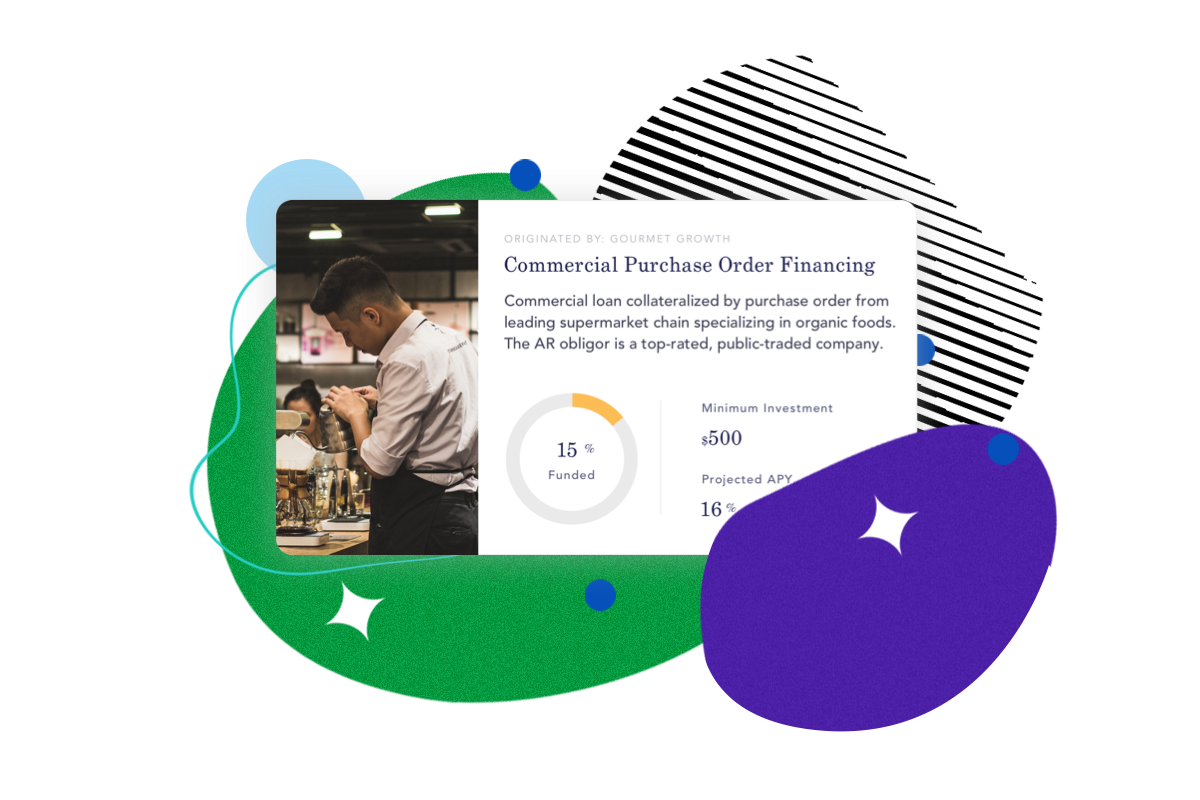 How do I make money with Percent?
Once a Percent opportunity is fully funded, it will begin to generate interest for investors like you. So, you make money through the accrued interest that is earned passively on your initial investment.
How do I cash out with Percent?
When your investment reaches maturity, the principal and yield of your investment will be transferred back to your Percent account. You will see this amount reflected in your account balance. At this point, you can decide if you want to transfer the funds out or reinvest the money in a new Percent opportunity. 
Percent vs traditional investing 
Including alternative investments like those found on Percents' platform into your portfolio can help to provide diversification. Because many alternate investments aren't correlated with the stock market, it can also be a good way to hedge against losses in your portfolio. 
While Percent investments are not as liquid as investing in the stock market, they also don't require the long-term investment horizon of other alternative investments like REITs. 
Even though Percent offers a minimum investment of $500 that is very reasonable for the private credit space, this is still a much higher barrier to entry than is required to enter the stock market. With online brokerages, it's possible to start investing with traditional investments for a matter of dollars.
Since there is risk associated with non-bank lending, Percent investors are offered interest rates that will likely be more attractive than investments like traditional bonds. According to Percent's most recently posted monthly market updates, the average APY has stayed steady at 12% month over month (from Q1 2020 to July 2021). Long-term government bonds yield returns between 5% and 6%.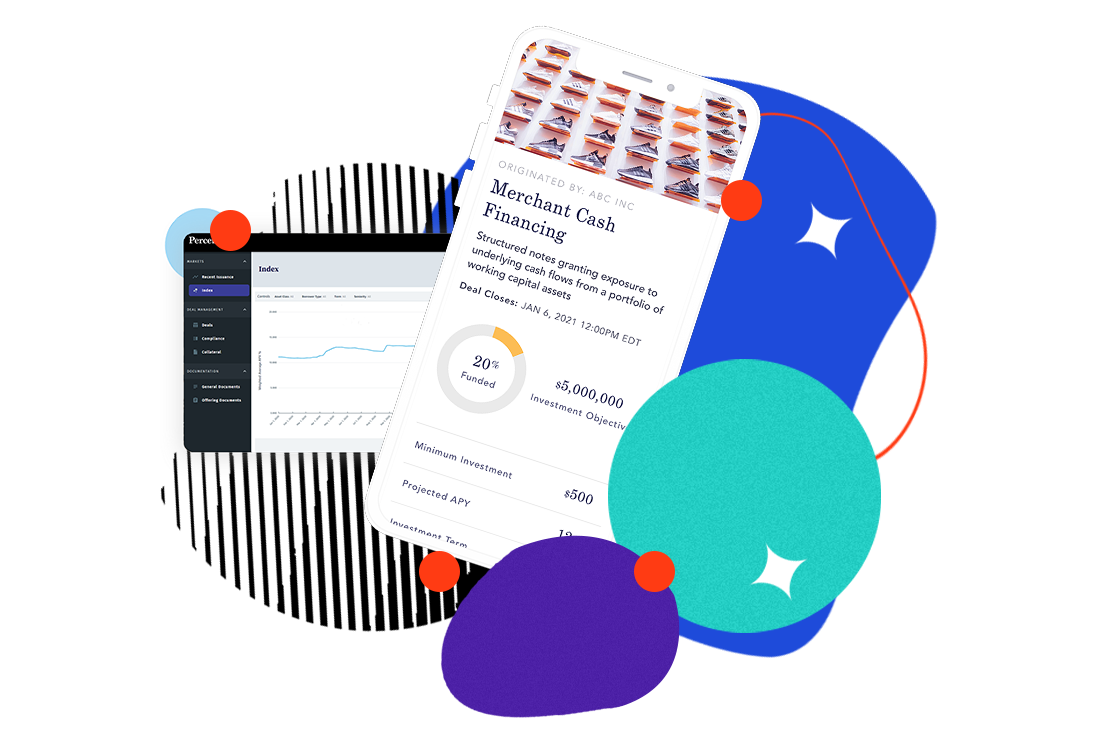 What other people are saying about Percent
There isn't much chatter about Percent on social media. This could be in part because Percent has only been Percent since early 2021. Before this, the company was known as Cadence and was only incorporated in 2018 and then went public in 2019. Nelson Chu, the founder and CEO said regarding the name change, "As the company evolved and our broader vision changed, the ties that bound us to the name Cadence became few and far between." 
Not only did the company rebrand in early 2021, but it also raised $12.5 million in Series A funding.  
There was one complaint on Trustpilot from a customer who was disappointed with Percent's verification process and the associated customer support received. However, this is one complaint so there is no theme of customers having trouble with the verification process.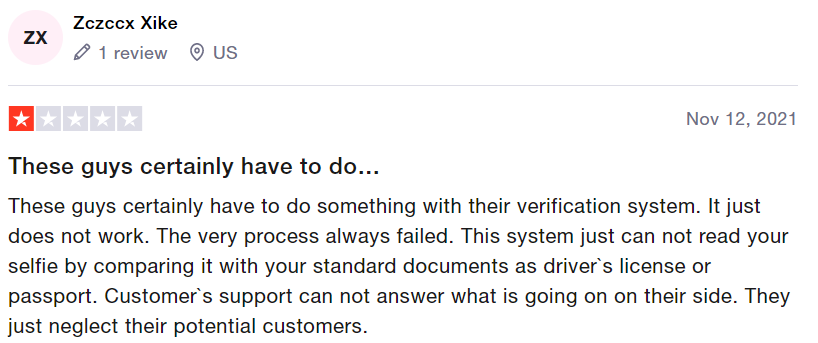 Are there other apps like Percent?
Other investment platforms that allow you to earn passive interest income include Yieldstreet and Worthy. 
Like Percent, Yieldstreet is focused on providing alternative investment opportunities to everyday investors that have traditionally only been available to institutional investors. Percent and Yieldstreet also offer a similar annual return rate (12% with Percent and 12.44% for Yieldstreet). 
The two platforms also differ in a number of areas. For instance, Percent does not charge investors a fee whereas Yieldstreet collects an average 1-2% management fee from investors annually. Unlike Percent, Yieldstreet allows unaccredited investors to participate with Yieldstreet's Prism Fund.
 Worthy creates and sells SEC-qualified bonds that are used to invest in American businesses. Bonds earn investors 5% interest. There is a similar sentiment between Percent and Worthy in that they both want to open up private lending opportunities to the everyday investor. 
Worthy might do a better job of this as they offer a much lower minimum investment at $10 versus $500 at Percent. Similar to Percent, Worthy does not charge investors any fees. Worthy also has a strong social investment aspect as the investments go into helping growing U.S. businesses. With Worthy, you can expect a 5% interest return. On average, Percent offers an annual return rate of 12%.
You can use MoneyMade to check out these competing investment platforms along with 160+ other investment platforms.
Percent

Fees

Minimum investment

Average returns

Risk Level

Available on

iOS

Android

Review

 
Our hot take on Percent
With short-term offerings, a low minimum investment, and the potential to make 10% or more in annualized returns, Percent makes an attractive passive investment opportunity. If you're looking for an alternative investment opportunity to help balance your current portfolio, it's worth taking a look at what Percent has to offer. Other alternative investments like REIT investing can tie up your money for years and usually require more than a $500 minimum investment. Percent is available for those who want something more short-term and affordable. 
However, while Percent's minimum investment might make it more accessible to some, remember that Percent investment opportunities are currently only open to accredited investors. So this does limit who can participate.
I'm in! How do I sign up for Percent?
1.

Join MoneyMade (for free).

Sign up for a MoneyMade account so you can track and manage all of your online investments in one convenient place.
2.

Sign up for a Percent account.

Before you can start investing with Percent you will need to sign up for a Percent account. Simply go to Percent's home page and click on the blue "Sign Up" button on the top right hand of the screen. You will be asked to enter your name and confirm that you are an accredited investor. You will also have to select what type of investor you will be investing as (eg. individual, institution).
3.

Verify your identity.

Before you can invest, you will have to confirm your identity. This entails inputting some personal information including a photo of yourself, so you will need a state ID or passport to verify your identity.
4.

Verify your accreditation status.

The next step is to verify your accreditation status. Remember that only accredited investors can invest with Percent. This involves completing several KYC (know your customer) checks.
5.

Fund your account.

Now it's time to fund your Percent account. You have a few options here. You can choose to submit a wire transfer or ACH (Automated Clearing House). A wire transfer will typically clear on the same or following day. An ACH transfer can take up to 5 calendar days.
6.

Start investing.

Once your funds have cleared you will be able to see your balance in your Percent account. At this point, you're ready to start investing.
7.

Withdraw funds or reinvest.

Once your deal reaches maturity, Percent will credit the principal amount and interest to your account. At this point you can decide if you want to withdraw the money to an external account or, you can decide to find another Percent opportunity and reinvest.
8.

Return to MoneyMade to track all of your investments in one place.

Don't forget to come back to Mneymade to track your Percent investments, along with all of your other investments.
Explore Assets
Click an asset to learn more
Dogecoin
Music Royalties
Tether
Farmland
Wine
Art
Real Estate
Robo Advisor
Gold
Bitcoin
Stocks
Lending
Startups
Ethereum
DeFi
Solana
Oil & Commodities
Polkadot
Metaverse
NFTs
Whiskey
Bonds
Platinum
Sports Cards
Cardano
Ripple
Silver
Watches