Vinovest Review
Vinovest Review: Fine Wine Investing Made Easy
You don't need to be a master sommelier or have a massive basement cellar to add investment-grade wine to your portfolio anymore.

Published Aug 30, 2022•Updated Aug 30, 2022
Wine
Long Term Growth
Luxury Goods
When it comes to diversifying your investments, the likely culprits that can help you protect your portfolio against loss are index funds, bonds, and real estate. But have you considered fine wines?
Wine is known to outperform the S&P 500 and other alternative assets like precious metals. Investment-grade wine has also delivered consistent returns over the past few decades. However, to invest in fine wines, you need to have sommelier-level expertise on the beverage and a good amount of cash you're willing to invest. A single bottle of investment-grade wine can cost hundreds of dollars, and you'll need to have the connections to acquire these bottles (no, you probably won't find them at Trader Joe's) and the facilities to store them properly while they age.
Enter investing platform Vinovest. They acquire, store, and eventually sell the wine, and you invest in it. In this Vinovest review, we'll cover everything you need to know about the platform, from how it works to expected returns and fees to how it can fit into your investment portfolio.
Borrow our cheat sheet
MoneyMade member rating
5.0
Bonus offer
Build your personalized wine & whiskey portfolio
Pros and cons
Pros
Investment-grade wine historically outperforms stocks
Personalized, fully-managed portfolios
They take care of acquisition and storage
Sell your wines at any time
Order a bottle of your wine to drink at any time
Cons
2.85% annual management fee
$1,000 investment minimum
Ideal holding period of 10 to 15 years
2 to 4 weeks to liquidate
What is Vinovest?
Vinovest is an online investing platform that lets you invest in fine wines without having to go through the work of acquiring and storing the wine. Vinovest chooses investment-grade wines, authenticates, stores, and sells them for you. However, you own the wines you invest in, so if you'd like to take a sip out of your favorite fine wine, they'll even ship it to you.
Anthony Zhang and Brent Akamine are the co-founders of Vinovest. It started operations in 2019 and is headquartered in Los Angeles. Zhang started Vinovest after doing research on asset classes the ultra-wealthy invest in and realizing that fine wine—one of his passions—is one of the most common. Knowing how hard it is for your average person to invest in fine wines given the exclusivity of many of these wineries and the logistical challenges of storing fine wine, he decided to start a platform that would take care of those challenges for investors.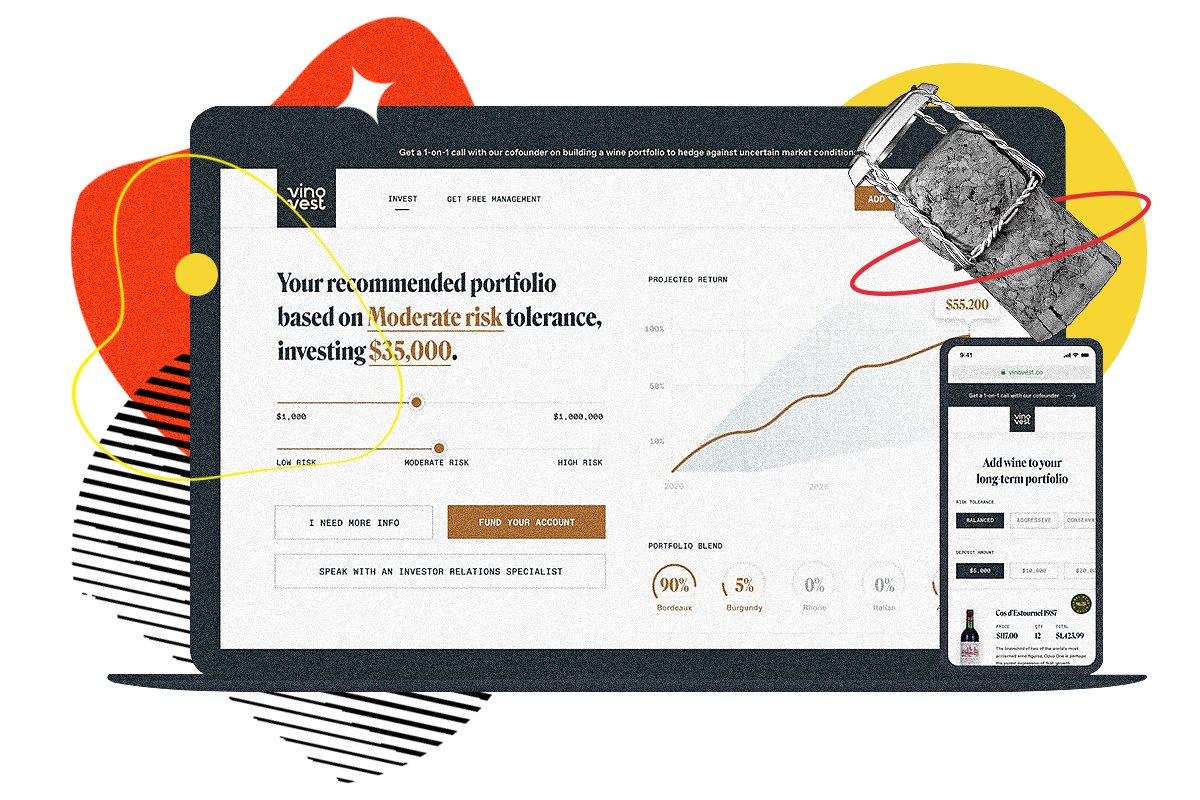 How does Vinovest work?
Here's how the process of wine investing through Vinovest works:
You select and buy bottles of fine wine. Based on your risk tolerance and investment preferences, Vinovest's Master Sommeliers and AI-driven investment models create personalized investment strategies from which you can easily pick and choose the wines you wish to add to your portfolio.
Vinovest searches for the best wholesale prices on the wine you select. Vinovest sources wines through a network of global wine exchanges, fine wine merchants, and wineries. This allows them to offer you below-retail prices and price transparency. This process takes about two to three weeks.
Vinovest reviews and inspects each wine bottle for authenticity. Once wine is sourced, Vinovest traces the wine's provenance (the history, source, life cycle, and storage of a wine bottle) and authenticity. This ensures that you don't invest in counterfeit bottles, which are pretty common these days.
Vinovest stores your wine for you. Vinovest stores your wines in bonded warehouses under optimal temperature, light, vibration, and humidity conditions. Proper storage is crucial to keeping wines in perfect, investment-grade condition.
You can choose to have a bottle of your wine shipped to you at any time. If you decide you'd like to taste a bottle of the wine you're invested in, you can have one shipped to you at any time. Vinovest will take care of transportation, and their insurance (which is an FDIC equivalent for wine) will protect your bottle against potential damage or loss.
Sell your wine at any time. You can sell wines from your investment portfolio at any time (if you want to increase your cash flow or invest in new wines). Vinovest has access to a worldwide market of wine buyers and investors, so they'll find the highest price buyer in their network and take care of delivering your wines to the buyer. 
Your Vinovest portfolio tracks the estimated price of each of your wines, and you should be able to achieve a sale price within a few percentage points of this value. This process typically takes around four weeks. There is a 3% early liquidation penalty if you sell your wine portfolio less than 60 days from the day of account activation.
Who can invest with Vinovest?
You don't need to be an accredited investor to invest with Vinovest. Unlike many investing platforms, Vinovest is open to investors worldwide, so you don't need to be in the US. You simply need to meet the following criteria:
You're at least 21 years of age (18 if you're outside of the United States)

You have at least $1,000 to invest
Vinovest member plans
There are four member portfolio plans to choose from, each with its own fee structure and minimum balance requirements. The details are covered in the table below.
| | | | | |
| --- | --- | --- | --- | --- |
|   | Starter | Plus | Premium | Grand Cru |
| Min. balance | $1,000 | $10,000 | $50,000 | $250,000 |
| Annual fee | 2.85% | 2.70% | 2.50% | 2.25% |
| Diversified investment portfolios | ✓ | ✓ | ✓ | ✓ |
| World class storage | ✓ | ✓ | ✓ | ✓ |
| Fully insured | ✓ | ✓ | ✓ | ✓ |
| Access to premium wines |   | ✓ | ✓ | ✓ |
| Access to portfolio manager bi-annual reviews |   | ✓ | ​​✓ | ✓ |
| Portfolio customization |   |   | ✓ | ✓ |
| Access to wine futures |   |   | ✓ | ✓ |
| Dedicated Portfolio Advisor |   |   | ✓ | ✓ |
| Exclusive invites to Vinovest Events |   |   | ✓ | ✓ |
| Access to the rarest most exclusive wine |   |   | ✓ | ✓ |
| Personalized portfolio reports |   |   | ✓ | ✓ |
Where Vinovest gets it right
Wine outperformed the S&P 500
The Liv-ex Fine Wine 100 index, an index of the 100 most sought after wines, has historically outperformed the S&P 500, an important stock market index. In the past 20 years, the Liv-ex Fine Wine 100 has risen over 270%.
Fully managed portfolios
You don't have to be a wine expert to invest in wine with Vinovest. They provide various options for fully-managed, diversified wine portfolios based on your investing goals, risk tolerance, and time horizon.
You don't have to worry about acquiring and storing your wines
Acquisition and storage are two huge barriers to fine wine investing that Vinovest takes care of. Not only do you not need to have a massive wine cellar to invest as much money into wine as you want, but you also don't have to have the connections necessary to access exclusive vineyards and wholesale prices on investment-grade wines, because the platform does all of this for you. Vinovest stores your investment wines in bonded warehouses that are strategically located near fine wine regions. Interestingly, the British royal family stores their wines in one of the same facilities that Vinovest uses.
Your wines are insured
Vinovest has a comprehensive insurance policy on your wines so you're protected against damage at full market value.
Access to liquidity
Wine is normally not a very liquid asset. However, because Vinovest has access to a global network of buyers and sellers, they make it easier to convert your investment into cash when needed.
Online buying and selling of wine futures
Their AI-based platform lets the investor choose from the best wines from around the world. You can also invest in wine futures or en primeur (wines that are still in the barrel) that's usually only available to industry insiders, and whose availability lasts only for a couple of hours.
Wine isn't correlated with the stock market
Wine has almost no correlation with the stock market, which means it's unlikely to tank if the market does. Investing in uncorrelated assets is one of the best ways to protect your portfolio against a market crash.
You own the wine you invest in
Unlike fractional investing platforms that let you buy shares in assets you then partially own, Vinovest offers direct ownership. The wine you invest in with Vinovest is yours, and not only do you get to own a real asset, but you can even ask that a bottle be shipped to you at any time so you can try it.
Where Vinovest could do better
Annual fees
Vinovest charges annual management fees of 2.25% to 2.85% depending on your portfolio plan. These fees go toward storage, insurance, authentication, and more, so they're actually very reasonable given the cost of investing of fine wine. However, these fees are significantly higher than what you'd pay to invest your money through a traditional financial advisor or roboapp.
$1,000 minimum investment requirement
The entry-level portfolio plan requires a minimum investment of at least $1,000. This isn't unreasonable for a fine wine investing platform, but it's a higher minimum investment than many other investing platforms and could be prohibitive for some.
Long ideal holding periods
Wine tends to increase in value as it ages, so it's a long-term investment. Vinovest recommends holding many wine investments for 10 to 15 years, with a minimum hold period of 2 to 3 years and a maximum of 20 years. The biggest returns will usually occur during the last few years before your wines reach peak maturity.
It can take 2 to 4 weeks to liquidate
While Vinovest is still far more liquid than most wine investments, it can take at least 2 to 4 weeks to sell your wines if you need to convert to cash.
Can you really make money on Vinovest?
Vinovest's average five-year historical back-tested return is 12.4% net of fees if you start with a $10,000 portfolio and choose a moderate risk tolerance. The annualized return in the moderate plan was 12.4% and 16.6% in the aggressive plan.
It's possible to make money with Vinovest, but you have to keep in mind that the real money-making potential lies in holding your wines until they've reached peak maturity. At that point, they should have increased in value significantly.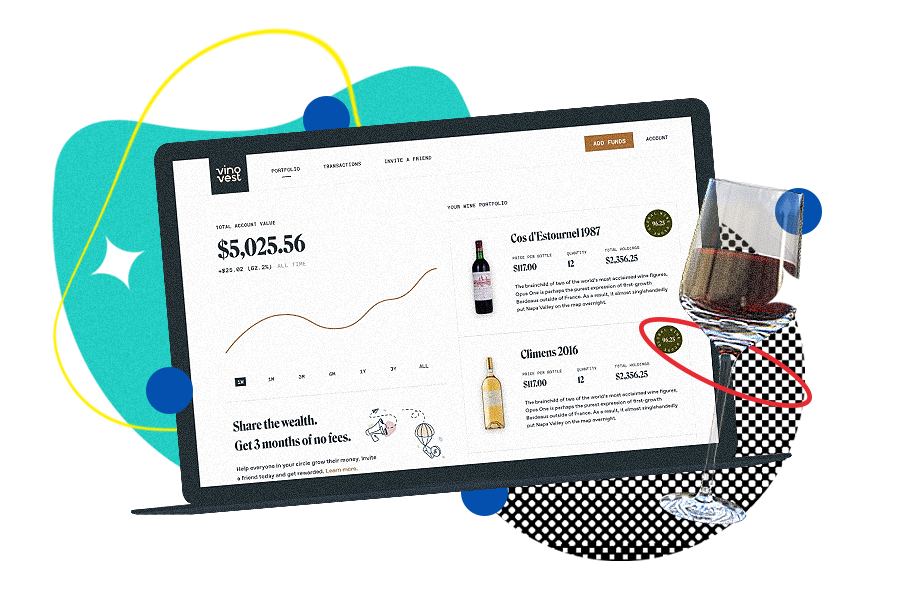 How do I make money with Vinovest?
You make money with Vinovest when the wines in your portfolio appreciate in value. You can sell your wines at any time, and Vinovest will find the highest-paying buyer in their worldwide network. You get to keep the profit minus any fees. There are no selling fees as long as you hold your wines for at least 60 days.
How do I cash out with Vinovest?
Vinovest will notify you when a wine in your portfolio is reaching maturity and/or peak selling price. However, you can sell wines in your portfolio at any time by logging onto your account. Once you elect to sell a wine, Vinovest will search for a buyer who will pay a price comparable to the wine's value as stated in your portfolio summary. This process can take 2 to 4 weeks. Once the sale is executed, you receive the funds. There are no fees associated with selling unless you sell a wine you've held for fewer than 60 days, in which case you'll be charged a 3% early liquidation penalty.
Vinovest vs traditional investing
Liv-ex (the global marketplace for fine wine trade) has grown 40% from 2015 to 2020, while the FTSE100 has dipped 5%. The annualized return of fine wine as an asset class over the last 15 years is 13.6%, outperforming the S&P 500. This implies consistent growth, even during downturns, and makes wine a stable asset class like farmland.
With a typical annual return of 12-15%, it has outperformed the stock market for the last 35+ years. Fine wine remained steady even when stock prices dropped by over 50%, and an asset like art fell 24% during the 2008 Great Recession. It is also less sensitive to market volatility than alternative assets like gold, precious metals, and real estate.
Vinovest's portfolio performance remained positive in Q1 and Q2 2020 despite the pandemic-induced downswing. In Q1, the Vinovest 100 Index (+1.1%) outperformed SP 500 (-22%) and Dow Jones (-22.7%).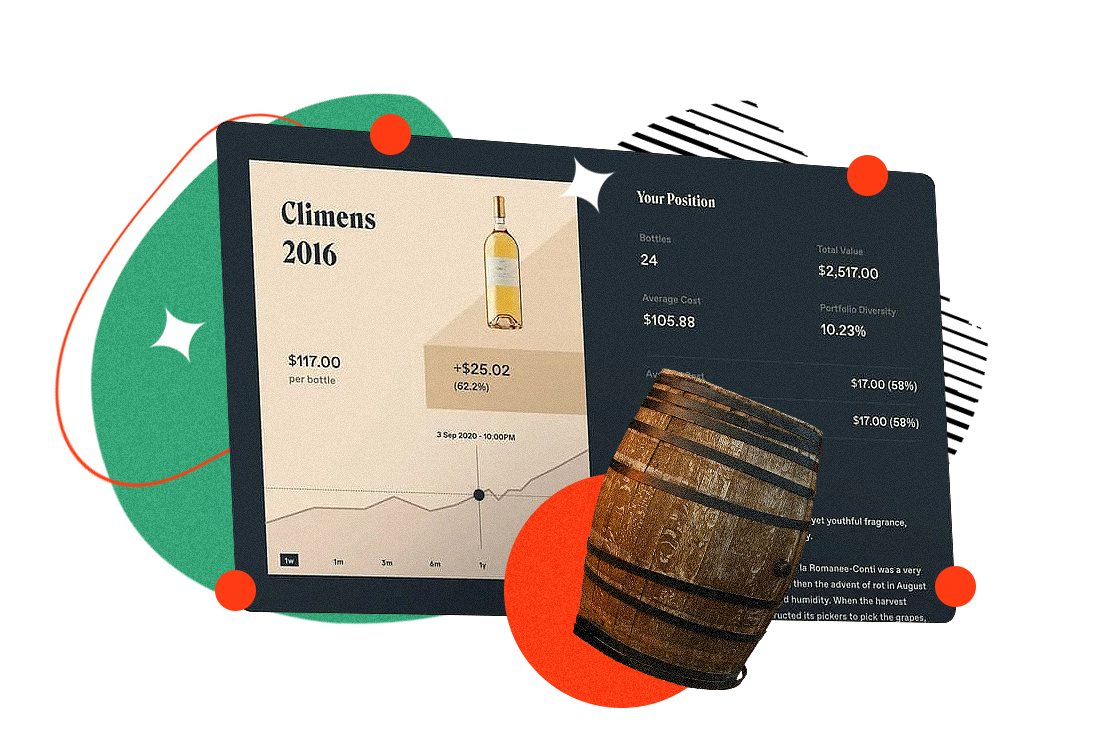 What other people are saying about Vinovest

Vinovest users love the ability to invest in a tangible asset that can help their portfolio ride out a market crash without all the logistical challenges that typically come with investing in fine wine. They generally report that the set-up and investing process is simple and appreciate the easy-to-understand monthly and quarterly portfolio reports. People also seem to find that the valuations of their wines presented by Vinovest are pretty accurate.
The biggest complaint is in regards to the 2.85% management fee. Some investors feel it's hard to justify given that Vinovest hasn't been around long enough to provide a long-term track record. Some users also wish the platform offered a mobile app, which it currently doesn't have.
Are there other apps like Vinovest?
If you want to invest in wine but aren't ready to spend $1,000+, you could look into wine investing platform Vint. It has a lower investment minimum of just $50 and doesn't charge any annual management fees. That said, target returns are a bit lower, and you don't get the option to order one of your wines for drinking. Your investment is less liquid with Vint as you can't sell your wine at any time, and the holding period is estimated at 3 to 7+ years.
Another option, if you're interested in tangible assets, is Masterworks, a fractional investing platform for fine art. You can buy shares in some of the world's greatest masterpieces, and target returns are quite high if you're able to hold for at least 5 years. The minimum investment on Masterworks is the same as Vinovest—$1,000—and the 1.5% annual management fee is slightly lower, although they do charge a commission on profits from a sale.
Vinovest

Fees

Minimum investment

Average returns

Risk Level

Available on

iOS

Android

Review

 
Our hot take on Vinovest
If you're interested in adding fine wine to your portfolio, Vinovest is undoubtedly the easiest way to do it. They take care of virtually everything for you, from sourcing and acquisition to storage to portfolio management, making it accessible to anyone with at least $1,000 to invest. 
While fine wine has an excellent track record as an asset class, Vinovest is still a fairly new platform, so it's probably wise to start small and avoid investing money you might need in the near future. That said, Vinovest is probably the most well-established wine investing platform for non-accredited investors. Their detailed, user-friendly portfolio reports and special features like the ability to order a bottle of your wine set it above the competition.
I'm in! How do I sign up for Vinovest?
1.

Sign up with your email address.

Once you sign up and create a password, you'll be asked a few questions about your investing style, risk tolerance, and time horizon so Vinovest can suggest the best wine portfolios for your needs.
2.

You get a custom investing plan.

Once you get your plan, you can start adding funds to your account, purchasing wine, and tracking your returns. You also have the option to book a call with a Vinovest wine expert and read up on educational materials they provide.
3.

Add funds to your account and start investing.

You can add funds on a one-time basis or set up weekly or monthly recurring payments with auto-invest. You can then use those funds to buy wines according to your investing plan. Vinovest accepts the following methods of payment for funding your account: bank transfer, credit card, WeChat, cryptocurrency (through BitPay), wire transfer, or Alipay.
Explore Assets
Click an asset to learn more
Dogecoin
Music Royalties
Tether
Farmland
Wine
Art
Real Estate
Robo Advisor
Gold
Bitcoin
Stocks
Lending
Startups
Ethereum
DeFi
Solana
Oil & Commodities
Polkadot
Metaverse
NFTs
Whiskey
Bonds
Platinum
Sports Cards
Cardano
Ripple
Silver
Watches