Vinovest
Earn interest with wine investing made simple.
Looking for a reliable Vinovest review to evaluate the platform as an alternative investment?

Wine is known to outperform the S&P 500 and other alternative assets like precious metals, having delivered consistent returns in the past few decades. Investing platforms like Vinovest aim to make wine investing accessible and easy for anyone who wants a diversified portfolio or asset allocation.

But, do you have to be a wine expert to use Vinovest?
How does the platform work, what are the costs involved, and what are the returns?

In this detailed Vinovest review, you'll see exactly how this investment platform works, who should use it, how to get started, pros and cons, expected returns, and much more.
Investment type
Wine collectibles, wine futures
Annual Fee
2.85% (2.5% for an investment above $50,000)
Annual Returns
12.4% net of fees
Portfolio Rebalancing
Unlimited
Average Liquidity
2 to 4 weeks
Best for
People interested in alternative investment or investing in fine wine

DIY investors

Wine connoisseurs, wine lovers, and wine investors
What is Vinovest?
Vinovest is an online platform that lets you invest in fine wines easily. Vinovest chooses investment grade wines, authenticates, stores, and sells them for you. And, if you'd like to take a sip out of your favorite fine wine, they'll even ship it to you.
Anthony Zhang and Brent Akamine are the co-founders of Vinovest. It started operations in 2019 and is headquartered in Los Angeles.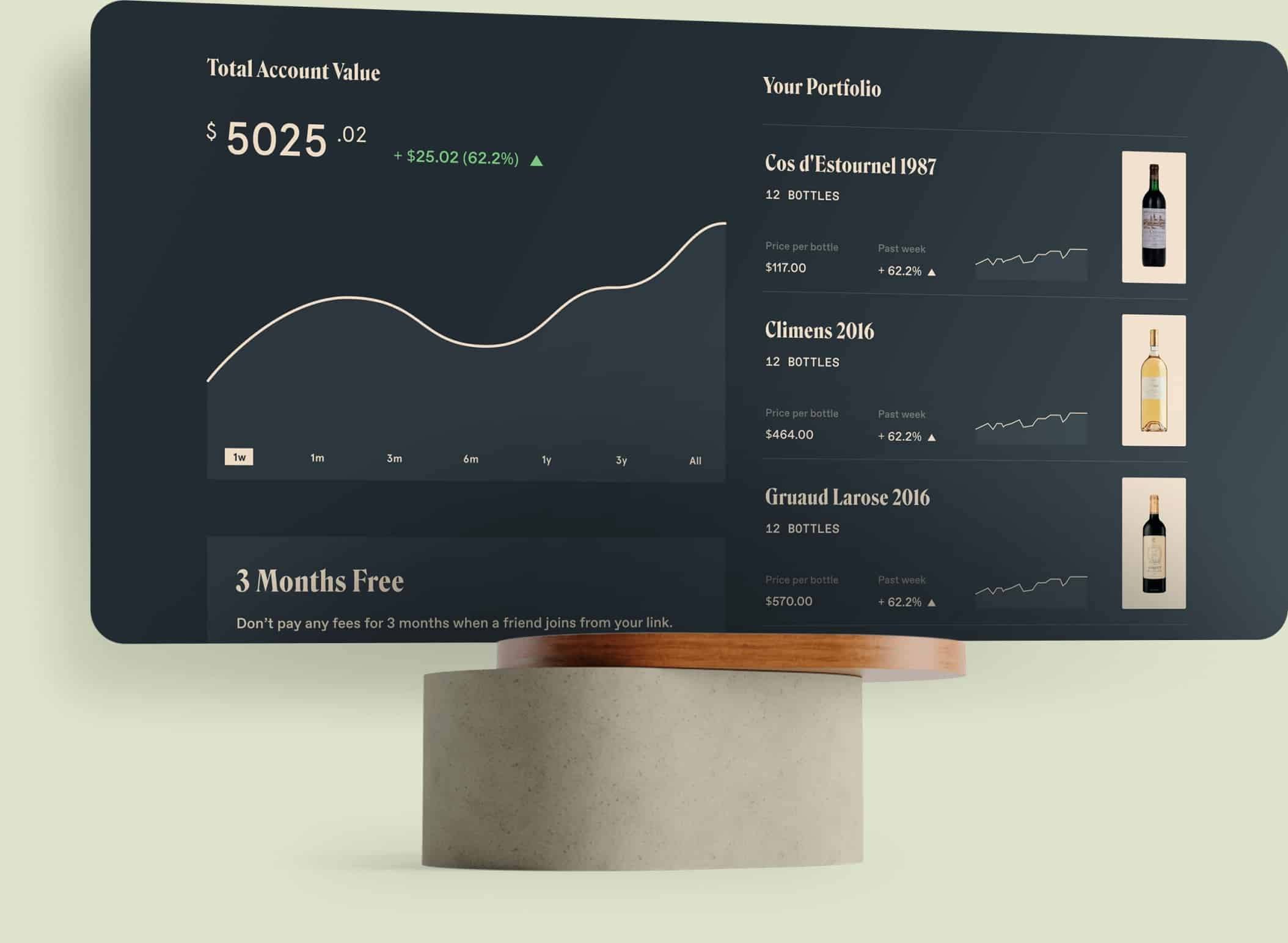 What Is Wine Investing?
Fine wine investing is the concept of investing in the fine wine market through wine stocks or by buying bottles of wine that may increase in value over time. You could even put your money in equity crowdfunding platforms to make a capital investment in wine companies.
When stored under optimal conditions, certain wines get better with age. Specific bottles of a vintage could also become increasingly scarce over the years. These factors drive up the value of wine over time.
Until recently, wine investing was open only to the elite, high net worth and accredited investors, those with high-end wine cellars, or the fine wine industry's insiders.
Vinovest aims to change that by making wine investment accessible to a broader audience.
Who should use Vinovest?
Vinovest offers an ideal investment opportunity for
Wine lovers, wine connoisseurs, or a wine investor with an in-depth knowledge and interest in fine wine.
An investor with limited or no knowledge about wine investing who wants to diversify their money portfolio and offset stock market volatility.
A DIY investor looking to achieve financial independence by managing their own personal finance instead of using the services of a financial advisor.
You needn't be an accredited investor to use Vinovest - it's open to non-accredited investors as well.
How does Vinovest work?
Here's how the process of wine investing through Vinovest works:
1. Selecting and buying fine wine bottles
Based on your risk tolerance and investment preferences, Vinovest creates personalized investment strategies from which you can easily pick and choose the wines you wish to add to your portfolio.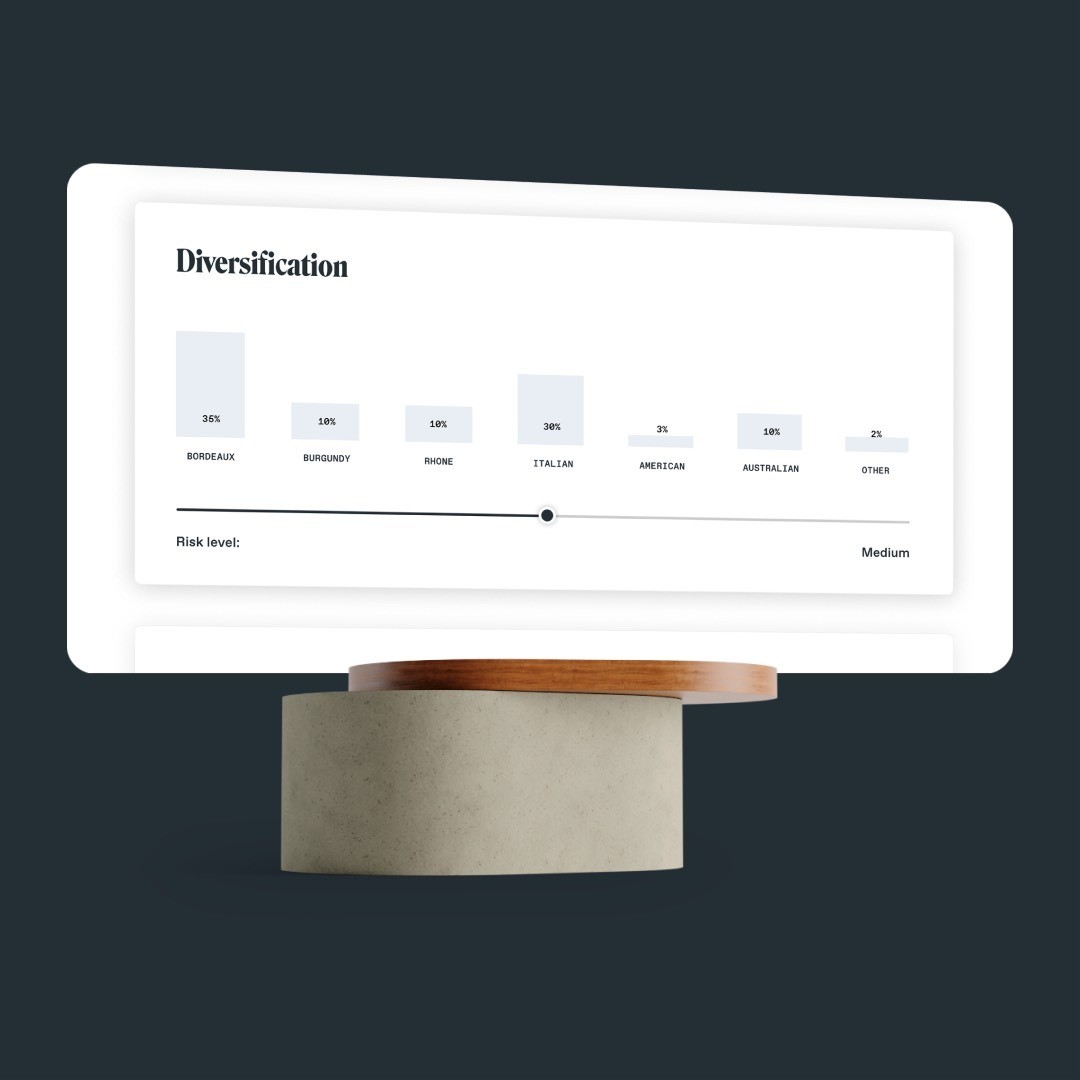 2. Wholesale prices
Vinovest sources wines through a network of global wine exchanges, fine wine merchants, and wineries. This allows them to offer you below-retail prices and price transparency.
3. Provenance checks and authentication
Does Vinovest review or inspect each wine bottle for authenticity?
Yes. Vinovest traces the wine's provenance (the history, source, life cycle, and storage of a wine bottle) and authenticity. This ensures that you don't invest in counterfeit bottles, which are pretty common these days.
4. Secure storage
Vinovest stores your wines in bonded warehouses under optimal temperature, light, vibration, and humidity conditions.
5. Wine on demand
In case you want to uncork your Dom Perignon or Chateau Mouton Rothschild bottles from your investment portfolio, Vinovest takes care of the shipping and insurance.
6. Wine selling
Sell wines from your investment portfolio at any time (if you want to increase your cash flow or invest in new wines.) Vinovest finds the highest price buyer in their network and delivers your wines to the buyer.
This process typically takes around four weeks.
However, there's a 3% early liquidation penalty if you sell your wine portfolio less than 60 days from the day of account activation.
Vinovest features
Here are some important reasons to consider wine investing through this platform.
1. Online buying and selling of wine bottles and wine futures
The AI-based platform lets the investor choose from the best wines from around the world. You can also invest in wine futures or en primeur (wines that are still in the barrel) that's usually only available to industry insiders, and whose availability lasts only for a couple of hours.
2. Tool to create sample portfolios
You can use an online tool to create sample portfolios based on your deposit money and your investing style (aggressive, balanced, or conservative).
3. Customized wine portfolio
Vinovest's team of Master Sommeliers uses their in-depth expertise and quantitative investment models to curate a personalized portfolio that reflects your investment preferences and risk tolerance.
4. Well designed portfolio tracking dashboard
The portfolio tracking dashboard is intuitive and easy to use. Wine prices are updated daily through various global data sources.
5. Storage facilities near wine regions
Vinovest stores your investment wines in bonded warehouses that are strategically located near fine wine regions. Interestingly, the British royal family stores their wines in one of the same facilities that Vinovest uses.
6. Digital Ownership
To cut down travel and carbon footprint, Vinovest doesn't ship a newly bought fine wine bottle. Instead, it leaves the bottle in place in its partner facilities and only changes its digital ownership.
7. Comprehensive insurance
Vinovest offers a full insurance policy at market value - an FDIC (Federal Deposit Insurance Corporation) equivalent for fine wine.
8. Access to a global wine network
You can access limited vintages and private vineyard sales that are usually known only to industry insiders and are never advertised on social media.
9. Ownership
You own each fine wine bottle that you invest in.
10. Satisfaction guarantee
If you aren't satisfied with your investment account, Vinovest claims to "do everything we can to make it right, upto and including waiving the management fees for the next 90 days."
11. Vinovest 100 Index
You'll be able to access the Vinovest 100 Index that tracks the fine wine market. Its components include wine prices from all renowned wine regions, including Bordeaux, Burgundy, and Napa Valley.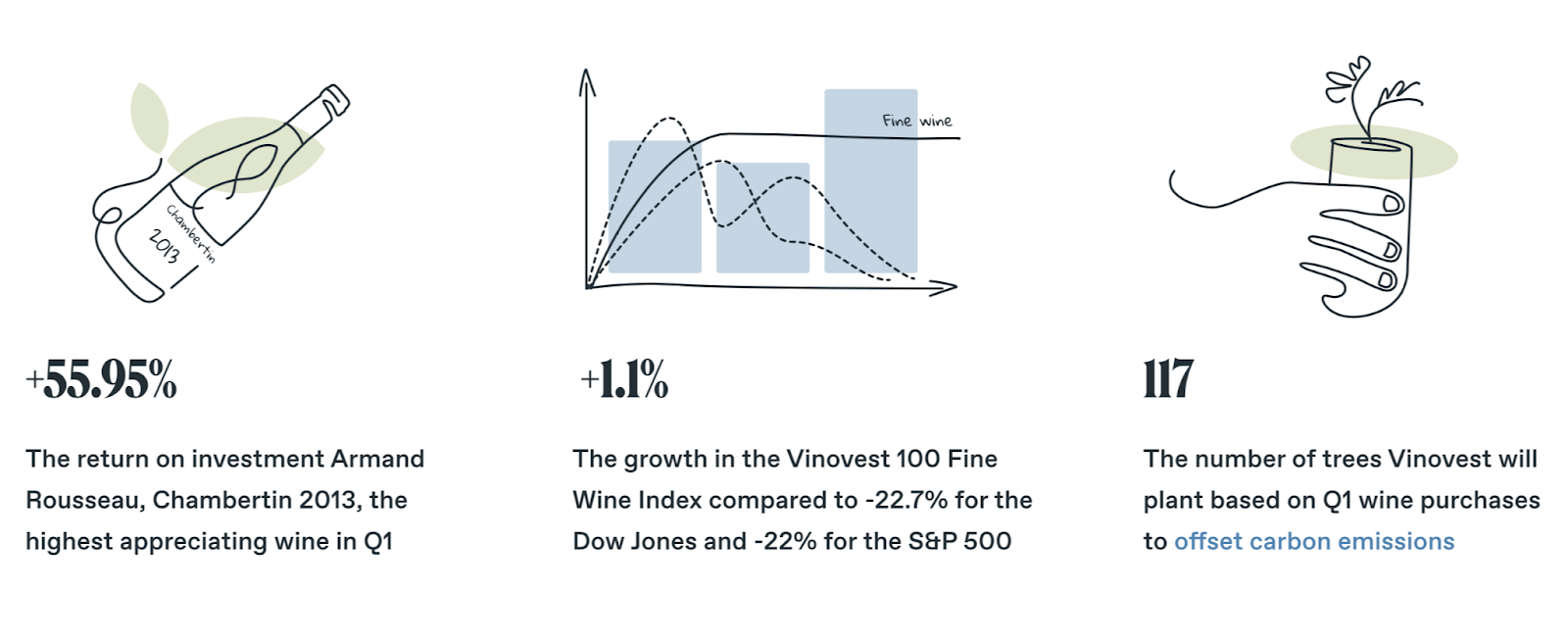 How to get started with Vinovest
There are five simple steps to start investing through Vinovest:
Step 1: Create an account with your email, name, and a password.
Step 2: Fill out a short questionnaire. Your answers will help the wine expert team to determine your investing style and build a customized investment portfolio.
Step 3: Fund your investor account with a minimum of $1000. You can also "Auto Invest'' your money by selecting your preferred payment, frequency, and auto invest amount.
Step 4: Vinovest's team of Sommeliers will use your answers to create personalized wine investment strategies. You can click on the investment wines to learn more and choose the ones you wish to invest in.
Step 5: Watch your portfolio grow, and sell your wine investments years down the line for the best returns possible.
Vinovest fees
Vinovest charges a fixed annual fee of 2.85% (2.5% for a portfolio above $50,000). This fee will be charged on a monthly prorated basis based on the total asset value of your portfolio.
This fee covers
Wine buying
Authentication or wine fraud detection
Storage
A full insurance policy at market value
Portfolio management
Fine wine selling
The Auto-Invest feature will lower your fee from 2.85% to 2.7%, and from 2.5% to 2.4% (a 5% discount across both plans).
Vinovest Potential Returns
12.4% net of fees is Vinovest's average five-year historical back tested return if you start with a $10,000 portfolio and choose a moderate risk tolerance.
The annualized return in the moderate plan was 12.4%, and a 16.6% in the aggressive plan.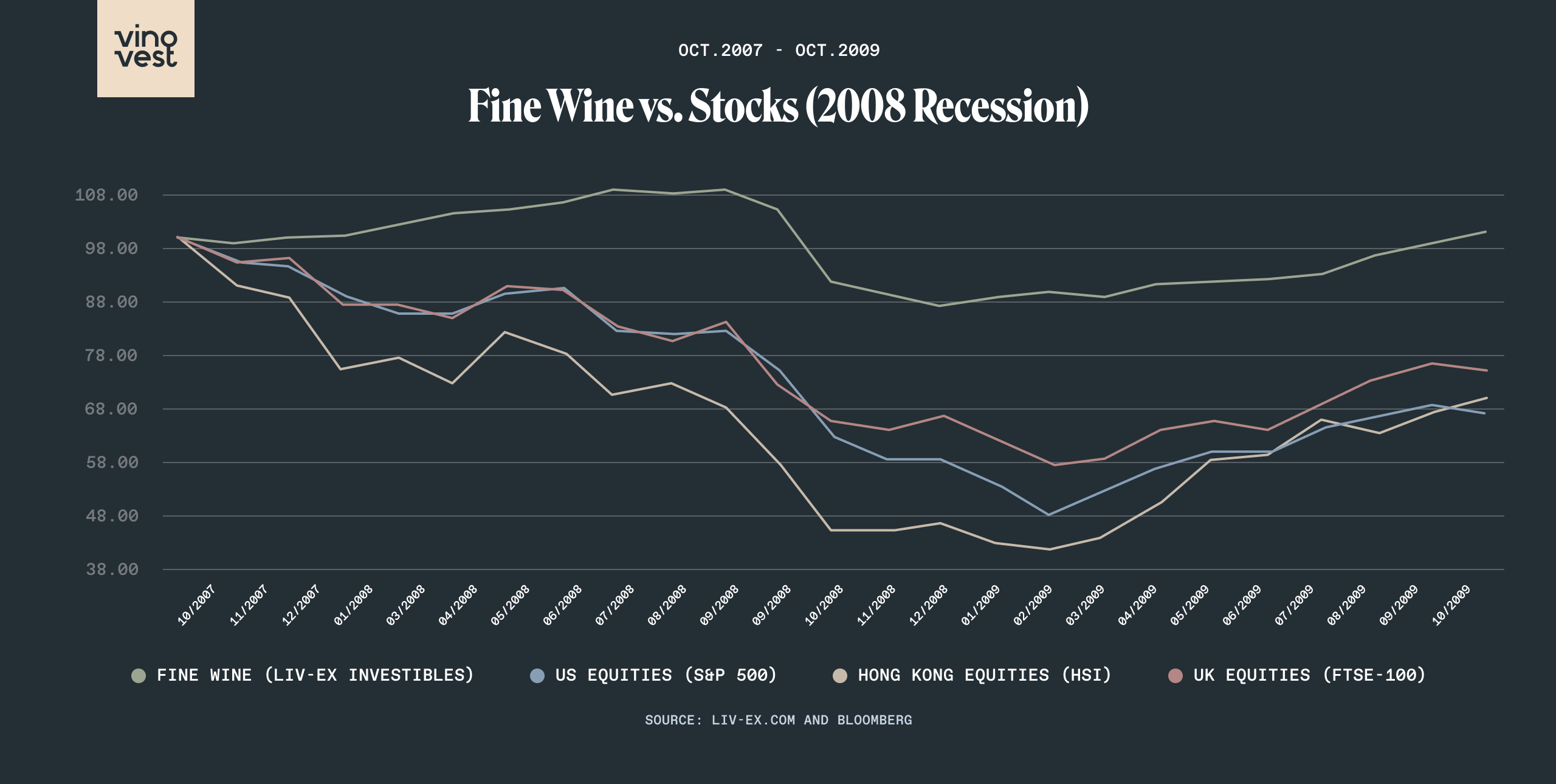 Vinovest Historical Performance
Let's take a look at the historical performance of fine wine as an asset class and the Vinovest platform.
A. Asset class
Liv-ex (the global marketplace for fine wine trade) has grown 40% from 2015 to 2020, while the FTSE100 has dipped 5%.
The annualized return of fine wine as an asset class over the last 15 years is 13.6%, outperforming the S&P 500. This implies consistent growth, even during downturns, and makes wine a stable asset class like farmland.

With a typical annual return of 12-15%, it has outperformed the stock market for the last 35+ years. Fine wine remained steady even when stock prices dropped by over 50%, and an asset like art fell 24% during the 2008 Great Recession. It is also less sensitive to market volatility than alternative assets like gold, precious metals, and real estate.
B. Platform
Vinovest's portfolio performance remained positive in Q1 and Q2 2020 despite the pandemic-induced downswing. In Q1, the Vinovest 100 Index (+1.1%) outperformed SP 500 (-22%) and Dow Jones (-22.7%).
Pros and Cons of Vinovest
Here are the upsides and downsides of wine investing through Vinovest.
Pros
A combination of wine expertise, big data (historical data on pricing, liquidity, producer brand equity, critics scores, age, and more), and AI.
Makes wine investing accessible to all, with a low minimum investment.
Low storage costs (Vinovest's economies of scale and deep industry relationships mean that you get world-class storage facilities at 80% lower prices than third-party storage).
No need to physically handle wine bottles.
Bonded warehouse facilities charge no excise duty and VAT, allowing Vinovest to pass on significant tax advantages to the investor.
No selling fees on the wines for active account holders who've held a Vinovest account for more than 60 days.
Get all the advantages of investing in wine.
Wine has low correlation to interest rate changes and asset classes like the stock market. It is a recession-resistant investment option - unlike commercial real estate, which is a great passive income source otherwise.
The demand for fine wine is always rising.
You'll get higher potential returns than traditional investments like real estate and the stock market.
Fine wines don't have value-added taxes or capital gains taxes.
Cons
The 2.85% annual fee is slightly higher than a stock market index fund (but lesser compared to other alternative investments or even real estate syndication.)
It takes years to make a profit (as compared to mutual funds, for instance).
Short track record (the company was founded in 2019).
Risks of Investing Through Vinovest
1. The price of the wine you invest in may decrease over time.
2. If you request delivery, the risk of loss and title pass to you.
3. Unfamiliar asset and risks (if you're new to wine investing).
Conclusion
This Vinovest review should help you in your financial planning to evaluate whether the platform is a good alternative investment route for you or not.
Keep in mind that the company has a short track record and that wine investing requires patience to increase your chance for higher returns (as opposed to traditional assets like a mutual fund or investing in the stock market, or owning an asset like a rental property).
Nevertheless, this online platform is a hassle-free option if you want to build an investment grade wine portfolio, without having to be a wine industry insider or expert, while diversifying your investment portfolio.
Do more with your money
Become a MoneyMade member (it's free!) for personalized alternative investment matches, expert insights and portfolio tracking.