How to Make Heroic Returns With Comic Book Investments
If investing is your superpower, then you may want to venture into comic book collectibles.
Many companies on MoneyMade advertise with us. Opinions are our own, but compensation and in-depth research determine where and how companies may appear.
Collectibles
Active Investing
Long Term Investing
Comic books have a history of being a hot collectibles market, but finding the right comics to invest in can be a challenge depending on your budget.
There's no exact way to determine how popular your comic book will become and how this could impact its value.
Blowing your money on an eBay auction might not be the best idea because the most valuable comic book this week could be selling at half the price the next week. So, this article will be your deep dive into what to look for as you embark on your search for the best comic books to add to your collection.
Are comic books a good investment?
Like most collectibles investments, there are certain critical factors for determining the value of a comic book. The three main things to should consider when comic book investing are age, grade, and cultural significance. Although it's rare to find a comic book that satisfies all three, the ones that do can be useful investment assets for protecting against a market crash, and they may also serve as an effective inflation hedge. Here are the attributes you should look for when exploring investment opportunities in the comic book market.
Age of comic books
In comic book collecting, older comics tend to be worth more. First, golden age comics are ones released between the years 1938 and 1956, and prices for these comic books start in the five-figure range but have reached millions of dollars in recent years. Another great comic book era is the silver age from 1956 to 1970. These usually start at tens of thousands of dollars but the most popular ones have sold for millions of dollars, too. Older comic books being worth more than newer comics is the prevailing trend, but there are definitely exceptions.
Comic books from the bronze and copper ages can also be good investments, but they aren't worth nearly as much as comics from past eras. Some bronze and copper age comics have gotten six-figure valuations, but you're unlikely to get more than $10,000 if you sell comic books from either of these later eras. Finally, modern comic books are the riskiest to invest in because you'll be hard-pressed to find comics published in this era that'll sell for more than a few thousand dollars. As an investor, you're better off dealing with comics published in the bronze age or earlier.
Grade of comic books
One thing you should know about comic books before you invest in them is their grade or condition. The grade of comic books is measured on a 10-point scale where anything above 9 is considered either in 'near-mint' or 'mint' condition.
CGC Grading Scale used to measure condition of comic books.
Source: comicbooknews.org
While there's no exact definition of what investment-grade comic books are, copies above a 7.5 or 'very fine' grade are generally considered to be investment-worthy comics. Since collectors are almost always looking for comic books in very good condition, investing in comics graded higher than 9 is crucial for maximizing returns.
Superheroes
One of the hardest things to measure when investing in comic books is the cultural relevance or appeal of a particular issue or series. There's no exact way to determine how popular your comic book will become and how this could impact its value, but there are certain helpful indicators. Some things you should keep an eye out for are the first appearances of popular characters and comic book properties that are being developed into other media.
One of the best attributes a comic book can have is being the first appearance of a character. One example of this is Action Comics #1 published in 1938, the first Superman depiction in a comic valued at nearly $3.2 million. However, the honor of the most valuable golden age comic goes to Superman's first titular appearance titled Superman #1, with a sky-high valuation of $5.3 million.
Superman #1 comic book cover.
Source: subzerocomics.com
Another example is Amazing Fantasy #15—the first appearance of Spider-Man published in 1962—as it's now valued at $3.6 million. These golden age and silver age publications are sold at record-shattering numbers because they introduced the audience to superheroes that are extremely popular today. Even comics depicting the first appearance of a lesser-known character with a cult following could be worth a pretty penny.
Excelsior!
Do you find joy in collectibles?
Media
While first appearances are one of the most crucial qualities a comic book can have to generate appeal, it isn't the only one. Other aspects that could make a comic book go up in value are featuring a major plotline or character that gained newfound popularity in recent films or T.V. shows. For instance, the value of Marvel Spotlight #5 surged after the Ghost Rider—who made his debut in the 1972 comic—appeared in season 4 of Marvel's Agents of Shield series. This upward price trend began gradually after the release of the second Ghost Rider film in 2011.
Marvel Spotlight #5 comic book cover.
Source: gocollect.com
Prices for Marvel Spotlight #5 shot up even further after rumors swirled that the Spirit of Vengence may get another cinematic appearance. The rapid rise in value of Marvel Spotlight #5 and, to a lesser extent, Ghost Rider #1 is thanks to the Ghost Rider's appearances in the Marvel Cinematic Universe sustaining the character's popularity. Collectors may expect high-grade copies of comics depicting certain characters to continue appreciating as new video games, television series, and movies are developed around them.
How to invest in comic books
eBay is the most popular website for buying and selling comic books since it's the most accessible place to hold a collectibles auction or check current market prices. Selling a comic is easiest through an auction, but this approach may force you to accept a lower price than what you wanted.
As a comic book buyer, more things can go wrong on auction platforms like eBay since you risk the assets sustaining damage during shipping, which could impact the value of your investment. Collectors of high-end comic books should also consider bidding on platforms like Goldin since they take out insurance on every asset purchased from them for the duration of the shipping process and offer superior customer service.
Investment platforms
Investing in comic books and other collectibles is easier than ever before by signing up to an investment platform like Public. Otis is an app where you can buy and sell shares of super rare collectibles listed on the platform.
Right now, you can invest in Giant-Size X-Men #1 starting at around $65 a share on Public. A 9.8 graded Giant-Size X-Men #1 could go for upwards of $50,000, so investing in it with Public is a huge steal.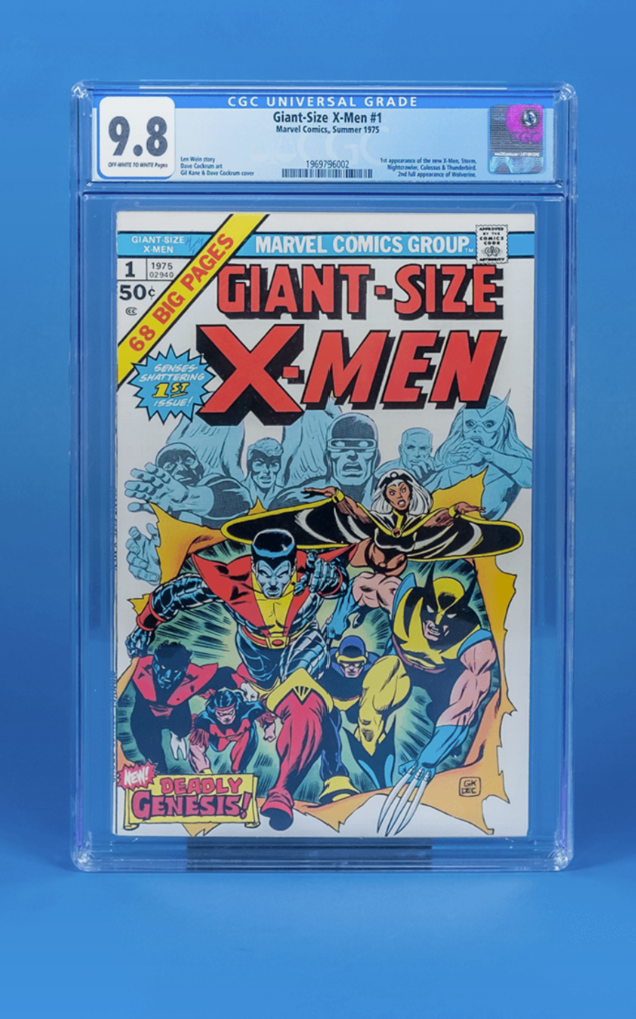 Another investment platform with a substantial comic book collection worth checking out is Rally. Currently, trading on Rally are comics like Marvel Star Wars #1 from 1977 and DC's Batman #2.
Rally is constantly launching new collectibles for users to invest in and will soon begin offering shares of a true classic: Batman #1 from 1940. There aren't many high-grade Batman #1 copies floating around for collectors to snatch, and with shares of this rare comic book starting at just $10 on Rally, this is an investment opportunity you won't want to miss.