Fundrise vs CrowdStreet: Which One Is Better for Real Estate Investing?
Alternative platforms let you buy real estate in your underwear, but should you choose convenience or quality?
Many companies on MoneyMade advertise with us. Opinions are our own, but compensation and in-depth research determine where and how companies may appear.
Real Estate
Passive Income
Long Term Growth
Everyone wants to be a real estate investor, but no one wants to be a real estate investor. So many people are trying to get their mitts on some high-value property, whether it be residential, commercial, or industrial, but rising interest rates on mortgages are making real estate financing less appetizing and certainly less accessible to smaller investors—not to mention all the work that goes into maintaining and managing a property.
Fortunately, investors are no longer at the behest of banks and mortgage financiers thanks to alternative real estate investing platforms. These platforms are popping up virtually by the day, each one featuring its own financing model, target audience, and investing goals. Comparing two of the most popular real estate investing apps, Fundrise vs CrowdStreet, it's clear they can be worlds apart, despite their similarities.
CrowdStreet vs Fundrise at a glance
CrowdStreet and Fundrise are real estate investing platforms that each offer four investment options based on risk tolerance, but the similarities pretty much end there. The main differences between the two platforms are found in the type of real estate deals they offer, which investors they accept, the minimum investment amount, and the projected return on investment.
Fundrise

CrowdStreet

Investment options

Proprietary Real Estate Investment Funds (eREIT)

Direct commercial real estate investing

Fees

Avg 1%

None

Minimum investment

$10

$25,000

Target returns

5.42% Average income return

17.5% Average IRR

Risk level

Low (varies)

Low (varies)

Time horizon

5+ years

Average 2.4 years

Liquidity

Low or Moderate

Low

Other key features

On desktop, App Store, & Google Play

IRA-enabled

Several account tiers

Quarterly dividends and dividend reinvestment

On desktop

Some cash flow properties generate monthly or quarterly passive income

Do you have to be accredited?

No

Yes

Best for

Unaccredited investors who are looking to make small investments into diversified real estate investment funds

Accredited investors who want to actively manage their investments in institutional-quality commercial real estate

Get more info

Full Fundrise review

Full CrowdStreet review
Fundrise is a platform where practically anyone can invest in a diversified portfolio of real estate in the form of non-traded real estate investment trusts, or eREITs. Unlike regular publicly-traded REITs, Fundrise's eREITs are sold directly by the platform rather than on public markets.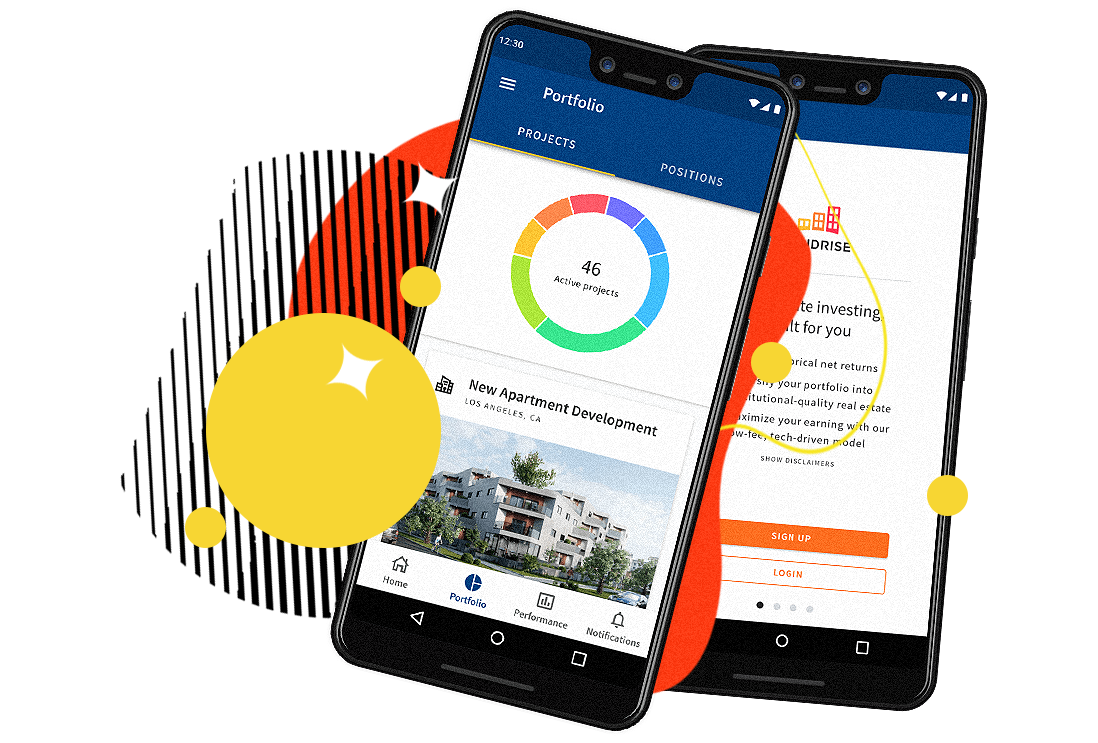 How does Fundrise work?
Fundrise investment types:
Fixed income

Core-plus

Value-add

Opportunistic
Fundrise allows any investor to choose one of five tiers: Starter, which requires a $10 minimum investment and offers access to funds that invest in a diversified private real estate portfolio called Registered Products; Basic, which requires a $1,000 minimum and enables investing in an IRA account; Core, which requires a $5,000 minimum and offers access to non-registered products; Advance, which is similar to Core but raises the minimum to $10,000; and Premium, which is the highest tier, gives access to occasional accredited offerings and requires a $100,000 investment minimum.
Who can invest with Fundrise?
Fundrise is a platform that's accessible to any investor, regardless of accreditation. Accessibility to practically all investors is one of the biggest things setting Fundrise apart from CrowdStreet, but only the former has a tier system that limits access to certain real estate investment products based on the size of the investment and the accreditation status of the investor.
CrowdStreet is a platform that gives accredited investors access to institutional-grade commercial real estate opportunities, such as hospitals, hotels, apartments, and charter schools. CrowdStreet doesn't charge any fees because it acts as a marketplace where sponsors of real estate opportunities list them for accredited investors on the platform to invest in.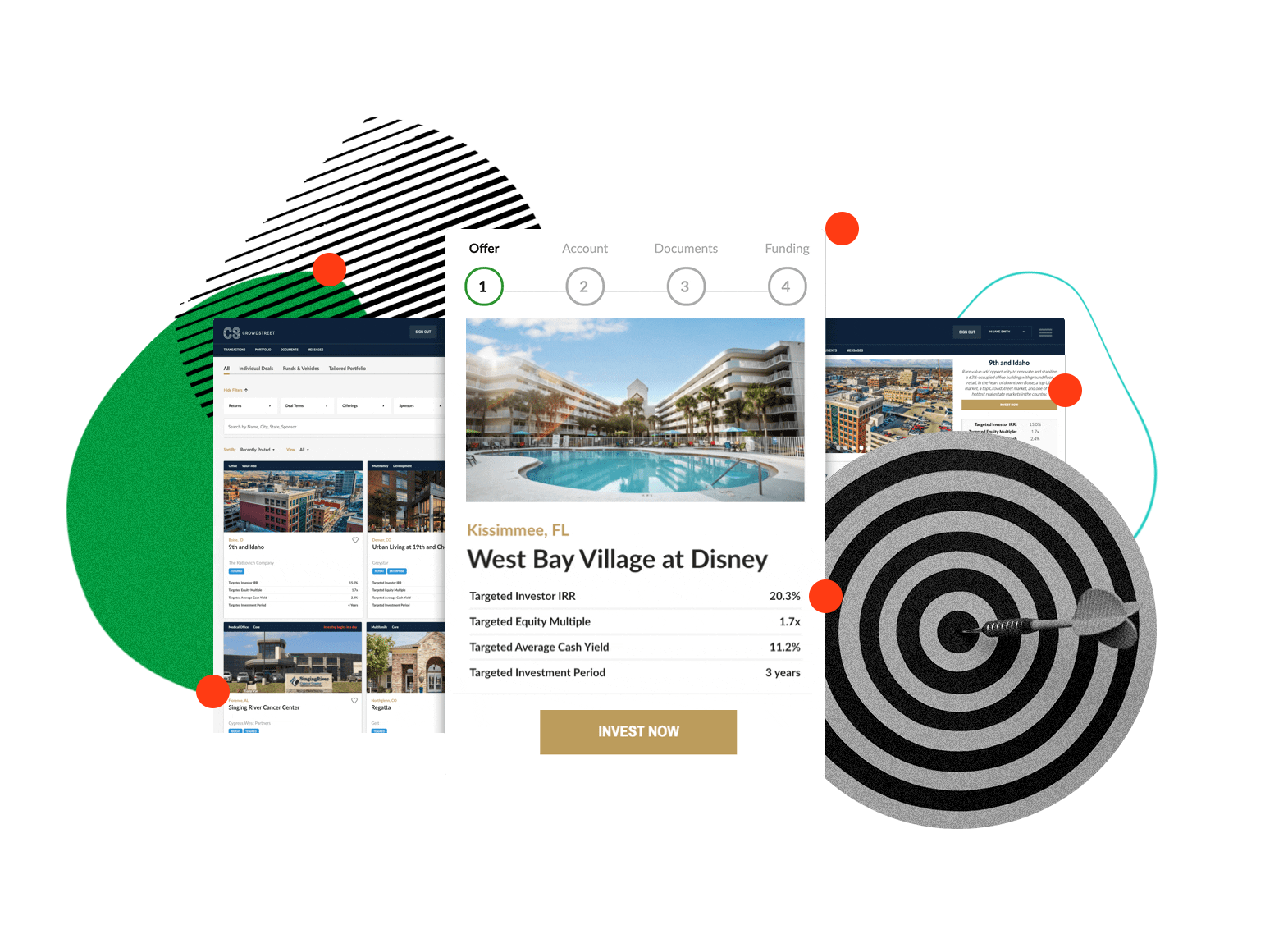 How does CrowdStreet work?
CrowdStreet investment types
Core

Core-plus

Value-add

Opportunistic
Sponsors who are seeking accredited investors pay to list real estate opportunities on the CrowdStreet marketplace, and each listing includes a fundraising goal, target returns, investment horizon, and cash yield. Then, accredited investors use the platform to browse investment opportunities, and can invest in the ones they like which align with their investment goals. Each deal varies depending on the sponsor and scope of the project, and some of them may pass on the CrowdStreet listing fee to investors.
Who can invest with CrowdStreet?
Since CrowdStreet is only for accredited investors, the minimum amount anyone can invest in a single project is $25,000. Because of this requirement, most CrowdStreet users will be seasoned investors who either have lots of capital to invest in a diversity of real estate projects or have a high-risk tolerance and will fully invest in one project they like. Because the platform is exclusive to a more sophisticated clientele, CrowdStreet offers little-to-no hand-holding, so investors must conduct their own due diligence on their projects.
Fundrise perks and drawbacks
Pros and cons
Pros
Several tiers and investment structures
Cons
The main advantage of Fundrise is accessibility—practically anyone can sign up and invest in real estate through the platform. The tier system makes the platform inviting for a broad range of investors, and the ability to invest through an IRA account makes Fundrise great for long-term real estate investments for retirement.
However, Fundrise's drawbacks could be a dealbreaker for some investors. The first notable thing is the 1% annual fee, which is how Fundrise makes money. Secondly, Fundrise is highly illiquid, which makes it harder for investors to control when they get returns or cash out. Third, the straw that broke the camel's back is the fact that Fundrise's returns have underperformed the S&P 500 in recent years, which means it's possible some investors would be better off investing in a publicly-traded REIT, instead.
CrowdStreet perks and drawbacks
Pros and cons
Pros
Platform doesn't charge fees
Variety of investment structures
Institutional-quality real estate
Cons
Accredited investors only
$25,000 minimum makes diversification harder
Investors must conduct due diligence
Both the benefits and detriments of CrowdStreet are near mirror opposites of Fundrise. First, CrowdStreet does not charge any fees because they make money from listing fees paid by sponsors. Second, CrowdStreet investments have a great track record with a relatively shorter horizon of profitability. Lastly, the main advantage of CrowdStreet is the investment structure, specifically that all investments are directly into institutional-level commercial real estate projects which, although riskier than a diversified real estate fund, have higher profit potential.
Can you make money on Fundrise and CrowdStreet?
While both Fundrise and CrowdStreet offer several investment structures that help gauge the risk tolerance of the investor, there are inherent differences in the risk level and profitability of investments on each platform. On one hand, investing in Fundrise is generally less risky because diversified real estate funds spread risks across multiple projects, yet are generally less profitable.
On the other hand, investing directly into a single commercial real estate project on CrowdStreet is riskier, but has a higher return potential in the long run. Although both platforms have different options investors can choose to match their goals, investing on either platform will have different outcomes—compared to a metric like the S&P 500—because the structure of the investments is fundamentally different.
How do I make money with Fundrise?
The main way investors make money with Fundrise is through the performance of their real estate assets. One way investors make money is by earning dividends which are composed of rent and other revenue from the property. Second, investors potentially gain more money as the real estate appreciates, however for investors to realize these gains and turn them into actual profits requires enough liquidity for it to be redeemed, which isn't guaranteed.
How do I make money with CrowdStreet?
With CrowdStreet, the returns horizon is largely contingent on the type of real estate investment. Some investments deal with real estate that's already profitable, so investors can expect monthly or quarterly returns composed of rent generated from the property. Investing in projects during the earlier stages of development is usually not as immediately profitable, but can potentially be more lucrative once the project is completed and sold.
What other people are saying about Fundrise and CrowdStreet
Finance blogger and YouTuber REtipster invested $1,000 into the Fundrise East Coast eREIT in March of 2017, and in his 2020 update video discussed the dividend reinvestment feature. He stated that each time a dividend is reinvested, it begins its own 5-year investment timeline into a different eREIT, though it was unclear how Fundrise selects eREITs for dividend reinvestment.
"Originally, I put my thousand-dollar investment into this East Coast eREIT, and that's really the only time I ever told Fundrise where to put the money. But, as the dividends were automatically reinvested, it kinda like split those up among a lot of other eREITs that I never told them to do that, they just did it… I'm not sure exactly how they make that decision."
REtipster would report back that Fundrise does have a strategy for reallocating dividends:
"They basically reinvest these dividends based on the current allocation of my selected investment plan, taking into account my existing portfolio as well as weighing my investment towards funds where I'm under-allocated…which, honestly, I'm fine with because I wouldn't have my money here if I didn't trust Fundrise to do the right the thing with my money in the first place."
Under the thread titled "Fundrise vs CrowdStreet" on Reddit, user u/cvlf4700 commented regarding Fundrise's hidden fees. "They use LIFO (last-in-first-out) to determine which shares to sell," wrote the Reddit user. "Thus, everytime [sic] you contribute to a fund, you are basically locking yourself for another five years or paying their early redemption fees."
On the same thread, user u/Dependent-Cat-6579 wrote that they were unpleased with CrowdStreet inaction when they couldn't provide the K1 tax document. They went on to write, "I would have been better off just buying VNQ," referring to the Vanguard Real Estate Fund ETF.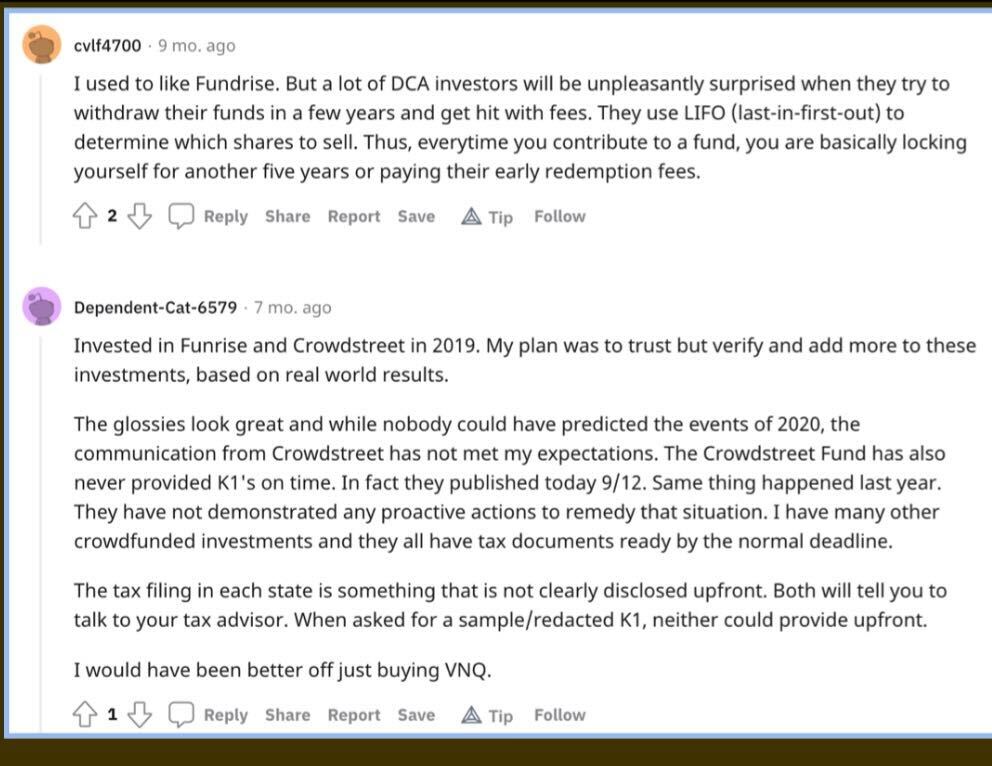 Fundrise vs CrowdStreet: Which is best for you?
Most retail investors will not be eligible to invest with CrowdStreet simply because of the accreditation requirement for all investors, which includes a required investment minimum of $25,000. So, while
Fundrise is a more accessible alternative, some investors might find themselves a small fish in a big pond, so to speak, meaning their smaller investments are less likely to be profitable than larger investors. Considering the lackluster performance of eREITs, non-accredited investors should consider investing in traditional REITs or real estate ETFs since there are fewer fees and more liquidity.
Is Fundrise Legit?
Yes, Fundrise is a platform that identifies, acquires, and manages a diversified portfolio of real estate projects on behalf of investors.
Can you get rich from Fundrise?
Not really. The yearly earnings investors make are usually proportional to the amount initially invested. So, while an investment with Fundrise can generate passive income, an eREIT investment is unlikely to appreciate significantly over a short period of time, and taking profits early would be further complicated by limited liquidity.
Can you lose money with Fundrise?
While losing money is a possibility with any investment, this is unlikely to happen on Fundrise unless the real estate market experiences a significant disruption. However, investors who hold onto their eREITs for at least 5 years will almost always see the best return on investment.
Is CrowdStreet legit?
Yes, CrowdStreet is a crowdfunding platform that accredited investors can use to gain exposure to institutional-quality commercial real estate projects listed by individual private sponsors.
Is CrowdStreet a REIT?
CrowdStreet offers several ways to invest in real estate, both directly and as part of real estate funds like the CrowdStreet Private Equity REIT, or C-REIT. While CrowdStreet does allow investors to invest in individual real estate projects, the C-REIT is a way to gain exposure to several real estate deals in a single investment.