CrowdStreet Review
CrowdStreet Review: Institutional-Quality Commercial Real Estate Deals for Retail Investors
Invest like a real estate mogul with access to major commercial real estate projects

Published Aug 26, 2022•Updated Feb 2, 2023
Real Estate
Extra Income
Passive Income
This article was prepared by MoneyMade in their personal capacity. The opinions, views, and thoughts expressed in this article are the author's own and do not reflect the view of CrowdStreet Inc. or its affiliates.
From large-scale condo developments to reimagined shopping centers and hip new hotels, commercial real estate is booming in America's up-and-coming city centers and suburbs. While these multi-million dollar deals used to be reserved for the wealthiest and most connected investors, CrowdStreet has made them accessible to any accredited investor with at least $25,000 to invest.
With a focus on institutional-quality, individual commercial real estate projects, CrowdStreet is a great option for people looking to dive deeper into real estate investing and get their hands dirty researching and selecting the best deals on their own. Concentrating your investment into one or a few high-quality, individual deals can help you earn more.
That said, this platform isn't for everyone. While the potential for high returns is there, there's also potential for significant loss, especially if you lack the knowledge needed to make an informed decision about which deals to invest in. What's more, you'll need a substantial amount of money to invest, and you'll have to be comfortable with locking that money up for a while. In this CrowdStreet review, we'll cover the details of how to invest with CrowdStreet and whether or not the platform is right for you.
Borrow our cheat sheet
MoneyMade member rating
3.0
Pros and cons
Pros
Access to institutional-quality commercial real estate
Wide variety of investment deals
Potential for high returns
No fees assessed by CrowdStreet
Cons
Accredited investors only
Investors must do their own research and due diligence
What is Crowdstreet?
CrowdStreet is a platform that lets you invest in commercial real estate projects like hotels, industrial parks, apartment complexes, medical facilities, and shopping centers. Each opportunity is listed in the CrowdStreet marketplace by a project sponsor that details information like target returns, cash yield, and investment period. As with most investing opportunities for accredited investors, you'll need a substantial amount of money to invest (at least $25,000), and you'll have to be comfortable with locking those funds for years. Ultimately, it's up to you to vet each investment opportunity and choose the right projects for your portfolio.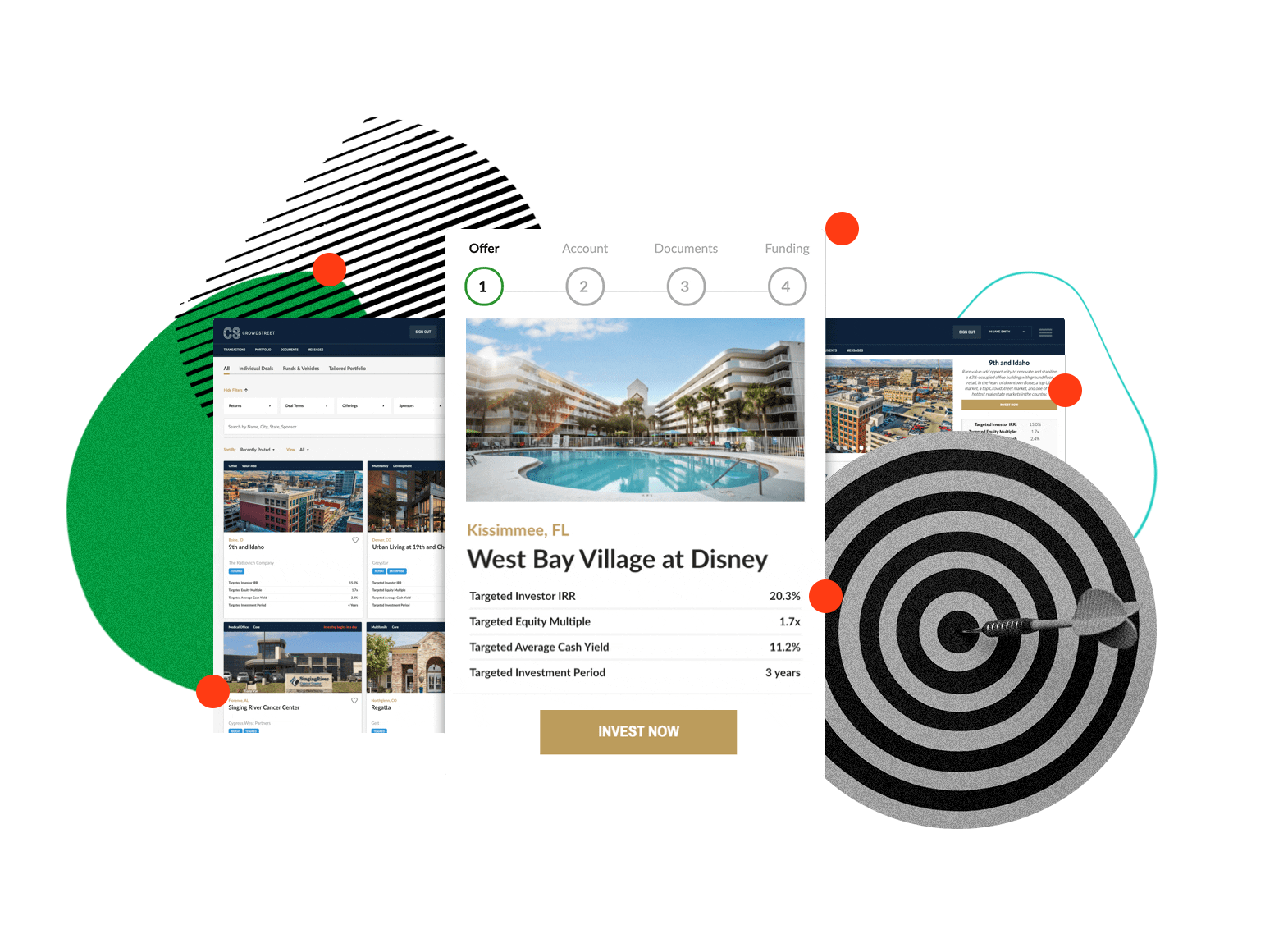 How does CrowdStreet work?
When you choose a commercial real estate project to invest in, your money is pooled with other investors until the project fundraising goal is met and the deal is closed. The CrowdStreet marketplace lists opportunities from a variety of sponsors, so project details vary. They include equity, debt, and hybrid investments, and not all the properties listed are currently cash flowing.
Each project has a different minimum investment, but the lowest currently listed is $25,000. The target investment period can range from a few years to 10 years or more. You don't have to pay any fees to use the CrowdStreet marketplace, but sponsors have to pay to list their opportunity and may pass that fee off to investors indirectly.
CrowdStreet has four different types of deals you can choose from, each of which offers a different risk profile and target return.
Core deals: These properties are usually already occupied and generating stable cash flow. They don't need any major work. They're the least risky, but there aren't many of these deals on CrowdStreet—just over 10.
Core-plus deals: These are mostly occupied and don't need any significant renovations, but revenue is being set aside for maintenance and future upgrades so they offer less cash flow. They're still fairly low-risk, and CrowdStreet has 90+ of these deals.
Value-add deals: These are projects that involve major renovations and upgrades, which means added risk but also the potential for higher cash flow in the future. The most common deal type, there are 250+ of these on the CrowdStreet marketplace.
Opportunistic deals: These are the riskiest properties with the highest target returns. They typically have very little or no cash flow and include properties being built from the ground up and projects with complex business plans. There are 165+ of these on the CrowdStreet marketplace.
Who can invest with CrowdStreet?
The vast majority of deals on CrowdStreet are only open to accredited investors. You must be based in the US to invest. The platform is open to both experienced and beginner commercial real estate investors, but the onus is on you, the investor, to research each individual opportunity and make wise investment decisions.
Where CrowdStreet gets it right
Access to institutional-quality commercial real estate
CrowdStreet lets you invest in major commercial real estate projects that are historically reserved for ultra-wealthy and well-connected investors. Their platform makes it easy to source and connect with new investment opportunities, and with minimum investments of as little as $25,000, these opportunities are more financially accessible than before.
Potential for above-average returns
Most deals on CrowdStreet are for individual projects, although there are some opportunities to invest in diversified funds. Some real estate investors prefer investing in individual properties over real estate funds and REITs because concentrating their investment can provide the potential for higher returns. While diversification can help protect you from losing your initial investment, it also provides lower returns than betting on a few singular investments that end up paying out well.
User-friendly platform
The CrowdStreet marketplace is designed like a classified ad for commercial real estate investment opportunities. You can easily browse through deals and find crucial information like target returns, track record, and holding period.
Helpful educational resources
Members get access to a wealth of educational resources to help them make their first investment in commercial real estate, from new investor orientation to market research and expert insights.
Where CrowdStreet could do better
Requires some real estate savvy
While CrowdStreet reviews deals before listing them, evaluating the firm and asset as well as running background checks, you still need to vet the sponsors yourself and determine whether or not you believe the project is likely to hit its targets. Since you're often picking individual projects on your own, (there are some funds but they tend to have higher investment minimums), this is more of an active investing strategy, unlike "set it and forget it" platforms and REITs.
High minimum investment required
CrowdStreet does make commercial real estate investing significantly more financially accessible, but the investment minimums are still rather high for many investors. The lowest you'll find is $25,000.
Hard to diversify
Since the minimum investment requirement is at least $25,000, you'll need to put in a substantial amount of money if you want to diversify across multiple projects. Investing in five deals, which is only somewhat diversified, would cost you at least $125,000.
Low liquidity
Many projects target a holding period of at least five years, so you need to be comfortable with having your money tied up for a while. While some projects pay out regular distributions eventually, there's a focus on long-term price appreciation over dividends.
Must be accredited to invest
Most deals on CrowdStreet require you to be an accredited investor to invest. To become an accredited investor, you typically need to be a high-income individual or have a high net worth.
Can you really make money on CrowdStreet?
You can certainly make money with CrowdStreet, but it's also possible to lose money—it all depends on the deal you choose to invest in. Since its inception in 2014, CrowdStreet has closed 59 deals with an average interest rate of return (IRR) of 17.50% net of fees and an average hold period of 2.4 years.
The average equity multiple, or the cash distributions you receive on your investment divided by your total amount invested, has been 1.41x. This means that if you invested $25,000 and achieved CrowdStreet's average historical returns, you'd cash out at $35,250 after 2.4 years.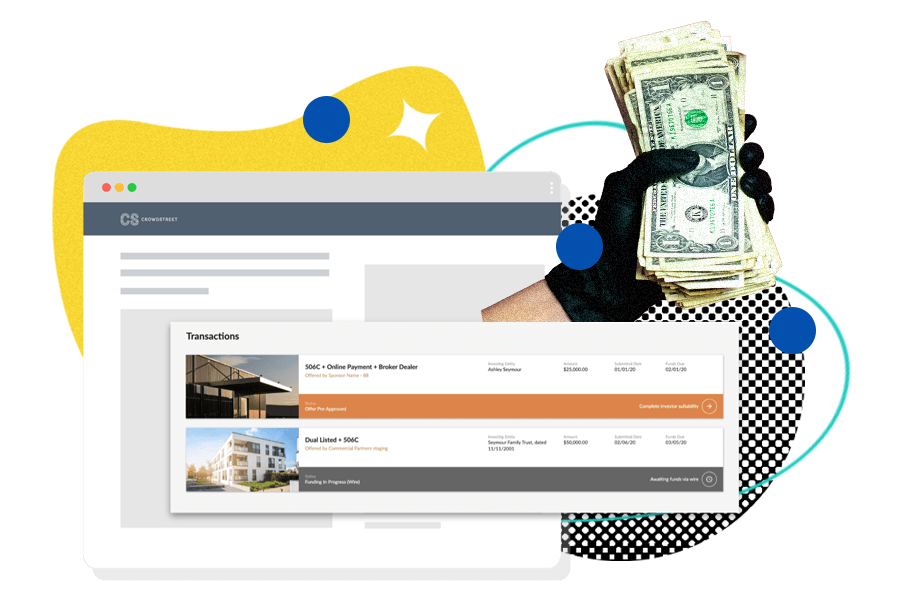 How do I make money with CrowdStreet?
The primary way investors make money with CrowdStreet is through price appreciation. This means you invest in a project and get paid out when the project is realized and the property sold. If the property's value increased, you turn a profit. Some properties, such as core deals that are cash flowing thanks to rent payments, also generate regular passive income. These payments are distributed on a monthly or quarterly basis.
How do I cash out with CrowdStreet?
You can cash out your investment when the deal you choose is realized—in other words, the property is sold or refinanced. Until then, your investment is locked up, so it's important to avoid investing any funds you might need to access in the near future. Projected hold periods are often up to five years or longer.
CrowdStreet vs traditional investing
Real estate in general is one of the best assets for diversifying your portfolio and protecting yourself against market volatility without sacrificing returns. Historically, real estate has offered similar returns to the stock market but with a lot less volatility. That said, because CrowdStreet mostly involves investing in individual properties, it can be a bit riskier (although potentially more rewarding) than some other real estate investments. Just like investing in individual stocks, it's important to do your own research and understand the market before investing so you can pick wisely.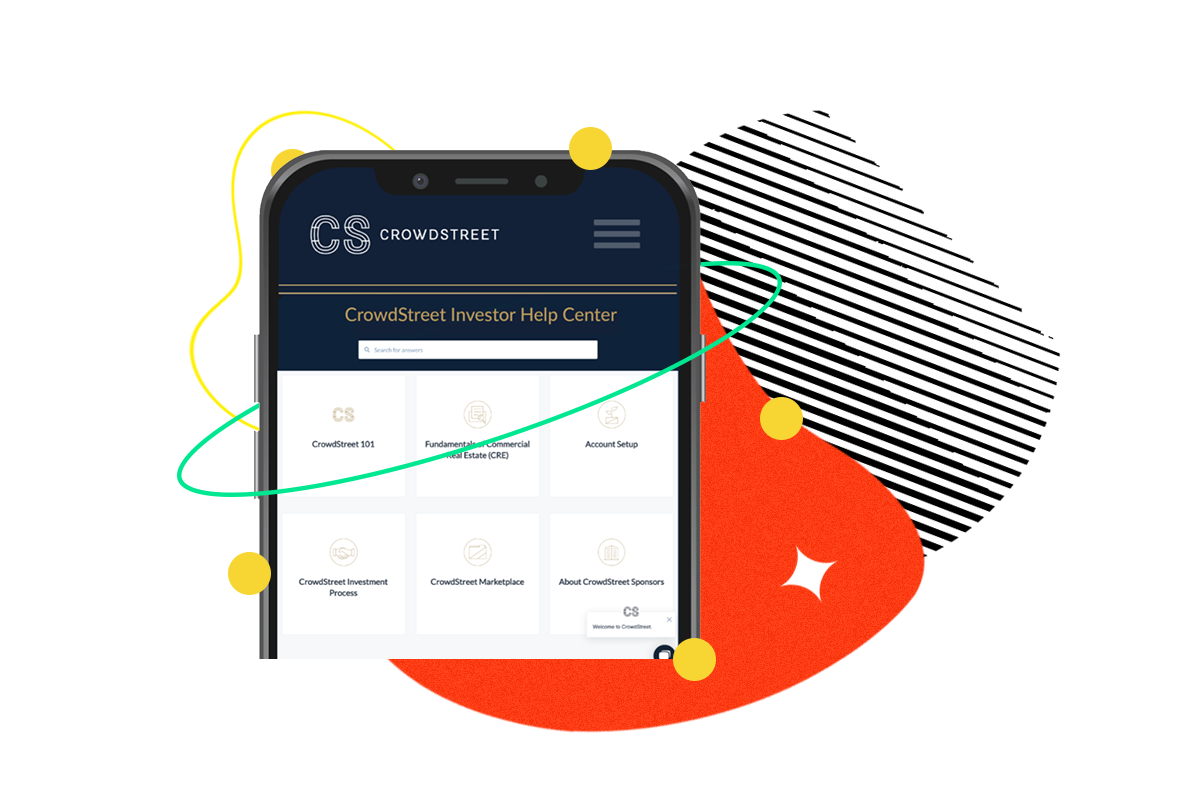 What other people are saying about CrowdStreet
MoneyMade users have reviewed CrowdStreet positively, praising its user-friendly interface and variety of deals. Users also like that CrowdStreet gives them access to commercial deals with large, well-established sponsors. Most members agree that you should be researching each deal yourself and that you should have some understanding of real estate investing.
A common complaint is that finding worthwhile deals isn't completely straightforward. Some have said that CrowdStreet is too hands-off when it comes to due diligence and managing failing deals. However, others claim that the potential for higher returns than other more automated, and perhaps less risky, real estate investing platforms is what sets CrowdStreet apart.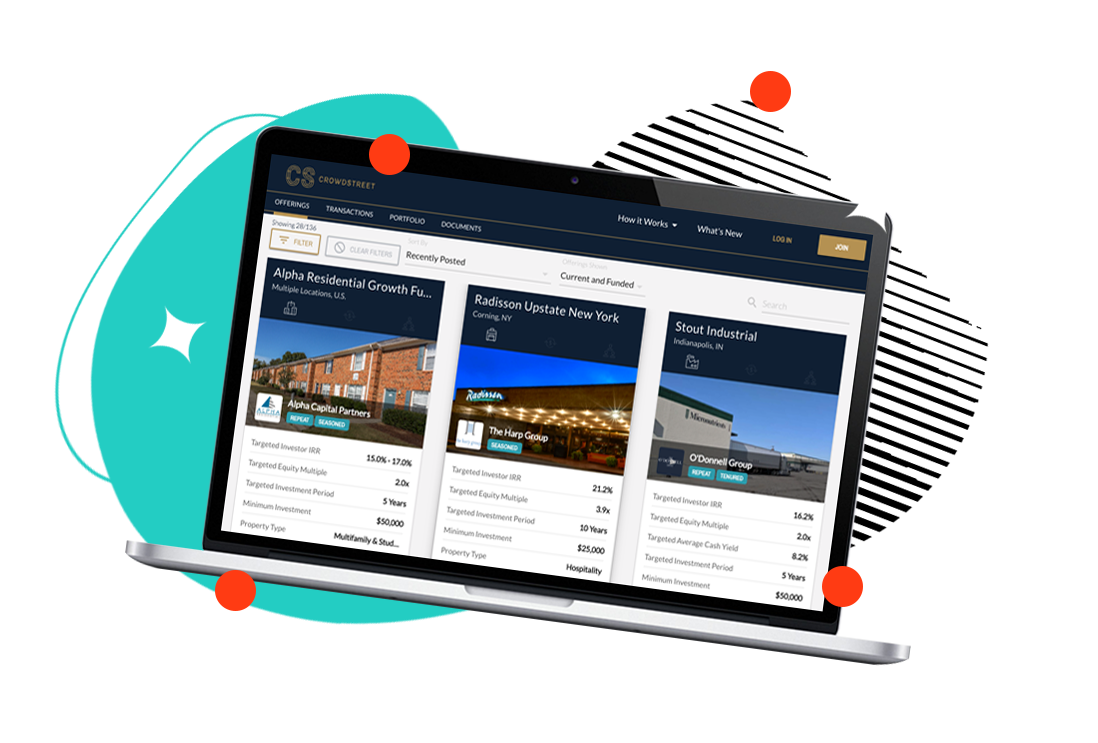 Are there other apps like CrowdStreet?
If you're interested in real estate investment opportunities but not sure if CrowdStreet meets your needs, there are plenty of other options. You can browse 160+ other investment platforms on MoneyMade, and if you sign up for a free account, you'll get personalized matches for investment opportunities that fit your goals and interests.
Fundrise also gives you the chance to invest in institutional-quality real estate, but you invest in a diversified fund rather than individual properties. This means less research on your end, and it can also result in more consistent returns, although the potential for outsized returns might be lower. 
Concreit is open to all investors, accredited or not, and only requires a minimum investment of $1. This platform also offers greater liquidity than most real estate investments. You invest in a non-traded REIT that can provide monthly dividends, and you can withdraw your funds at any time.
CrowdStreet

Fees

Minimum investment

Average returns

Risk Level

Available on

iOS

Android

Review

 
Our hot take on CrowdStreet
For investors with a little real estate savvy and accreditation, CrowdStreet can be an excellent way to gain access to institutional-quality commercial real estate deals. Their platform takes all the work out of sourcing and gaining access to these investment opportunities, and the details provided on each deal page make it easy to do your own research on the sponsor and property. 
There is a high investment minimum, and you're dealing with individual projects for the most part, so it can be hard to diversify and manage risk. What's more, your money is typically locked up for at least a few years. For these reasons, CrowdStreet is best for investors who have a substantial amount to invest and can afford to lose access to those funds for years at a time. Keep in mind that it's always possible to lose money, so only invest what you can afford to lose. That said, picking the right deal can lead to returns that beat the market as well as other more diversified real estate opportunities.
I'm in! How do I sign up for CrowdStreet?
1.

Sign up for a MoneyMade account.

By going through your MoneyMade account, you'll be able to link any investments you make with CrowdStreet as well as any other investment platforms. This allows you to see all your investments in one place and track your progress toward your investing goals.
2.

Create an account with CrowdStreet.

Visit the CrowdStreet website and create an account. You'll be asked to provide an email, full name, and password.
3.

Complete your investor profile.

In order to invest, you'll need to complete a profile with CrowdStreet. This includes providing personal information, contact information, and your investing background and preferences.
4.

Browse the marketplace and research deals.

Browse available offers to find a deal that's right for you. You can read up on the offering details, the project strategy, the property, the sponsor, and the business plan as well as attend webinars from the sponsor and view the sponsor's track record. All of this combined should help you make an educated decision on where to invest your money.
5.

Submit an offer.

Once you select a deal, you'll submit an offer within that deal's minimum and maximum investment limits. If your offer is accepted (this often happens instantly), you'll be asked to add an account used for legal and tax purposes and complete closing documents. Your offer will then be pending authorization, and once it's authorized, you can fund your investment with a bank transfer or wire transfer. This article was prepared by MoneyMade in their personal capacity. The opinions, views, and thoughts expressed in this article are the author's own and do not reflect the view of CrowdStreet Inc. or its affiliates.
Explore Assets
Click an asset to learn more
Dogecoin
Music Royalties
Tether
Farmland
Wine
Art
Real Estate
Robo Advisor
Gold
Bitcoin
Stocks
Lending
Startups
Ethereum
DeFi
Solana
Oil & Commodities
Polkadot
Metaverse
NFTs
Whiskey
Bonds
Platinum
Sports Cards
Cardano
Ripple
Silver
Watches