Nico
Invest in local Real Estate
Looking for a detailed Nico REIT review?

Nico (MyNico.com) is a neighborhood real estate investment trust (Neighborhood REIT™) that helps people invest in their local neighborhoods. A REIT combines the capital of many investors to finance a portfolio of real estate investments, which are then managed by professionals.

But how does Nico work?
What are the costs, pros and cons, and the potential returns involved when investing with Nico?

In this detailed MyNico review, we will walk you through what it offers, how to get started with Nico, its annual return, and much more.
Investment type
Common Stock REIT
Annual Fee
There are several types of fees, including a 1.5% annual asset management fee.
Annual Returns
The five-year return of REITs, according to the MSCI U.S. REIT Index, was 15.76% in June 2020.
Average Liquidity
Low liquidity. Redemption of shares is allowed once a quarter, after a predefined holding period.
Open to investors outside the US
No. Nico is only available to investors based in the US.
Best for
US investors looking to diversify their portfolio by investing in real estate.

Investors with limited investment capital.

Investors looking for a long-term financial stake in real estate.
What is Nico?
Nico Echo Park, Benefit Corp. (The Neighbourhood Investment Company) is a neighborhood REIT that is focused on investing in and building up community-owned real estate.
While most types of REITs focus on gathering capital and investing in commercial real-estate, Nico Echo Park is a benefit corporation that tries to prioritize neighborhood equity, providing locals with ownership of their community and the social and environmental impact of the business on local stakeholders.
Nico Echo Park currently owns three rent-stabilized multifamily properties in Echo Park, Los Angeles - including one mixed-use property.
Who should use Nico?
Nico is an ideal real estate investment platform for:
US-based investors looking to diversify their portfolio and invest in real estate. Ideal for local investors who live in or around the Echo Park neighborhood.
Any person with limited capital. The minimum investment is under $100.
Investors looking to build a long term real investment.
Investors looking for a passive source of income from their investments.
Impact investors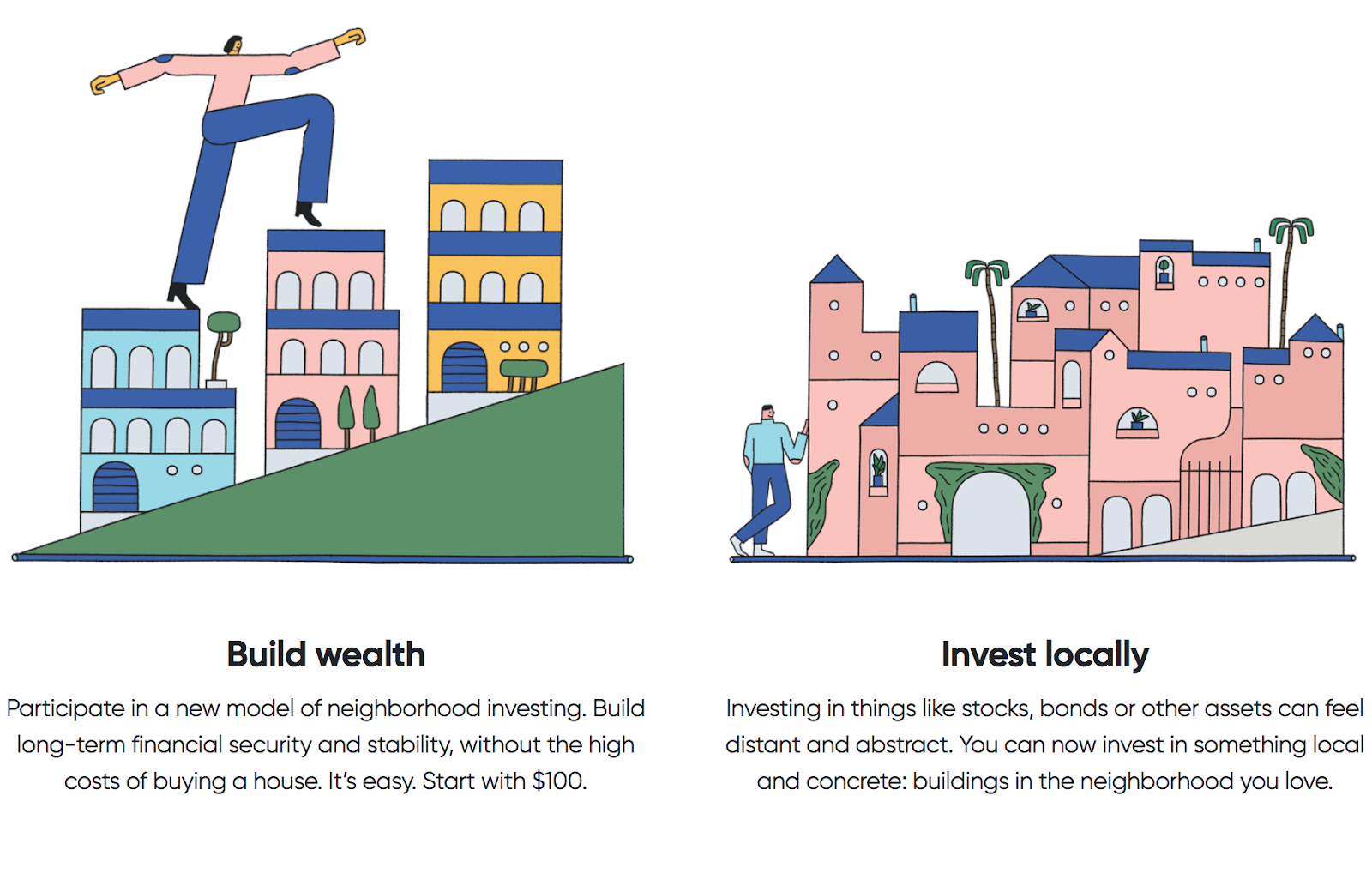 How does Nico work?
1. Nico Invests In Neighborhood Properties
Nico currently owns and manages three properties in Echo Park, Los Angeles. Echo Park is situated just minutes away from Hollywood and is at the heart of LA.
Any person can purchase shares of this REIT to claim a stake in these properties and future investments made by the Neighborhood REIT.
Investors don't have to necessarily reside in Echo Park to purchase shares. However, investors will be classified as local and non-local based on their place of residence.
If you reside in Los Angeles and your zip code is one of the following, you will be classified as a local investor: 90012, 90026, 90029, 90031, 90039, 90057, 90090, 90027, 90017, 90071. Local investors have a shorter minimum hold period before they can request redemption of their shares and can choose to be active in helping Nico measure and prioritize different social and environmental objectives through surveys and other engagement.
Every other person investing is classified as "non-local."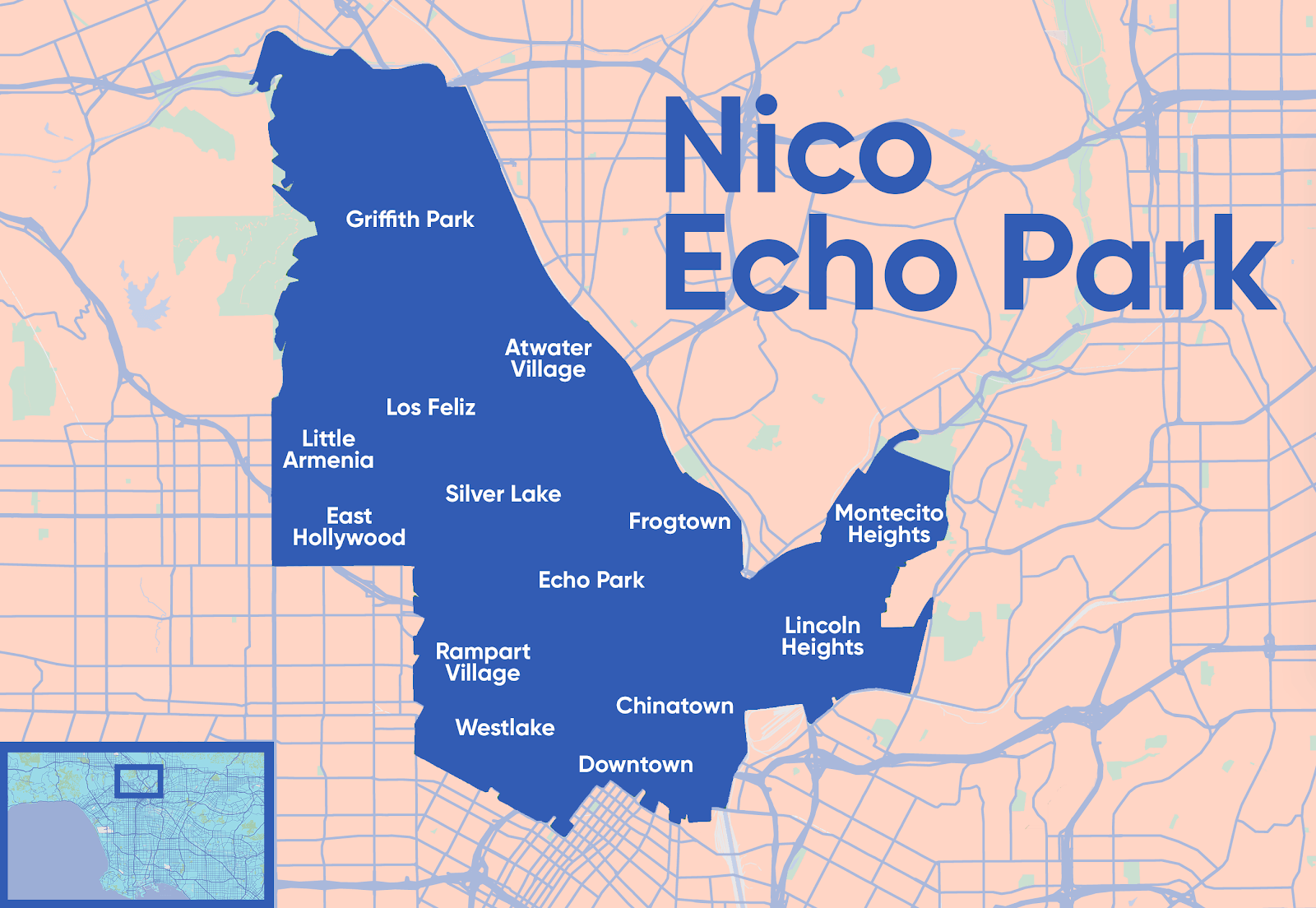 2. Investors Buy Shares
Investors can initially purchase a minimum of 10 shares from Nico. Each share is priced at $10.00 initially, so an investor's minimum initial investment will be $100, though the first $5,000,000 of investment receives a 5% discount ($9.50 per share).
3. You Can Monitor Your Investment Online
You can log into www.mynico.com to access your investment dashboard to track and update your investment. You can also opt to receive updates from Nico regarding the performance of your investment.
4. You Receive Income And Also Build A Long Term Asset
As a shareholder, you receive a part of the income from the properties and a part of its property value. If the properties increase in value, your investment will too. You can also decide to reinvest your dividends or receive a quarterly payout.
5. You Can Redeem Your Shares After A Holding Period
Any common stock shares purchased by a local investor can be redeemed after a minimum holding period of 6 months at the then-current Net Asset Value (NAV) per share.
Any shares purchased by non-local investors have to be held for a minimum period of 2 years. Between the start of the 3rd year and the end of the 5th year, the seller can redeem the shares at a discount on the NAV per share.
Nico features
Here are the key features of Nico:
1. Online Portal For Tracking Your Investments
The Nico web portal lets you easily keep track of your investments. Nico investors also have access to a Projected Returns Calculator, which visualizes potential returns based on an individual's investment plan.
If you need help or have questions about your investment, just shoot a message to the Nico customer support team with your question, and they will help you.
2. Own A Part Of 3 Properties In Central Los Angeles
By investing in Nico, you become a part-owner of the following three properties in the heart of Echo Park:
1461 Sunset Boulevard, Los Angeles, CA.
1412-16 Echo Park Avenue, Los Angeles, CA.
1650 Echo Park Avenue, Los Angeles, CA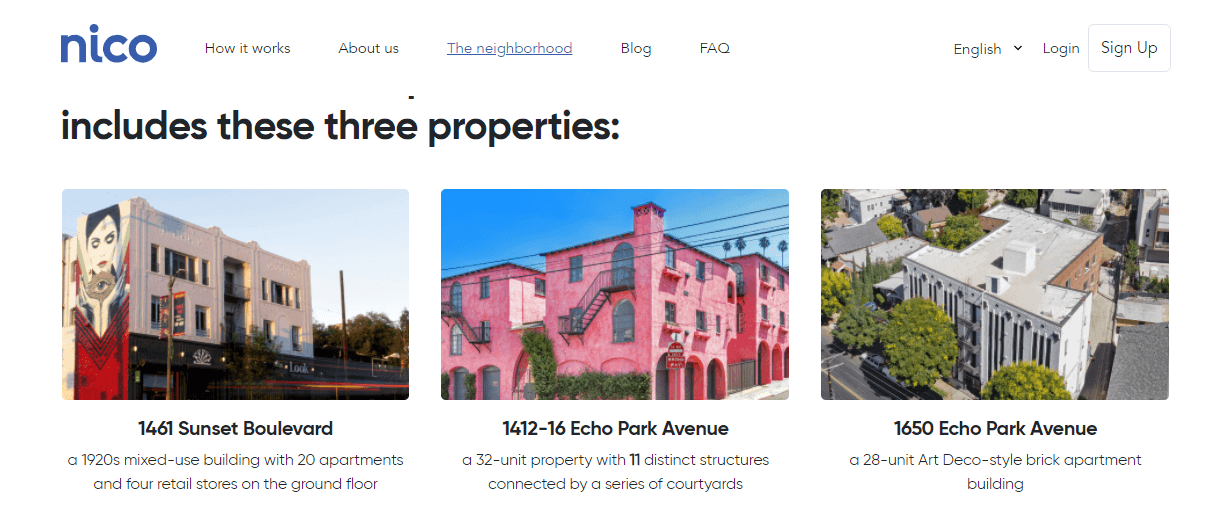 3. You Receive Quarterly Dividends
Investing with Nico doesn't just help you build a long term asset. In addition to your stake's value increasing with property appreciation, you will also receive a quarterly payout.
How to get started with Nico
You need to follow four simple steps to start investing through Nico:
Step 1. Sign up on the Nico website if you're over 18 years old with a US bank account and a valid Social Security or Tax Identification Number.
Step 2. Verify your email address and set up a username and password. Then, verify your location. Based on your residential zip codes, you'll be classified as a local or non-local investor.
Step 3. Choose a payment source and set up your investment preferences. Then, choose the amount of money you want to invest, an optional recurring contribution and whether you would like to reinvest your dividends.
Step 4. Start purchasing shares in the properties.
Nico fees
Nico does not charge investors any fees on an account level. However, there are several types of fees, including a 1.5% annual asset management fee paid by Nico Echo Park, Benefit Corp, to the sponsor company managing the properties.
These fees may include:
Acquisition Fee.
Asset Management Fee.
Performance Distributions (Annual and Exit).
Property Manager Compensation.
Please refer to the Offering Circular to see the complete list of fees.
Nico Potential Returns
You earn financial returns via dividends generated from the income these properties generate and the appreciation of the properties over time.
According to the MSCI U.S. REIT Index, the five-year financial returns of REITs was 15.76% as of June 2020.
Nico Historical Performance
Since Nico Echo Park started operations in late March 2020, we don't have substantial performance data at this time.
Pros and Cons of Nico
Here are the advantages and disadvantages of investing through a Nico account:
Pros
Nico's real-estate investments are great for investors looking to diversify their portfolio and earn passive income from quarterly dividends.
Great for investors focused on positive impact returns beyond just the financials
A minimum investment of under $100 makes Nico more accessible than most other REITs.
Since Nico is a REIT, stakeholders can always benefit from the long-term financial security and stability associated with a REIT.
Nico provides an excellent opportunity for local investors to invest in something they're familiar with - their own neighborhood.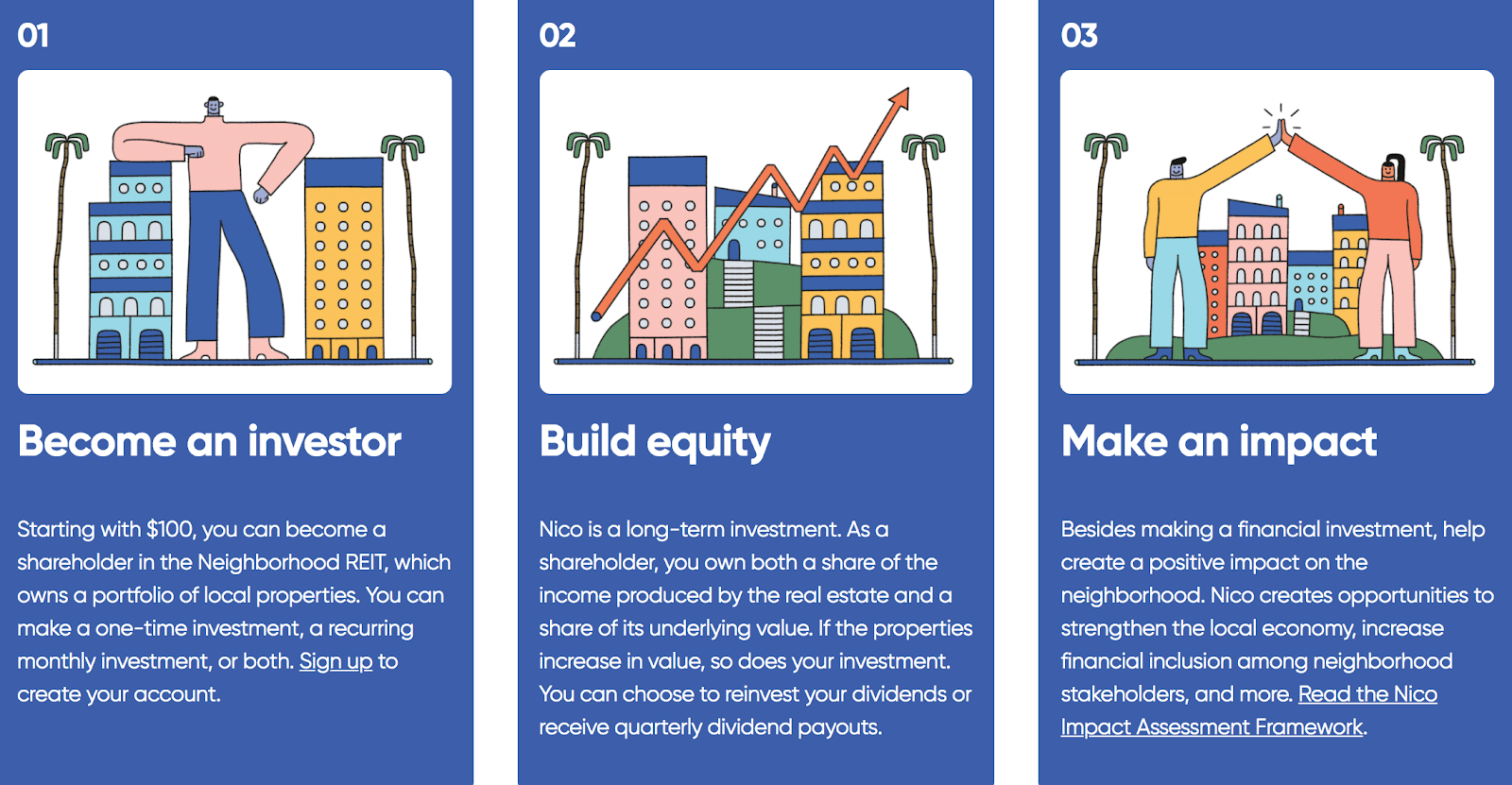 Cons
Nico is currently only available to investors based in the US with a valid bank account and social security or tax identification number (TIN).
Since Nico's funds are entirely invested in real estate, it's not ideal for investors looking for short-term gains.
Nico is an illiquid investment. If you're a local investor, you have to hold your investment for six months to redeem your share. If you're a non-local investor, your share is only redeemable after two years.
Nico currently doesn't support investments through IRAs or other tax-deferred retirement accounts.
Nico doesn't have a mobile app, so you'll have to log in to their web platform to track your investment.
Risks of Investing Through Nico
Here are a few things to keep in mind before investing in Nico:
1. Quarterly dividends aren't guaranteed by Nico. That money depends entirely on the profit Nico makes after the deduction of any liable fees to affiliates and third parties.
2. The real estate market is subject to factors like cycles of the local economy and global economy, natural calamities, interest rates and so on.
Press reviews/coverage
1. Forbes article on how they help local communities share in real estate success
2. Brookings article on how they're helping communities with a just recovery.
3. CurbedLA article talking about one of their small business owner tenants during this pandemic
4. Fast Company article on how inclusive they want to be with local residents and renters.
Conclusion
This MyNico review should give you a good understanding of what Nico does, the money it can help you make and whether it fits your portfolio.
Remember that quarterly payouts aren't a guarantee, and your investment will be locked for some time.
However, Nico is still an excellent option for investors looking to diversify their portfolios, and it can be very rewarding for investors interested in investing in local communities.
Do more with your money
Become a MoneyMade member (it's free!) for personalized alternative investment matches, expert insights and portfolio tracking.