OneGold Review
OneGold Review: Precious Metals Trading Made Simple
OneGold facilitates trading and storage of precious metals including gold, silver, and platinum.

Published Feb 24, 2022•Updated Jun 21, 2022
Commodities & Gold
Global Markets
Balanced Investing
OneGold is a precious metals trading platform that allows you to buy gold, silver, or platinum. You can complete an entire transaction digitally and choose to store your metals with one of the platform's trusted vaulting partners in the U.S. or Canada. You also have the option to redeem your investment for physical assets. 
While these convenient features come with higher fees and a higher minimum investment balance than some competitors, many precious metal investors will find the premium price well worth it.
Pros and cons
Pros
Offers a choice of precious metals
Safe storage of precious metals
Cons
What is OneGold?
OneGold is a platform that makes it possible to easily invest in a choice of precious metals. If you're interested in investing in gold, silver, or platinum and looking for a simple way to do it, you'll want to learn how OneGold works and what its investing requirements are. 

How does OneGold work? 
OneGold allows you to create a free account within a few moments and begin investing in precious metals including gold, silver, and platinum. You can pre-fund your account to be ready to trade, and when you buy an asset you'll lock in the order at the current spot price. 
After purchasing your precious metals, you can opt to have them stored with a trusted vaulting partner including the Royal Canadian Mint or Loomis International. All of your invested and stored precious metals are insured by Lloyd's of London. You also have the option to convert your vaulted holdings to one of more than 20,000 product options using APMEX. 
Who can invest with OneGold?
In order to invest with OneGold, you must provide a government-issued photo ID in order to verify your identity. This can include a passport or a driver's license. You do not need to live in the United States, but you cannot live in certain prohibited locations including Belarus, Burundi, Central African Republic, Cuba, Congo, Iran, Lebanon, Libya, Nigeria, North Korea, Somalia, South Sudan, Darfur, Syria, Ukraine, Venezuela, Yemen or Zimbabwe.
Where OneGold gets it right
You can pick which precious metals you want to invest in
Despite its name, OneGold doesn't just allow investors to buy and sell gold. You also have the option to use the platform to purchase silver and platinum. Having the option to buy different types of metals with one trading platform can make diversification easier. 
Precious metals are stored safely 
When you've invested in gold, silver or platinum products through OneGold, they're safely stored with trusted vaulting partners including U.S.-based APMEX, Loomis International, or COMEX approved vaults. All investments are backed by physically-segregated metals within these storage vaults and all precious metals purchased are insured by Lloyd's of London, a trusted insurance provider. 
You can buy and sell 24/7 directly from your mobile device 
OneGold has top rated iOS and Android apps that facilitate trading on-the-go. You can buy and sell gold, silver, and platinum 24/7, and reviewers describe the apps as "very well put together" and convenient to use for dollar-cost averaging into precious metals.
Where OneGold could do better
Reduce fees for investors
OneGold's storage fee for gold comes in at around 12 basis points per year while investors in silver and platinum will pay a fee of as much as 30 basis points per year. Investors also pay a premium when purchasing precious metals. The premium is .80% over the current gold spot price; 1.00% over the current silver spot price; and 3.70% over the platinum spot price. 
These fees eat into potential investment gains, especially when paying both a markup on precious metal purchases and a storage fee. Some investors may prefer to gain exposure to precious metals through less expensive investments, such as buying low-fee ETFs instead. 
Lower minimum investment requirements 
OneGold requires you to deposit a minimum of $100 via any funding method. Some competitors that facilitate precious metal investing have lower minimum requirements. For example, Vaulted requires just a $10 minimum investment. The higher minimum investment requirement at OneGold means some investors may be priced out. 
Provide more consistent service, especially when it comes to redemption
Although OneGold has generally received positive reviews, some customers have expressed dissatisfaction with the platform's services or features. Specifically, there have been various complaints about difficulty redeeming funds and a slow withdrawal process.
Can you really make money on OneGold?
Your ability to make money on OneGold depends on the performance of the precious metals you invest in. OneGold indicates that during the past 50 years, gold has provided a 10.9% average annual return while silver has provided average annual returns of 13.4%.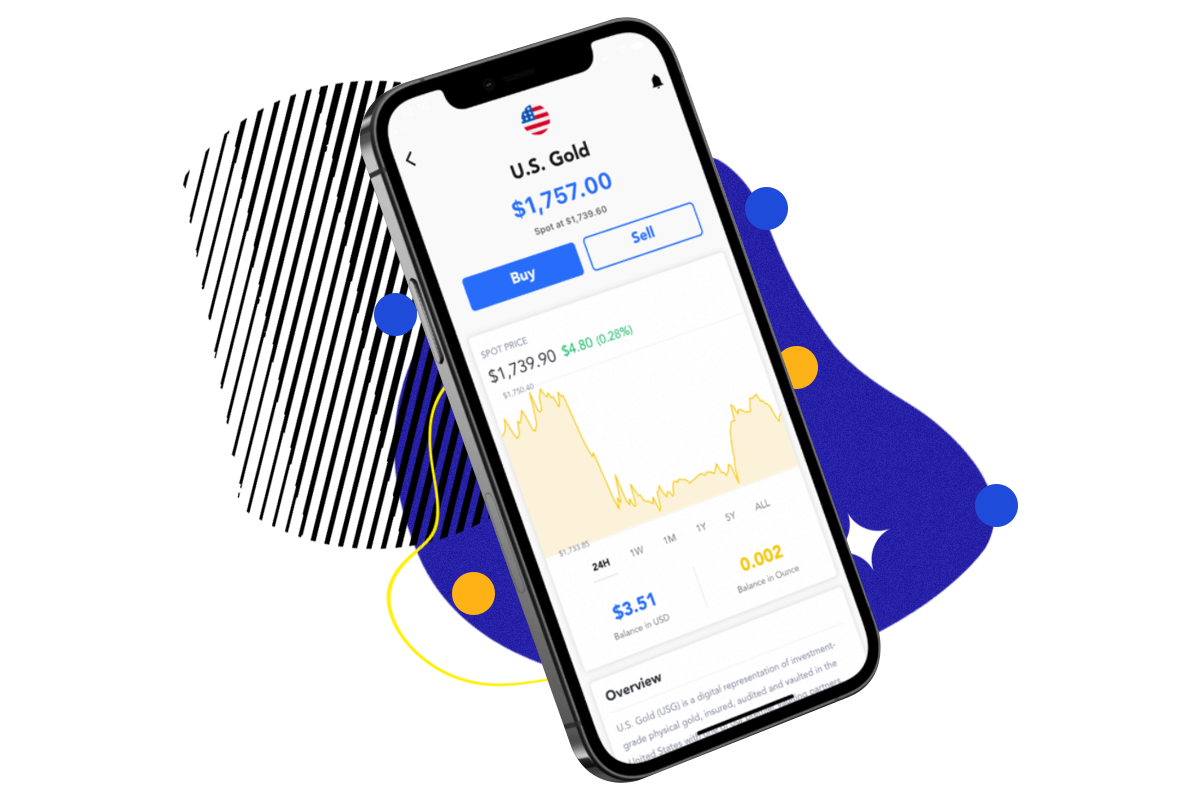 How do I make money with OneGold? 
When you invest with OneGold, you can purchase precious metals including gold, silver, and platinum. You will physically own these precious metals, even if they are stored with a trusted vaulting partner. If the value of the metals increases, you will make a profit on your investment. With OneGold, you can choose to sell your precious metals and cash out at any time. 
How do I cash out with OneGold? 
You can cash out your investments with OneGold by visiting the "Withdraw" section on the OneGold website. Money can be withdrawn via wire transfer; personal check; or bank transfer. However, there is a $25 flat-fee for wire transfers. OneGold may review your withdrawal request, and if you have requested to both fund and redeem your account at the same time, OneGold may hold your withdrawal until the incoming funds transfer has been completed. 
OneGold vs traditional investing 
While it's often possible to buy stocks and ETFs without paying a commission or a price premium, this isn't the case with OneGold. Buying and storing precious metals can come with higher fees than these other assets, and fees eat away at potential returns.
While both gold and silver have outperformed or provided comparable performance to the S&P 500 over the past 50 years, they've provided returns below what the S&P has offered in recent years. Both can serve as a good hedge against inflation, though, along with platinum, and precious metals may have a place in a diversified portfolio.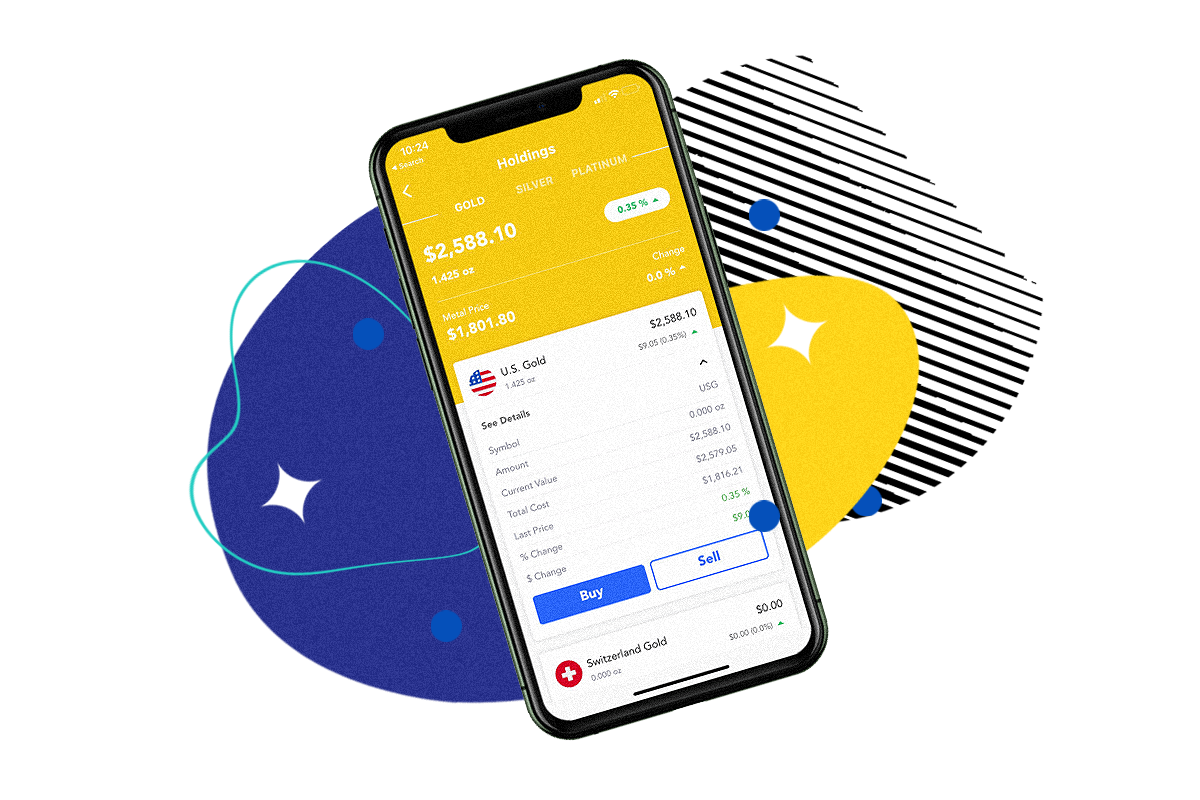 What other people are saying about OneGold
OneGold has received an A+ rating from the Better Business Bureau and earned 4.28 out of 5 stars in customer reviews on the BBB website. Positive reviews describe an easy process for investing in metals; auto purchasing features that work well; and good customer support. 
However, some negative reviews describe difficulty with redemption as well as a lack of responsiveness. And one Reddit user claimed his account was hacked and money was withdrawn without permission.
Are there other apps like OneGold?
Vaulted also provides the ability to trade precious metals although it focuses on gold while OneGold also facilitates trading silver and platinum. Vaulted has a lower minimum investment requirement, mandating you deposit just $10 to get started compared with $100 for OneGold. Vaulted also charges one fee of 1.8% of the current wholesale price of gold, and this fee is inclusive of the spread, premium and commission, so it may be a more affordable choice. 
Glint also provides precious metals trading, but like Vaulted is focused on gold. It offers some unique features that OneGold doesn't include the ability to instantly spend gold anywhere that MasterCard is accepted. Your physical gold will be stored in Switzerland with Glint, rather than with the U.S. or Canadian storage partners OneGold favors. And Glint's fees work differently, as you pay a monthly .02% storage fee as well as a .5% fee to buy and sell gold.
OneGold

Fees

Minimum investment

Average returns

Risk Level

Available on

iOS

Android

Review

 
Our hot take on OneGold
OneGold has a higher minimum investment requirement and higher fees than some competitors. However, it offers a choice of precious metals, as well as the option to redeem your investment for physical assets even if you don't own a lot of gold or silver. If you want to diversify into investing in gold, silver, or platinum, OneGold is worth considering. 
I'm in! How do I sign up for OneGold?
1.

Sign up for a MoneyMade Account

Precious metals can make up part of a diversified portfolio, along with other investments. Since you'll want to keep tabs on all of your different assets owned on various investment platforms, it's best to start the process of opening accounts with MoneyMade. By creating a MoneyMade account and linking other investment platforms to it, you can quickly and easily get a comprehensive picture of your portfolio.
2.

Navigate to OneGold and click the Sign Up button

After signing up for MoneyMade, visit OneGold and click the blue Sign Up button.
3.

Provide basic account details

You'll need to provide your first and last name and your email address and specify what type of account you want to open. You will also need to verify you are not a robot.
4.

Set up Two-Factor Authentication

To keep your account secure, OneGold requires you to set up two-factor authentication. To do this, you will need to provide your mobile phone number. OneGold will send a message with a verification code that you must enter to log into your account on the site.
5.

Provide your bank account and other details

You will need to provide further details including your address as well as your bank account so you can fund your precious metal purchases.
6.

Verify your account

OneGold requires you to provide government identification, such as a driver's license, in order to fund and use your account. Verification documents can be uploaded to your OneGold account under the Settings section.
7.

Return to MoneyMade

After you've opened your account and begun investing with OneGold, you can track the performance of your investments on the convenient MoneyMade platform.
Explore Assets
Click an asset to learn more
Dogecoin
Music Royalties
Tether
Farmland
Wine
Art
Real Estate
Robo Advisor
Gold
Bitcoin
Stocks
Lending
Startups
Ethereum
DeFi
Solana
Oil & Commodities
Polkadot
Metaverse
NFTs
Whiskey
Bonds
Platinum
Sports Cards
Cardano
Ripple
Silver
Watches