Best Basketball Cards to Buy in 2022 From Jordan to Doncic
Panini is the hottest brand of NBA basketball cards. But which players and packs are the best to invest in?
Many companies on MoneyMade advertise with us. Opinions are our own, but compensation and in-depth research determine where and how companies may appear.
Collectibles
Sports
Entertainment
You know what they say: money follows eyeballs. And basketball is one of the most popular sports in the world with around 2 billion fans, according to Sports Browser. Since most basketball cards have low investment minimums and potential slam-dunk returns, they've become a preferred asset class among basketball enthusiasts.
For instance, a 1986-87 Michael Jordan Fleer rookie card sold for a whopping $840,000 in July 2021. In 2020, a 2003 Upper Deck Exquisite Collection LeBron James Rookie Patch sold for a staggering $900,000.
Rookie cards in good condition will fetch higher prices than worn-out ones
Every year, basketball card collectors worldwide seek out these rare gems. And the 2021-2022 NBA season is no exception. With all the young players entering the league and stars like LeBron James, Kevin Durant, and Steph Curry still playing at the peaks, you can bet that some cards released today will be prized for years to come.
If you haven't already done so, there's no better time to buy the best basketball cards that 2022 offers. But with so many options, you'll be left scratching your head at which cards might fetch the highest premiums. This guide covers the best basketball cards to buy in 2022, why they're expected to rise in value and lists some popular sites where you can buy your top picks.
What is the best brand of NBA basketball cards?
Before investing in any NBA basketball card, you should be confident in its brand. Panini is the largest and leading sports card manufacturer in the world. Before Panini, it was Topps until they lost their license to produce sports cards in 2016. Founded in 1961, Panini has since grown to become a billion-dollar company. With their focus on quality, artistry, and prestige, most people agree that they're the best brand of NBA basketball cards.
The brand has made its mainstream basketball card debut after signing agreements with some of the biggest sports leagues to become their exclusive trading card licensees. A few examples of these agreements include the NFL, NBA, and MLB. Some of the most popular NBA cards from Panini include National Treasure, Prizm, Donruss Optic, and Select. National Treasure cards are limited edition cards that come with enhanced artwork and holographic foil, and feature photorealistic player depictions on the front of the cards.
Panini's Prizm is a favorite among NBA card collectors. They have rare, limited edition cards that are usually retired players or players known in the league for their outstanding performance on and off the court. Collectors love Donruss Optic as well because of its eye-catching color and design. Donruss Optic is a great choice for those looking for limited edition cards
Finally, Select is another great NBA trading card pack to buy. Select features a lot of parallels and autos to give collectors a good shot at pulling their favorite player cards.
Best basketball card packs to buy in 2022
Basketball cards have become a hot collector's item in recent years across all ages. You might be in it for the cool designs featuring your favorite players or the opportunity to monetize your passion for basketball. In either case, here are some of the best basketball card packs you can buy in 2022.
Panini Prizm
Panini Prizm cards are an affordable way to get into the world of NBA trading cards. These are official NBA cards that are known for their bright colors and sharp designs. You can easily fish out world-renowned NBA stars like Kobe Bryant and Zion Williamson with beautiful Prizm parallels. Anthony Edwards and Lamelo Ball are the latest rookies to join this already illustrious list of NBA stars. As you rip open this pack, be sure to check for these two top rookies.
Panini Select
Another great option is Panini Select. These cards come in sturdy and thick cardstock containing an array of inserts and parallels to bring out the best of the NBA. Panini Select provides a wide variety of pricey cards with favorite rookies and veterans.
National Treasures
National Treasures are rare and highly-desired NBA cards, which is reflected in their price (ouch). These limited edition cards feature intricate designs and high-quality artistry that will make you the envy of basketball collectors all around the world.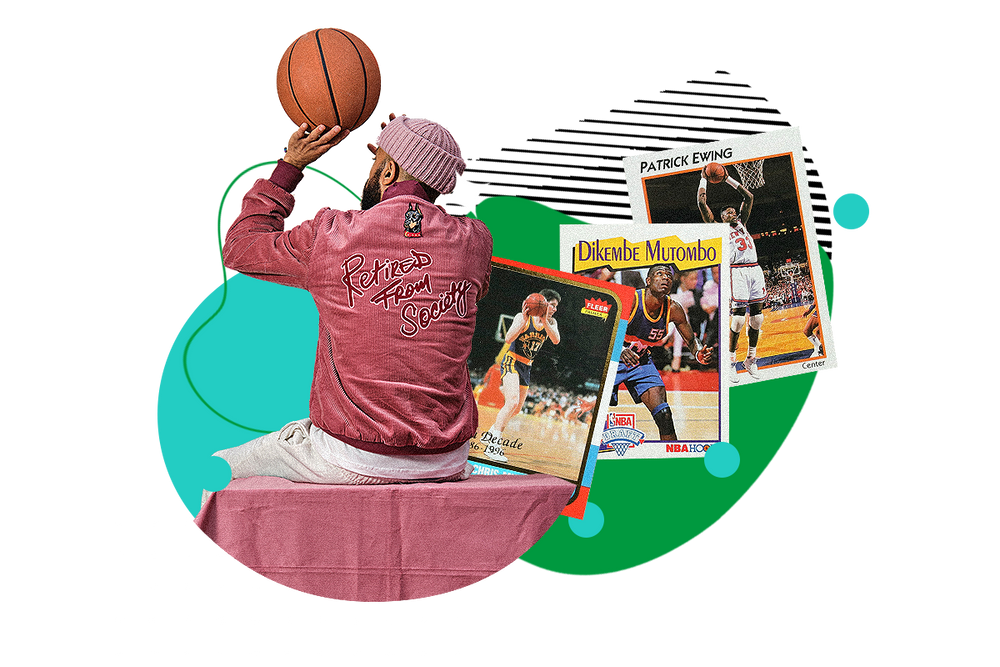 Taking the shot:
You betting on hoops or the S&P?
Best basketball cards to buy in 2022
When investing in basketball cards, you need to look for a few things. First, rookie cards are always desirable among collectors. This means that there's always a market for star players' rookie cards. This holds true for LeBron James, Kobe Bryant, and Kevin Garnett.
Second, be sure to check the condition of the cards, usually in the form of a PSA grading. Rookie cards in good condition will fetch higher prices than worn-out ones. Let's explore the best basketball cards to buy in 2022:
1985 Michael Jordan Nike Promo
Valuation: $25,000
Highest sale price: $203,000 ($54,000 for PSA 10)
Gem Mint Supply: 171
The Michael Jordan Nike Promo card is one of the first-ever basketball cards to feature Michael Jordan. His Jumpman pose was used for advertising the original Jordan 1 sneakers. In June 2021, this card was bought for $203,000 from Collectable.
Michael Jordan is a six-time NBA champion who won MVP at every Final. He also became the first billionaire player in NBA history after ending his career as a 14-time All-Star.
Michael Jordan's rookie cards and autographed memorabilia are highly sought after.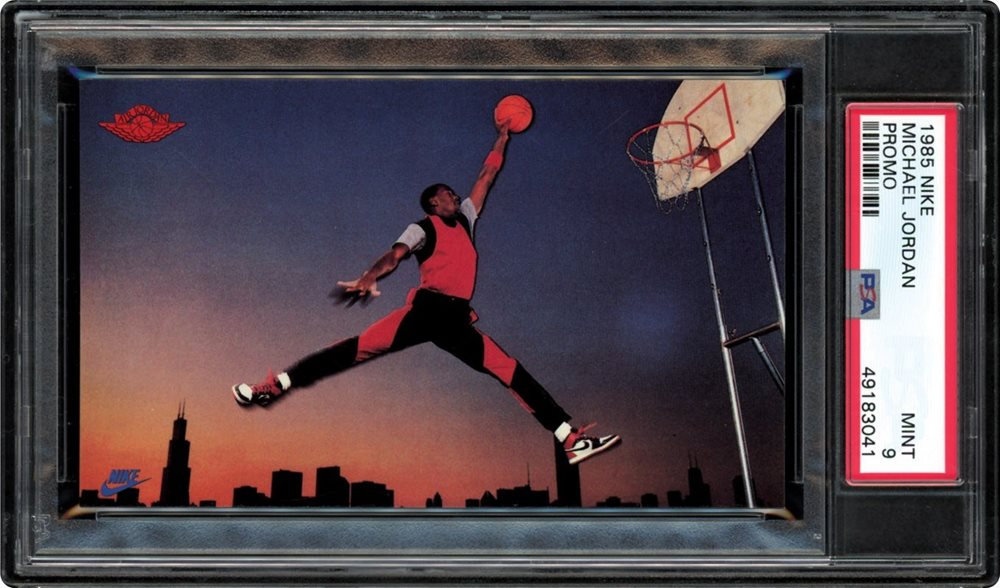 1985 Michael Jordan Nike Promo card.
Source: psacard.com
His rookie cards are the most valuable among all sports cards, beating out even LeBron James and Steph Curry. Though you can't invest in Collectible's 1985 Michael Jordan Nike Promo card anymore, you can still access other Michael Jordan basketball cards and memorabilia on their platform. All you have to do is sign up for an account and buy some shares, then sit and wait for it to rise in value. When assets price increases, so do the value of your shares.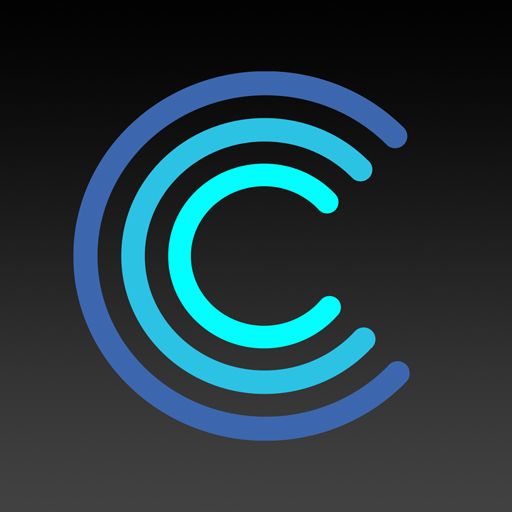 1986 Michael Jordan Fleer RC #57
Valuation: $262,250
Highest sale price: $738,000
Gem Mint Supply: 322
The 1986 Michael Jordan Fleer RC #57 is arguably the most recognizable and sought-after basketball card ever produced. The card hit a $40,000 auction price by the end of 2019 and was recently sold for $200,000 on eBay in June 2021.
Unlike other cards, this card is extremely condition-sensitive, which has made its price skyrocket. Additionally, due in part to The Last Dance, almost every Jordan card is worth much, much more than they were a decade ago.
This makes the card an excellent investment, as practically every basketball card collector wants to jump on the bandwagon. You can purchase fractional ownership of the card from Rally—they credit you with an equal share of the profits once it's sold. The higher the sale price of the card, the more cha-ching for you.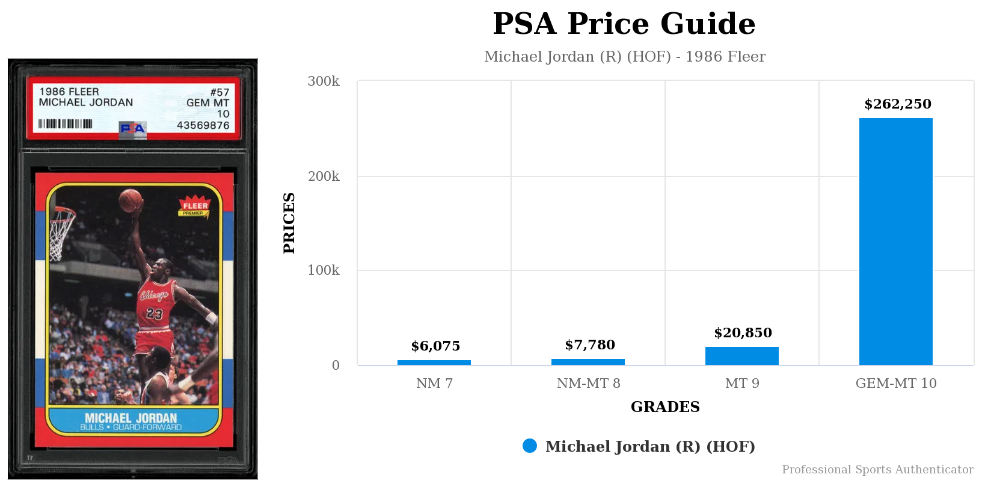 PSA Price Guide for graded 1986 Michael Jordan Fleer #57.
Source: psacard.com
1996 Kobe Bryant Topps Chrome RC #138
Valuation: $135,000
Highest sale price: $500,000
Gem Mint Supply: 63
The 1996 Kobe Bryant Topps Chrome RC #138 is one of the most valuable basketball cards ever produced. The card hit a staggering $1,795,800 through Goldin Auctions and is destined to rise in value.
The card is a tribute to Kobe Bryant's rookie year and his impressive performance during the playoffs. Kobe was an 18-time All-Star, 12-time member of the All-Defensive Team, and a 15-time member of the All-NBA Team, which makes his cards some of the most valuable in the NBA.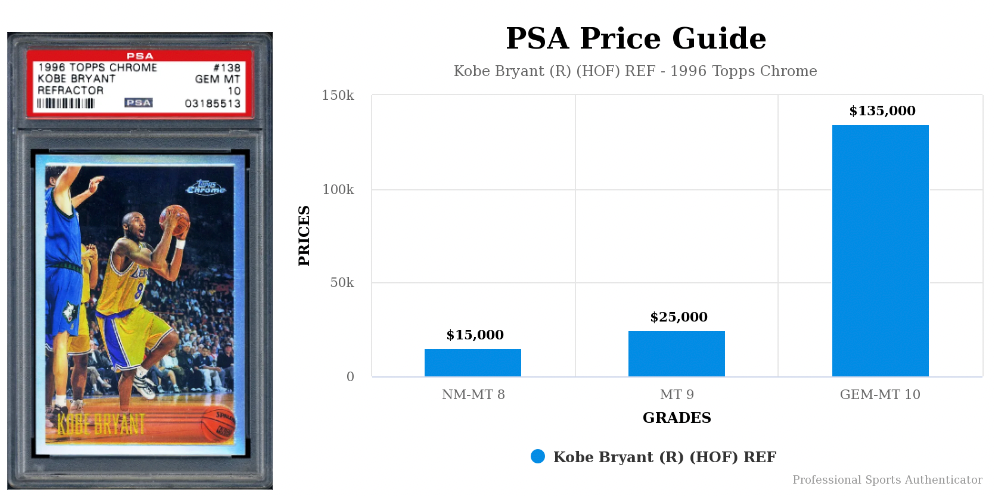 1996 Topps Chrome Kobe Bryant Refractors Rookie Card #138 PSA price guide.
Source: psacard.com
2018 Luka Doncic Panini Prizm RC #280
Valuation: $375
Highest sale price: $8,000
Gem Mint Supply: 18,757
The 2018 Luka Doncic Panini Prizm RC #280 could have the highest ROI over the next ten years. Doncic won the 2019 Rookie of the Year and made his first All-Star appearance in 2020. In August 2021, he signed the largest rookie extension in NBA history for a jaw-dropping $207 million.
Featuring a solid RC logo and a unique border design, this Panini Prizm card is expected to see long-term appreciation. While the green version of this card is less common, the regular one has had superior price performance. Rather than going into debt to cop this grail, Public lets you fractionally invest in one by buying shares.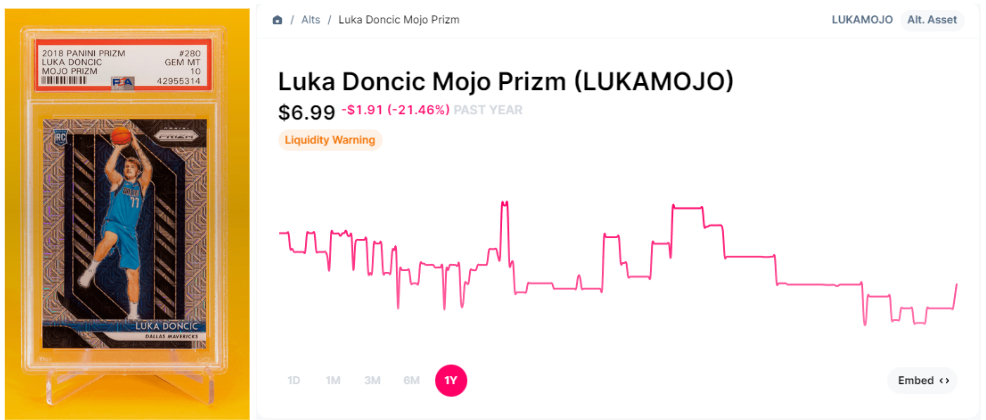 Chart tracking price of 2018 Luke Doncic Panini Prizm (14/25) shares on Public.
Dunking on these bros with your basketball card collection
Basketball cards are one of your best options for investing in sports memorabilia. It's relatively easy to own rookie cards that are limited edition thanks to platforms like Collectable and Public.
So, that's a play-by-play overview of the best basketball cards to invest in. Now embrace your inner Steph Curry and shoot your shot.
Find your next investment