iFlip Review
iFlip Review: Make Your Money Work For You
Reduce your risk and grow your money over time

Published Mar 21, 2022•Updated Jun 21, 2022
Robo Advisor
Passive Income
Technology
iFlip is here to "flip" the traditional Wall Street investing world on its head. iFlip is doing this by sharing the A.I. technology typically reserved for financial professionals and sharing it with the everyday investor. 
iFlip is an online trading platform that uses algorithmic intelligence to make it easy for everyone to participate in the stock market. iFlip offers a diverse selection of investment portfolios you can choose from based on your risk profile. It then uses its algorithmic intelligence to purchase stocks. The iFlip technology is designed to minimize your risk while preserving and growing your wealth over time. 
In this iFlip review, we'll look at what iFlip is, how it works, how you can use it to make money and the pros and cons of investing with iFlip.
Pros and cons
Pros
Ability to buy fractional shares
Machine technology can automate the buy, sell, hold process
State of the art crash protection technology
Simple for beginners to use
Variety of SmartFolios to choose from
Cons
Limited history (founded in 2017)
Pricy setup costs for Advanced and Pro plans
What is iFlip?
iFlip was founded in 2017 by Randy Tate (CEO) and Kelly Korshak (CIO) and is headquartered in Scottsdale, Arizona. The iFlip stock trading mobile app was launched in Jan 2020. 
After 25+ years on Wall Street, investing over $5 billion in assets for large banks and funds Korshak started his own company, iFlip. His goal is to share the artificial intelligence (A.I.) and machine learning strategies, that are usually reserved for the big-time investors on Wall Street, with the everyday investor. 
Using iFlip, all you have to do is choose an iFlip portfolio (called a SmartFolio), invest some money, and the iFlip app does the rest. The software used in the SmartFolio is designed to help manage risk while also growing your wealth over time.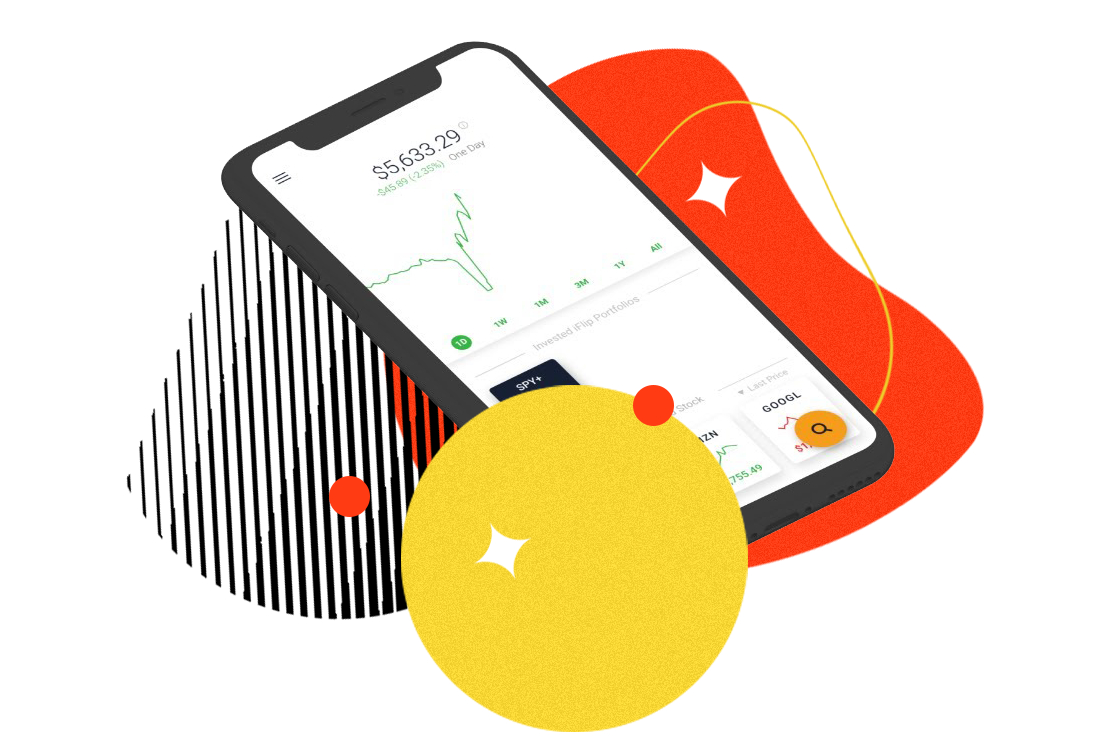 How does iFlip work?
iFlip offers a variety of SmartFolios to manage your investments. A SmartFolio uses machine learning to continuously analyze your positions and make trades without you ever having to do anything. iFlip describes the SmartFolio as "the world's 1st self-driving financial vehicle."  
Each of the SmartFolios takes a long-term investing approach to wealth building and you can choose the SmartFolio based on your risk tolerance. A feature of the SmartFolio is its "state of the art crash protection." The A.I. technology helps to protect its investors from stock market crashes. iFlip states that this technology has helped its investors to save an average of 20.8% on their investments over the last 9 crashes. iFlip can mitigate market risk by taking assets out of the stock market during times of weakness and then reinvesting them when the market rebounds. 
iFlip currently offers three different categories of SmartFolio investments and is pre-launching its fourth SmartFolio, the A.I. Crypto SmartFolio. 
Aggressive SmartFolios
Aggressive+. Mix of popular technology stocks combined with the S&P 500 ETF
FAANG. Includes the hottest tech stocks including Facebook, Amazon, Apple, Netflix, and Google
4Q. Includes stable and low beta stocks that are subject to change each quarter 
Moderate SmartFolios 
SPY+. Split of S&P 500 ETF (60%) and Apple Stock (40%)
SPY I. Split among various high profile stocks looking to recover in the next two years
S&P Beta Kicker. Mix of S&P 500 ETF (80%), Amazon (10%), and Apple (10%)
TACTICAL. S&P 500 (100%)
RED OIL. Collection of oil industry stocks looking to recover in the next two years
Conservative SmartFolios
Conservative+. Balanced mix of stocks. Used by older investors looking for a stable return 
6040. Mix of S&P 500 (60%) and dividend/security stocks (40%)
If you need help determining which SmartFolio is right for you, you can book a 30 min virtual zoom session with an iFlip representative to discuss your financial goals, learn more about the iFlip A.I. SmartFolio software and find an A.I. wealth plan that best suits your needs. 
A.I. Crypto SmartFolio  
iFlip is also pre-launching its A.I. Crypto Platinum Package which is being limited to only 500 investors. The Crypto SmartFolio includes Bitcoin, Ethereum, and Cardano, in addition to other crypto coins. All Crypto SmartFolios are fully automated with A.I. risk management which executes all of your trades for you. This package was originally priced at $4,000 but the first 500 investors can get it for $1,500.
Membership Plans
iFlip offers four different membership plans that range from free to $77 per month. Some of the plans also have an associated setup fee.  
Intro plan. Starts at $0 per month with no setup cost. You get access to one unique Smartfolio, can hold a maximum balance of $6,000, and can make an unlimited amount of manual trades
Lite plan. $10 per month with no setup cost. Access to two unique Smartfolios, maximum balance of $25,000, and unlimited manual trading
Advanced plan. $37 per month plus $997 setup cost. Access to five unique Smartfolios, max balance of $50,000, and unlimited manual trading. 
Pro plan. $77 per month plus $1,997 in setup cost. Access to an unlimited number of Smartfolios, unlimited maximum balance, and unlimited manual trading. 
Who can invest with iFlip?
iFlip is open to the public. To invest with iFlip, you need to have a U.S. bank account. While international banks are not currently compatible with iFlip there are future plans to offer international banking capabilities. While there isn't much information outlining the specifics of who can invest with iFlip when signing up for an iFlip account you have the option of including a U.S. or Australian address.
Where iFlip gets it right
Fractional shares
iFlip gives investors the ability to purchase fractional shares. If you don't have enough to buy a full share, you can buy a piece of it. 
Simplicity
When you sign up for the iFlip app, all you have to do is choose a plan and invest your money. Everything else is taken care of. The app will buy, sell, and hold your investments for you. iFlip may be a good choice for you if you are intimidated by investing or you don't have the time or interest to do it on your own. 
Free to start 
With iFlip's Intro plan, you can start investing with the iFlip app for free.
Where iFlip could do better
Short history 
iFlip has only been around since 2017 and its mobile app was launched in 2020. While this isn't necessarily a negative, it just means that it doesn't have a long history.  
Pricy setup fees for advanced plans
The setup fees associated with the Advanced and Pro plans might limit who can afford to use them. However, you can always start with iFlip's Intro or Lite plans which have no associated startup costs.  
Website content is lacking 
iFlip could do a better job of including more educational information and materials about iFlip on their website. As of writing, the iFlip blog has not been updated in nine months and would benefit from a refresh. There's also an opportunity for iFlip to improve the FAQ section of their website to make it easier to find answers to common questions.
Can you really make money on iFlip?
Yes, according to iFlip's reported returns, there is an opportunity to make money. iFlip reports 2020 returns, 5-year returns, and/or 10-year returns for its SmartFolio. As an example, in the last 12 months, the Moderate SPY I SmartFolio has a 59.78% return and the Red Oil SmartFolio has a 67.08% return. The 5-year return for the Aggressive FAANG SmartFolio boasts a 292.95% return. You can check out the performance of each SmartFolio here.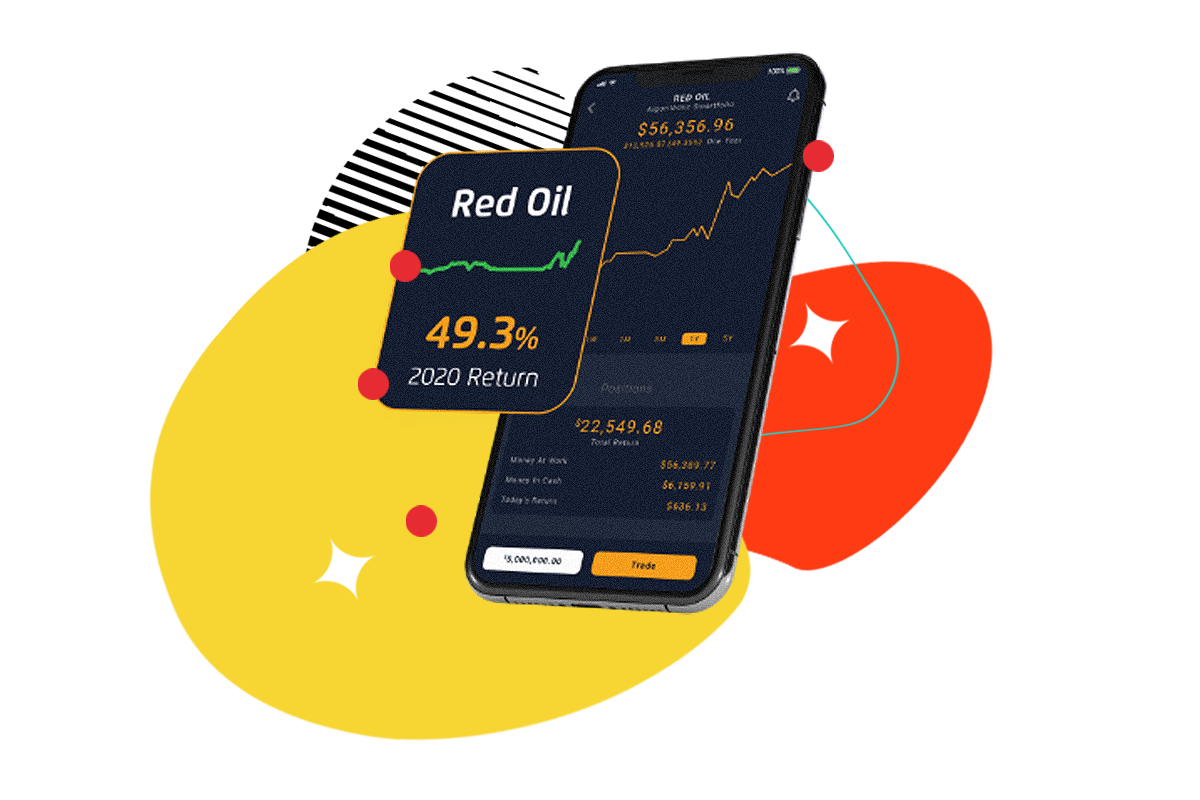 How do I make money with iFlip?
You make money using iFlip by investing your money into its SmartFolios. Using the app, you deposit a sum of money, and then iFlip does the rest. Investing with iFlip is meant to be a long-term investment and you make money through appreciation. 
While iFlip's use of A.I. and mathematical algorithms can help to manage risk, it is still possible to lose money. As with any investment, there is always risk involved. Before using iFlip it's important to understand what you are investing in and how the platform works.
How do I cash out with iFlip?
When you want to withdraw your money from iFlip there are some things to be aware of. 
First, when you sell a stock, your funds have to go through a settlement period. This period consists of the trading day plus two additional trading days. So, three days after you make the trade, your funds are converted to cash and you can make a withdrawal. 
There is also a holding period for funds when they are deposited into your account. The funds have to sit for a minimum of seven trading days before you can initiate a withdrawal.
A final note about withdrawals. If you deposit funds into iFlip from one bank, you cannot withdraw the funds to a different bank for 60 days. This is due to anti-money laundering restrictions. 
iFlip vs traditional investing
iFlip takes a fresh approach to traditional investing. The iFlip software makes investing easier for the everyday investor and, potentially, less risky due to the use of its technology. While the everyday investor may be intimidated to start investing with a brokerage account or even a robo-advisor, iFlip simplifies and automates the investing process. iFlip also gives the average investor access to the type of technology that Wall Street investors have been using and benefiting from. 
When comparing Market performance to iFlip performance, data used from June 6, 2016, to June 5, 2020, shows iFlip (SPY SmartFolio) outperforming The Market by 6.9%. iFlip also claims that its most popular A.I. has saved an average of 24% across the last 8 crashes when compared to The Market. 
For instance, in the March 2020 COVID crash, iFlip (AI) beat the market by 26%. While this data makes a good case for iFlip remember, past performance does not predict future performance. There is always risk associated with investing, while iFlip uses AI to try and manage crashes and dips in the market, it's not a sure thing.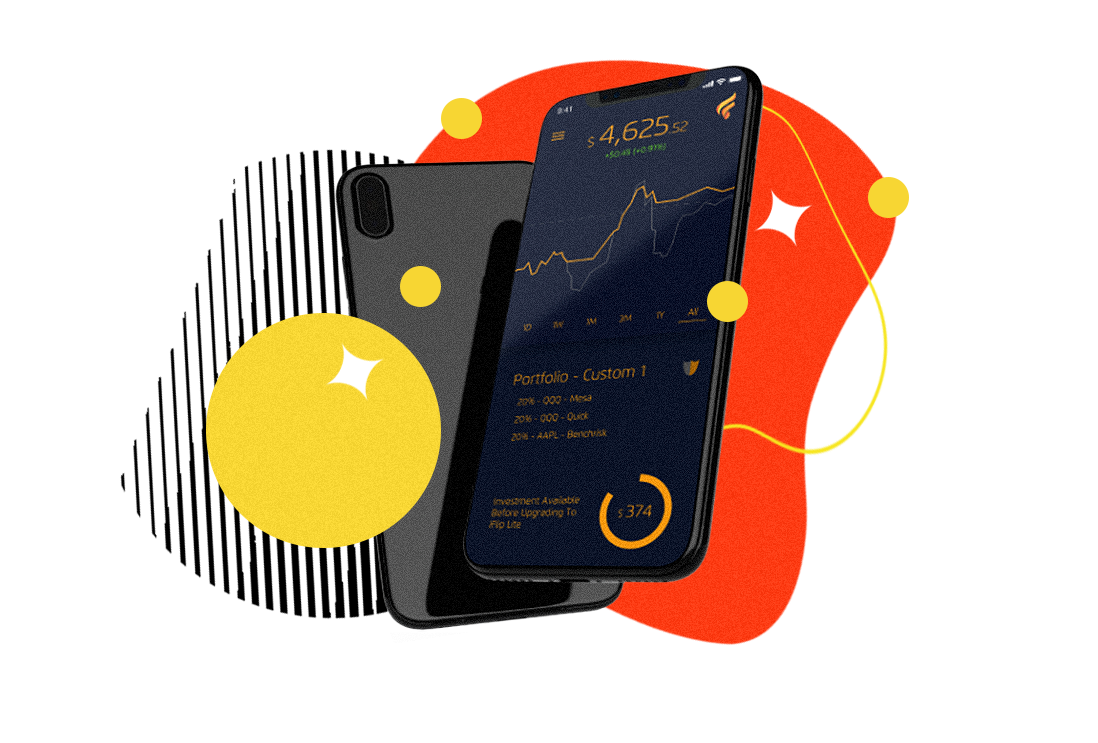 What other people are saying about iFlip
There isn't a ton of chatter about iFlip but the comments that are floating around on the web are pretty positive. iFlip customers seem impressed with iFlip's responsive customer service and are largely impressed with the performance of their investments. 


While there were a few comments that listed issues with the Android app, it seems like iFlip was quick to address the problems, and customers were left feeling satisfied and excited for the future of the iFlip app.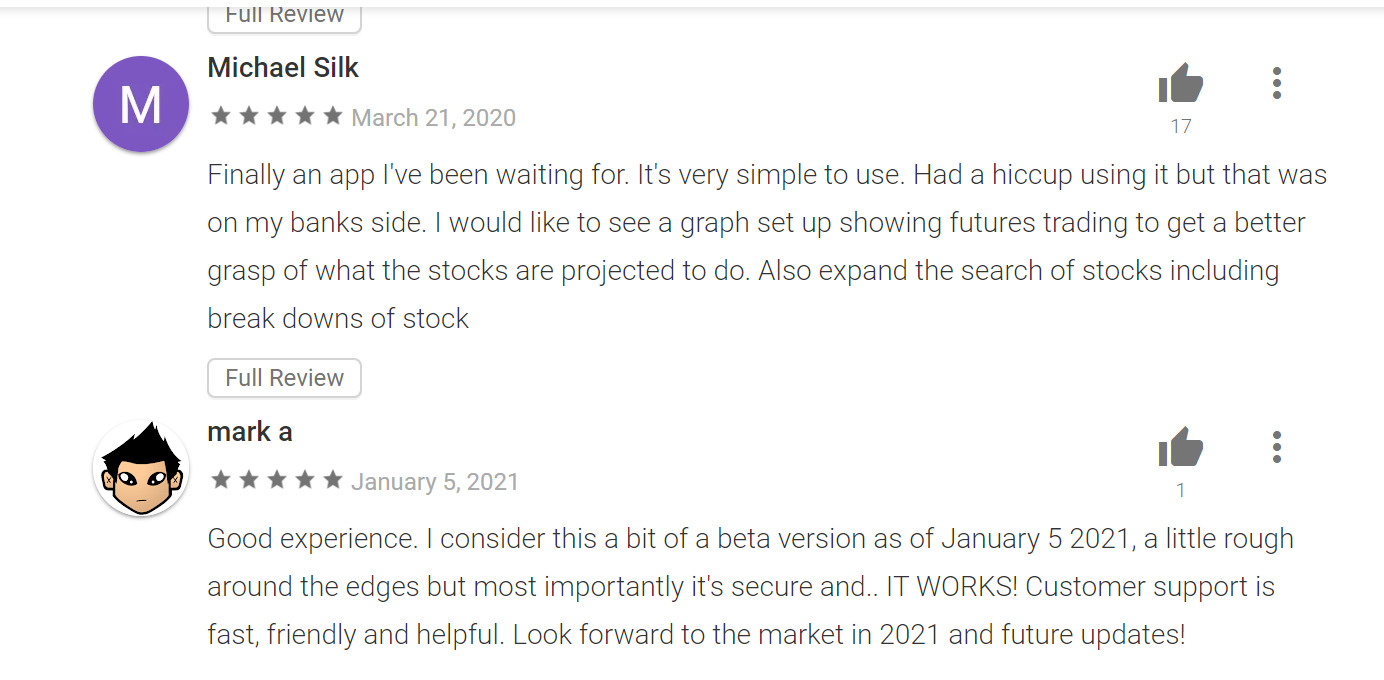 Are there other apps like iFlip?
There are other apps that share some similar features with iFlip including Robinhood and WeBull. All three are stock trading apps that offer $0 commission trades and access to Crypto. 
While WeBull and iFlip were both founded in 2017, Robinhood has a longer history (founded in 2013). All apps share a similar mission to try to democratize finance for the everyday investor; however, iFlip is the only app that uses A.I. and machine learning to assist the user with trading.
iFlip

Fees

Minimum investment

Average returns

Risk Level

Available on

iOS

Android

Review

 
Our hot take on iFlip
iFlip is unique in that it brings the AI and machine learning technology that is typically reserved for Wall Street investors to the masses. This is pretty innovative and exciting. For those that are new to investing and want an app that will hold their hand through the investment process (buy, sell, hold), iFlip is worth checking out. Those who are interested can sign up for free with iFlips Intro plan. Before you sign up and start investing, be sure to do your own research on iFlip so you can properly weigh the possible risks and rewards. 
I'm in! How do I sign up for iFlip?
1.

Sign up for a MoneyMade account

If you haven't already, be sure to sign up for a MoneyMade account so you can track and manage all of your online investments in one convenient place.
2.

Create an iFlip account

Download the iFlip mobile app from Apple or Google Play. Or, go to the iFlip website on your desktop.
3.

Complete an application

You will be asked to input some demographic information including your name, email, phone number, and address. You will then be asked to state any affiliations you may have.
4.

Verify your identity

You will be asked to verify your identity by including your social security number and date of birth.
5.

Review your information

Review your information to ensure there are no mistakes. Your application will be delayed if you input incorrect information.
6.

Choose account type

Next, choose if you want an individual or retirement account.
7.

Select a plan

Choose if you would like to sign up for the Intro, Lite, Advance, or Pro plan.
8.

Verify your identity

In a second round of identity verification, you are asked to upload a piece of government ID (license or passport).
9.

Wait for approval email

You will receive an email within one trading day stating if your application has been approved or if iFlip requires additional information.
10.

Return to MoneyMade

Finally, return to MoneyMade to track your iFlip investments, along with all of your other investments.
Explore Assets
Click an asset to learn more
Dogecoin
Music Royalties
Tether
Farmland
Wine
Art
Real Estate
Robo Advisor
Gold
Bitcoin
Stocks
Lending
Startups
Ethereum
DeFi
Solana
Oil & Commodities
Polkadot
Metaverse
NFTs
Whiskey
Bonds
Platinum
Sports Cards
Cardano
Ripple
Silver
Watches