OpenSea Review
OpenSea Review: The Original Marketplace for New and Popular NFTs
Bid on a Bored Ape, drop 10 ETH on a Doodle—and yes, make money on these fictional characters.
NFTs
Collectibles
Art & Culture
Non-fungible tokens—despite their wacky-sounding name and cryptic acronym, NFTs—have become one of the hottest trends among both finance brains and creative types.
Whether you're a collector or a creator of NFTs, OpenSea is one of the most popular go-to sites to buy up these colorful cartoons, along with "serious" 1-of-1 artwork by respected artists, musicians, and poets. 
Known as the first NFT marketplace, OpenSea lets visitors mint (make) and buy a range of blockchain-backed assets including gaming items, domain names, visual art, music files and more. There are over 200 categories of NFTs on OpenSea, and a whopping 4 million+ items listed for sale or auction.
In our detailed OpenSea review, we dive into what makes this NFT marketplace so darn special in the eyes of old-school NFT collectors and newbies alike. We also dive into the platform's downsides and speculate on how the Ethereum blockchain's forthcoming upgrades could impact OpenSea's popularity (or, more accurately, already is).
Pros and cons
Pros
Over 150 crypto payment options
Access to a gas-free NFT marketplace through Polygon
2.5% commission is lower than other NFT platforms
Cons
Gas fees required for first time sellers
Not possible to use non-crypto currencies yet
Crypto wallet is required
What is OpenSea?
OpenSea is the first and largest online marketplace for non-fungible tokens (NFTs) in the world. You can buy, mint, sell and trade NFTs on OpenSea. You'll need an Ethereum wallet to use OpenSea.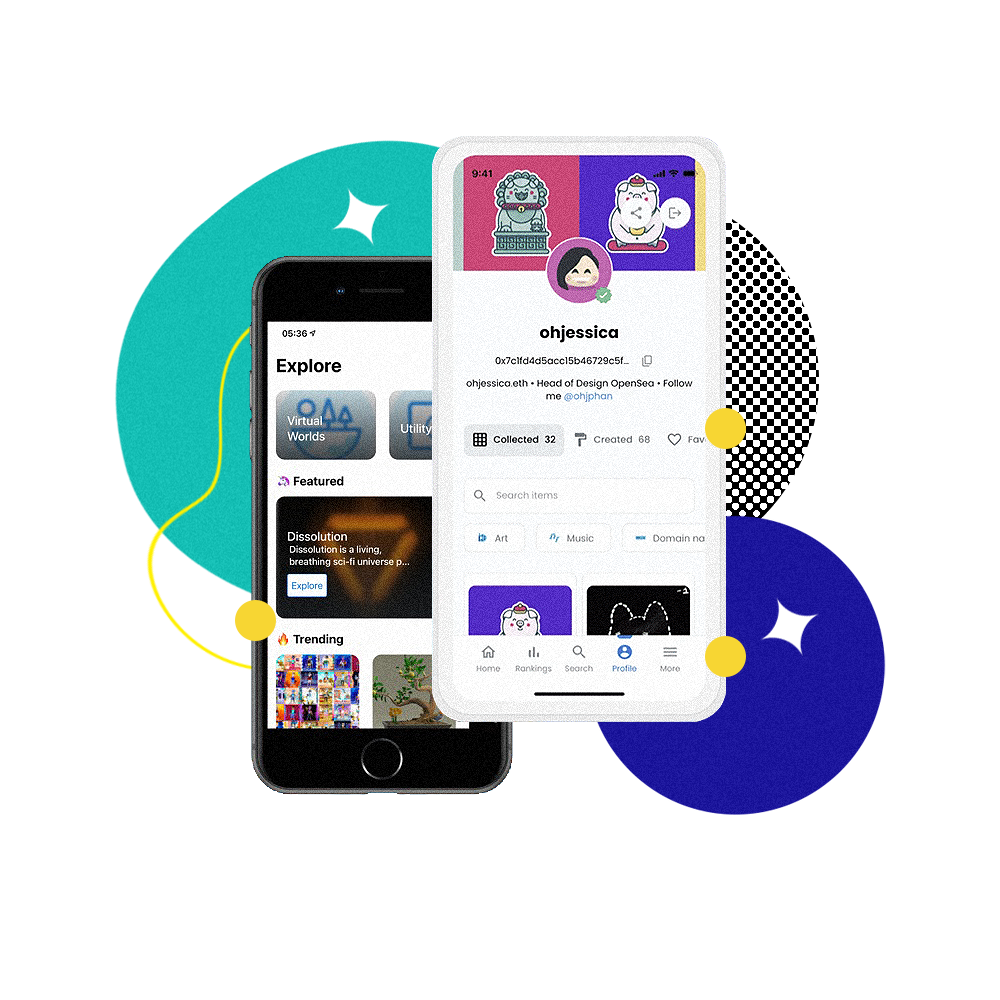 How does OpenSea work? 
If you're not familiar, NFTs are digital collectibles—art, music, gaming tokens, etc.—that have been minted on blockchain just like cryptocurrency. Like crypto itself, OpenSea is decentralized, meaning all trades happen through a smart contract, not through a central authority (i.e. a bank). 
Over 150 cryptocurrencies are accepted on OpenSea—just no fiat currencies like the U.S. dollar or the euro. So you can't use a credit card on OpenSea.
OpenSea also aggregates NFTs from other platforms, acting almost as a gateway to other NFT marketplaces you might not be as familiar with.
Who can invest with OpenSea?  
The OpenSea platform is available to anyone with a crypto wallet and some Ethereum to spend. 
Just like a happy hour in Manhattan, OpenSea attracts a mix of libertarians, financial traders, artists, VCs, gamers, and collectors. OpenSea users range from fresh college grads who live at home and are milking crypto's popularity explosion for all it's worth to seasoned millionaires (even billionaires) looking to drop $400,000 on a CryptoPunk—one of the top NFT artists right now.
Where OpenSea gets it right
Good variety of NFT collectibles
NFT lovers have said it before and will continue shouting it from the rooftops: NFTs aren't just about JPEGs. While visual art (JPEGs) are a huge reason why NFTs are so popular, the technology of smart contracts can be applied to nearly any kind of digital asset. OpenSea gets it and lets users buy domain names, digital trading cards, blockchain gaming items and more.
150+ cryptocurrencies accepted
While there's no getting around having ETH in your crypto wallet, OpenSea does allow transactions in many different currencies (just not fiat currencies like the U.S. dollar). The NFT creator can decide which currencies to accept, but OpenSea allows for $USDC, $DAI, $UNI, $WHALE, and more.
Allows for NFT gifting
Surprise airdrops are one of the best parts of NFTs—ask any collector. Users on OpenSea can send NFTs as a gift to other OpenSea users or via their public ETH address so they get it directly in their wallet.
Where OpenSea could do better
Expect to pay gas fees
Artists who mint on OpenSea are most likely using the Ethereum blockchain, which is where around 80% of NFTs live. Ethereum is exceptionally popular as a result, which has made purchases on OpenSea a little expensive these days due to Ether's popularity and high gas fees. However, OpenSea has added Polygon, an Ethereum Layer 2 solution, as a solution allowing for gas-free transactions.
Only accessible with a crypto wallet
No lurkers allowed on OpenSea, unless you want to open a crypto wallet first. While other platforms like Nifty's are starting to let newbies use their credit cards to buy NFTs, OpenSea is strictly for people with crypto wallets. Some argue this is better, as it reflects OpenSea's commitment to decentralization. However, others may find it to be a deterrent.
You can't use U.S. dollars or other fiat currency
Similar to the no-credit-card rule above, OpenSea only lets users trade in crypto. You want to trade NFTs? You have to commit.
Can you really make money on OpenSea?
This question is difficult to answer without adding to either the hype or the hate around NFTs. Before you buy any NFT, you have to decide whether you're viewing it as an investment or an act of art patronage. Many NFT investors—let's call them the purists—prefer to buy the artwork and collectibles of their favorite creators, or they do so to gain access to an online membership group of some kind. Meanwhile, NFT opportunists are viewing the current popularity explosion as a chance to make some cash and "flip" NFTs (aka buying low and selling high).
Both approaches require due diligence—and either way you have to know what you want from the deal.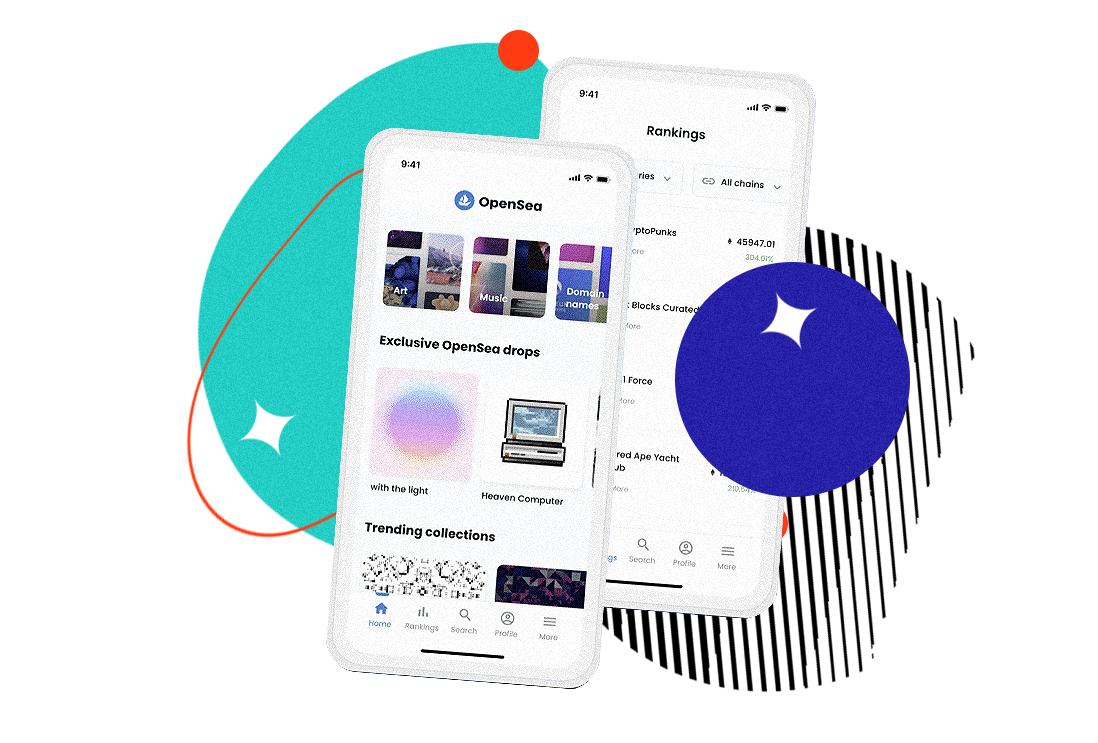 How do I make money with OpenSea?
There are multiple ways to earn returns on OpenSea—and they all depend on your strengths. Are you the artsy kind? Create digital assets yourself and become an original seller of the item.  
Inclined to think like a trader? Think of OpenSea like an NFT stock market and buy/sell digital assets in hopes of appreciation. Last, you can also help broker deals by finding a buyer for a seller. If you match a buyer and seller, you can receive a small percentage in royalties for your help—thanks, smart contracts!
All that said, it's unwise to view NFTs as a fast cash grab. A good amount of NFT collectors prefer to buy and hold, as ownership often unlocks special privileges and access to growing online communities where the discussion is fruitful and inspiring—a major value add. 
It's also worth mentioning that NFT projects frequently fail. There's no guarantee that your NFT will be worth anything when you want to resell. Pudgy Penguin holders saw this firsthand, when the founders failed to deliver on their promises of developing an exciting new metaverse game for token holders. As with all alternative investments, do your own research (DYOR, as the community says) and invest only money you can afford to lose.
How do I cash out with OpenSea?   
You'll need to open a crypto wallet on OpenSea to move money in and out of the platform. Here's a list of accepted wallets:
MetaMask 

TrustWallet 

Portis 

Fortmatic

Arkane

Authereum

Bitski 

Dapper 

Kaikas

OperaTouch

Torus 

WalletConnect 

WalletLink 
Once you buy or sell an NFT, the record of your ownership and any money transferred will live in your crypto wallet. Financial planners recommend having a strategy in mind for transferring your crypto to either USD or a cold-storage hardware wallet where it's safer from hackers. The choice is yours, and it all depends on how much you plan to use or depend on the cash. 
If you're holding crypto as a long-term asset, you can stow it away in hopes of the value rising. If you're hoping for cash flow, you can transfer any assets off of the blockchain through an exchange like CoinBase, where you have the ability to transfer it safely to your normal bank.
OpenSea vs traditional investing  
 A quick look at OpenSea's leaderboard shows record-breaking NFT sales with 7-day value appreciations of literally over 8,000%. The recently popular World of Women profile picture (PFP) collection launched in July 2021 with an average price of 0.1 ETH and experienced an exciting jump in January 2022 to an average price of 11 ETH. The 7-day average at the time of writing is between 7 and 8 ETH, or worth roughly between $21,000 and $24,000. That's a massive ROI for a JPEG, and well above the S&P 500's historical 10% to 11% annual gains.
What other people are saying about OpenSea
Little did we know a few years ago that JPEG art would be the uniting force between Gen Zers and elder millennials, let alone create a fascinating intellectual conversation that just keeps going. But everyone from college students to their cool moms can get behind OpenSea. 
When we spoke to Whale Shark—founder of $WHALE and avid NFT collector with over 400,000 in his wallets—he said OpenSea has a soft spot in his heart. And while other NFT marketplaces like Tezos, Rarible, and NBA Top Shot are becoming popular, OpenSea still remains the most popular.
Are there other apps like OpenSea?
OpenSea was the first—but not the only—NFT marketplace. It is currently the largest general marketplace for user-owned digital goods. It also has the broadest set of categories (200 and growing) and touts having the best prices (though that's always debatable). Other alternatives are becoming increasingly popular, however. 
Fractional, for instance, offers a unique approach to minting and selling NFTs. Users can buy, like the name suggests, fractional ownership of popular NFTs, which reduces cost and barrier to entry while letting users own a piece of their favorite digital assets. If the pieces ever get auctioned off, users can trade their Fractional tokens for ETH.
Rarible is another one of the most popular NFT marketplaces. Monthly sales have exceeded $40 million in the recent past, and like OpenSea the platform allows for both minting and buying/selling. Rarible requires that users use its own token, RARI, to buy and sell NFTs. This is unique because RARI is a governance token. People who own RARI therefore have voting power on the platform.
OpenSea

Fees

Minimum investment

Average returns

Risk Level

Available on

iOS

Android

Review

 
Our hot take on OpenSea
We're fans of this popular NFT marketplace, as long as you are clear on your "why." Ask yourself what you want to get out of OpenSea, as signing up requires that you at least dip a very intentional toe in the crypto world. Investors need a crypto wallet and a good working knowledge of economics—along with patience and a good emergency fund. Creators will find the platform super user-friendly, but might look to other NFT marketplaces that aren't so ETH-heavy as a way of saving their collectors some gas fees.
I'm in! How do I sign up for OpenSea?
1.

Log in to or create a MoneyMade account.

Visit our OpenSea platform page and log in to your MoneyMade account.
2.

Open an OpenSea account.

This can be done by visiting OpenSea's website through your MoneyMade account. Once you get on OpenSea's page, you'll have to link your crypto wallet using a QR code and probably pass a CAPTCHA to verify that you're not a robot.
3.

Add ETH to your preferred crypto wallet.

Using CoinBase or another preferred exchange, transfer ETH to your crypto wallet (if it doesn't contain ETH already). Chances are you're going to need it to buy and sell on OpenSea (even though over 150 cryptocurrencies are available).
4.

Start browsing for NFTs, you're in!

You can browse NFTs on OpenSea by checking out notable drops, trending collections, top artists of all time, and more. Or, you can create your own digital art, mint and sell it on the platform.
5.

Return to MoneyMade and link accounts to track everything in one place.

By linking your OpenSea and MoneyMade accounts, you'll be able to track your investments in one place and get a personalized risk score that will help you move closer to your money goals.
Explore Assets
Click an asset to learn more
Dogecoin
Music Royalties
Tether
Farmland
Wine
Art
Real Estate
Robo Advisor
Gold
Bitcoin
Stocks
Lending
Startups
Ethereum
DeFi
Solana
Oil & Commodities
Polkadot
Metaverse
NFTs
Whiskey
Bonds
Platinum
Sports Cards
Cardano
Ripple
Silver
Watches